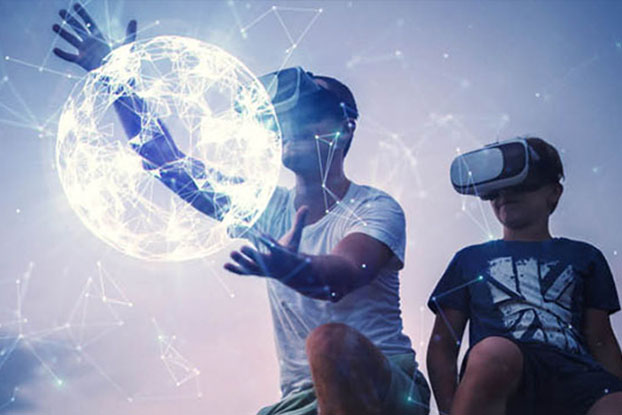 "Trying to create the future is like trying to drive down a country road with your headlights off, looking backwards."
Alex Outwater 01MBA, senior director of private marketing, big data and analytics at ADP, quoted educator Peter Drucker to open the latest Work Futures Forum.
Orchestrated by Professor of Information Systems & Operations Management Benn Konsynski, the forum, broken into a fireside chat and a panel discussion, focused on the future of work and technologies that help payment systems serve a new mobile worker.
Here is the question and answer session during the fireside chat between Outwater and Moderator John Yates, partner at Morris, Manning & Martin.
---
Yates: Talk to us a little about those driving changes behind the world of work you see.
Outwater: I was thinking, how has the world changed? I graduated in 2001 from Goizueta, the Full-Time program. This was six years before the iPhone and before the world as we knew it changed. What was my life like when I was in business school before all of this disruptive technology started to come into play?
There are a couple future trends we're focusing on at ADP. We think about how we approach this new way of work and deliver technology that can help people adapt, live and pursue the models of work that are important to them. One of the most interesting to me is that for the first time, we have four generations of people in the workforce. That presents a unique set of challenges for HR that have to deal with millennials who are coming to work with a certain set of expectations. Then, the baby boomer generation is trying, in the same way millennials are, to figure out how they get flexibility and how they pursue a work model that suits them as they get towards the end of their career.
We're studying the different ways we can design technology that helps our clients engage these different populations. Everyone knows that unemployment is low right now, right? The other interesting thing to us is that not only is unemployment creating this war for talent, but many people assume that when employees move from job to job, it's about money or some function of compensation. We came out with a study last week and announced that 63 percent of employees are open to looking at new positions. The caveat is, without a raise in pay. Companies think that they can throw more money at them to have them stay, and it's not going to happen.
We're studying very closely in the innovation lab an emergence of new marketplace of skills and talent. For the first time this winter, I made it a point to plow my driveway. I didn't have anyone to do it, so I literally downloaded an app. I opened the app, found a plow in my neighborhood and got a pick-up truck with a plow attached to the front. He gave me a quote, came by and confirmed the quote based on the square footage of my driveway. He plowed my driveway right away. For any type of skilled worker, especially ones where there's a concentration of skills in a particular area, the staffing models of the past are being replaced by this on-demand type of economy.
---
Yates: How is that changing the HR organization? How is it thinking about the evolution that needs to happen within HR organization and structure?
Outwater: I came to ADP without a whole lot of knowledge about HR, but it's been fascinating working with clients for the last three years because we all recognize that the way they structured the HR organization was primarily through the needs of the greater employer. But more and more, it's how you balance that with structure and organization for the needs of the employees. If you don't adapt your organization to the way your generation wants to work, especially with the younger generation of workers who may see a two-year stint as a long time to be working at a company, you're not going to be successful in terms of attracting and retaining talent.
---
Yates: So, these work patterns that you're talking about, it's interesting to ask the question, is technology driving the work pattern or is the work pattern driving technology?
Outwater: I think work patterns are driving technology. I don't think technology has ever been successful being a hammer looking for a nail. The work patterns have changed quite a bit. Organizations are getting flatter, and you need a big variety of skills to be successful at different organizations. I think HR is looking for ways to adapt their approach to really engage people and give them experiences they want. We find a lot of our clients aren't good with creating alumni programs, yet they complain they can't find the skills. Additionally, a lot of people are leaving the organization, but they don't keep that engagement up, even after the people have left. That's a huge error of opportunity for HR.
---
Yates: You alluded to payment systems. I'm wondering how they're evolving and adapting to these changing work patterns.
Outwater: We have a tremendous amount of data about our employees who work with clients who have ADP as their payroll and HR systems. That means that we can start to think about and explore new kinds of relationships that we may want to have, not only with organizations, but with people who work in those organizations as well. You think of payroll, and you probably think of this kind of monolithic process that's been around. When you think about what innovations happen in payroll, it's pretty much limited to items that are driven by compliance or regulatory change. Some of the things we're beginning to think about is how we create a different kind of payroll engine.
We're starting to explore what kind of flexible payroll engine we could offer that allows people who are getting paid to perhaps get paid after they do work. Today, we take money from employers and we give it to their employees. How do we rethink that and create a flexible platform that other companies can also tie into? Payroll can potentially be the epicenter of an employee's life. Based on the data we have – because we know where you live, where you work, what jobs you have, how much you make – there's a lot of opportunities to offer other types of value. I'm really excited about this area. I know there's a ton of innovation, and ADP is exploring lots of options for different models for designing payroll systems of the future.
View the entire session: