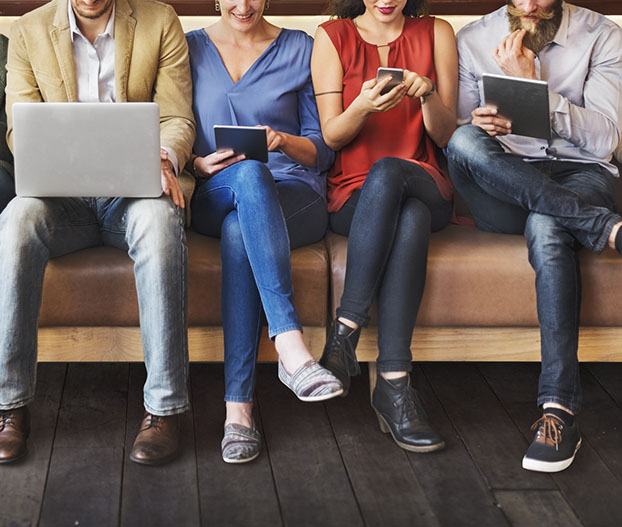 The future of work is unpredictable.
With people expecting more immediate access, greater control and increased freedom over their lives and careers, businesses need to adapt faster to the expectations of employees, all while labor markets tighten.
However, technology can help, especially to assist businesses attract and retain new generations entering the workforce. Automation, digital platforms and other innovations are changing the fundamental nature of work.
A recent panel of experts tackled the topics of generational wants and needs, payroll flexibility, retention rates and the hiring process in the latest Work Futures Forum.
Generational Differences
Leigh Dobbs 14WEMBA , senior vice president for Total Rewards at Randstad, a recruitment agency for temporary and permanent staffing, said the company recently acquired Monster Jobs and Rice Mart.
"How do we start to use Monster and their technology to connect the jobs to the employees?" Dobbs said. "Once the employees have worked with us, and if they turn over, then we can put them into Rice Mart, which is an off-boarding company to connect them to their next job. So how do we constantly work in this ever-changing workforce?"

Baby boomers and millennials have very similar issues, Dobbs said. Baby boomers are trying to pay for their children's college while millennials are trying to pay off college.
"We have a lot of debt in our company among our employees," Dobbs said. "However, while they always complain about benefits, people never come or leave because of benefits. We're definitely trying to think outside the box with how we get people to stay and engage."
Someone else who works with understanding millennials in the workforce is Chau Nguyen, founder and CEO of HireWire, an on-demand hiring app for the service industry. Nguyen has worked to speed up the hiring process, connect people with opportunities and get them to that opportunity.
"There are interesting ways to look at millennials," Nguyen said. "It's just a different group of people who think in absolutely different ways with different expectations."
Having two kids, ages 9 and 10, of his own, Nguyen said they have grown up very differently compared to himself.
"I've noticed there are certain luxuries that millennials are used to that [previous generations] didn't grow up with," Nguyen said. "They don't want us to take a lot of time. So, when you force individuals to train that way their entire lives, there's a mismatch when they go into the workforce where things take a long time with different expectations. What we find is that if you don't have that whole embodiment that checks all the boxes that millennials are used to, then they leave."
For Patti Wallace, Global HR Operations Leader at Halyard Health, the millennials' expectations in the workplace could be something that has been seen before.
"Our processes are brand new, and we have a lot of people to work with," Wallace said. "That's the opportunistic piece that usually attracts millennials. We strive to be a place where a lot of people can grow, and millennials are a workforce that I think are very interesting but also remind me of myself when I started to work. I haven't quite figured out if it's a different problem or if it's just another problem that's come back for us to think about again."
Being Innovative
While still a relatively new company, Wallace and her team find it important to continuously work around their hire values – be authentic, be bold and be caring.
"How do you be bold and care about people?" Wallace said. "It's a big part of our culture because we're healthcare. I spend a lot of time talking about or encouraging boldness. We can be bold in our paying business, we can be bold in our sales business and we can be bold in HR."
That idea can be seen in several companies, including Porsche Cars North America.
Astrid Fontaine 12PhD, Vice President of HR, Culture, and Innovation at Porsche Cars North America, said she has the opportunity to be innovative with her team because of technology advances and new team structures.
Although technology and automation is a driving force behind Porsche, Fontaine said it's important for her team to keep the human and humanity on the forefront of everything they do.
"That is why we apply a human-centered design approach in our internal innovation culture," Fontaine said.
Because there is a multigenerational workforce, the "one-size-fits-all" benefit structure may not be the best solution for companies anymore. Fontaine and her team are researching the a-la-carte benefits idea more, allowing each generation to pick the benefits that fit their needs.
Working on and creating this a-la-carte system is Alex Outwater 01MBA, senior director of private marketing, big data and analytics at ADP.
"How do you offer flexible packages and a-la-carte types of things?" Outwater said. "We do a lot of our ethnographic research directly with employees."
Outwater and his team are working to solve this issue with employees when it comes to pay or flexibility because many times, that's what ADP's clients are looking for and struggling with as well.
"Technology can be used to enable the environment [employees] want to create, and the range of benefit options can grow quite a bit," Outwater said. "It's a very unique combination of circumstances that are forcing companies to really look at options they may have never really considered until a few years ago."
View the entire session: