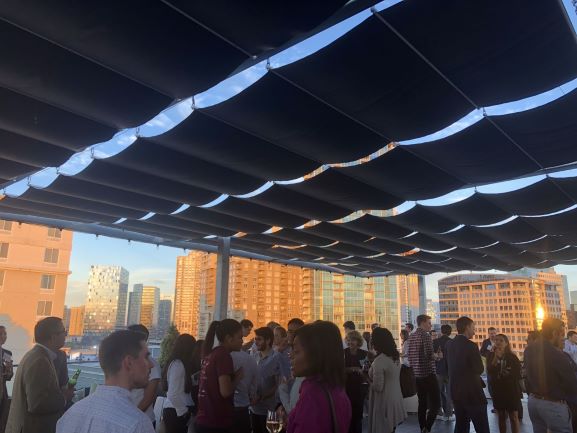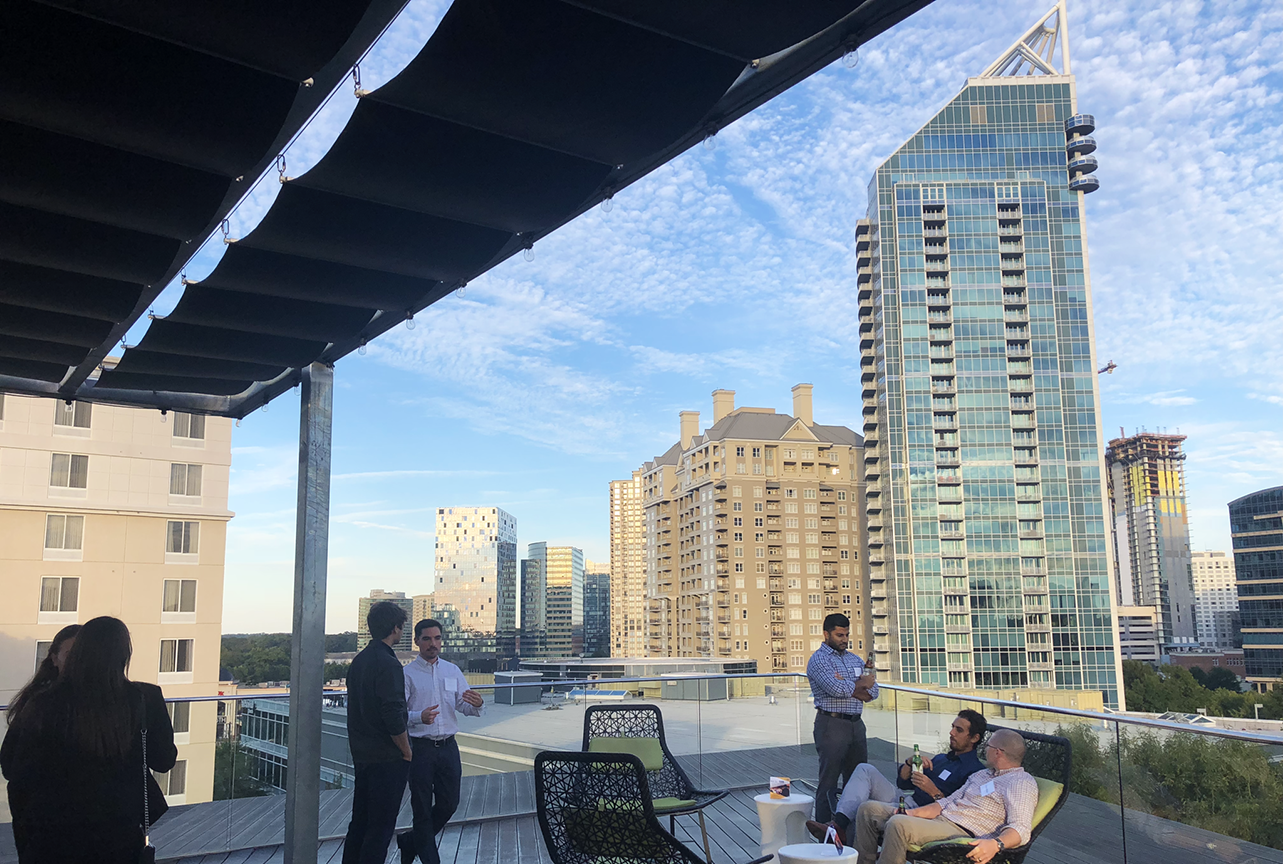 Alumni, students, faculty and staff recently came together for Goizueta's first Entrepreneurship Connect Night at the Atlanta Tech Village, a Goizueta partner incubator. The free-flow event took place on the rooftop patio, where attendees met, mingled and shared information about entrepreneurial initiatives, people and clubs in the community.
The event was organized by the Goizueta entrepreneurship team: Amelia Schaffer, director of entrepreneurship; Andrea Hershatter, professor of entrepreneurship and senior associate dean of the BBA program; Charlie Goetz, senior lecturer in organization and management and distinguished lecturer in entrepreneurship; and Robert Kazanjian, Asa Griggs Candler professor of organization and management.
Attendees of the event had the opportunity to speak with representatives from the following initiatives:
Entrepreneurship Connect Night was a valuable networking opportunity for students and alumni alike.
Venture capitalist Sig Mosey 68BBA was glad to attend an event that brought alumni and students together.
"We have been making a lot of progress in doing more to promote entrepreneurship," Mosley said. "For those of us who don't come to campus as often, we can find out a lot by coming to these events."
Among the faculty at the event was Ed Rieker, who runs the Emory Startup Launch accelerator program along with Professor Kazanjian. The program is open to all Emory students, staff and faculty and will be accepting applications in December for the spring 2019 program.
"It's a great program for early startups — if you have an idea, you should apply," Rieker said.
At the event, Rieker was able to chat with students, team members who had been through the program and several people thinking about joining the program to explore their own ideas.
"It's been awesome!" Rieker said.
As co-president of Emory Entrepreneurship and Venture Management, Alifya Valiji 19BBA was there to promote the group's work and its annual hackathon event, HackATL. For Valiji, meeting so many interested alumni and students at the event confirmed the value of cross-group initiatives like this one.
"This was the first event in my Emory experience where I saw professors, alumni, students and community members gather to share a combined passion for entrepreneurship," Valiji said. "It brought Goizueta's commitment to entrepreneurship to life!"
Patrick HcHugh 19MBA is co-president of the Entrepreneurship and Venture Capital Club at Goizueta. The EVCC is comprised of about 50 full-time MBA students and aims to cultivate entrepreneurship at Goizueta by connecting MBA students with industry leaders, fostering creative spaces for students to test and develop ideas, and providing resources and opportunities to support MBA students in their endeavors to build new businesses. McHugh attended with other EVCC representatives and networked throughout the evening.
"The event at ATV was awesome," McHugh said. "One minute I was chatting with the CEO of an Atlanta-area startup accelerator, next I was talking to a recent MBA grad about his company that is using machine learning to test mobile apps, then I was brainstorming business models to improve charitable giving with a current MBA who is interested in social entrepreneurship. As an MBA interested in running early-stage companies, I couldn't have asked for a more interesting, helpful and fun event."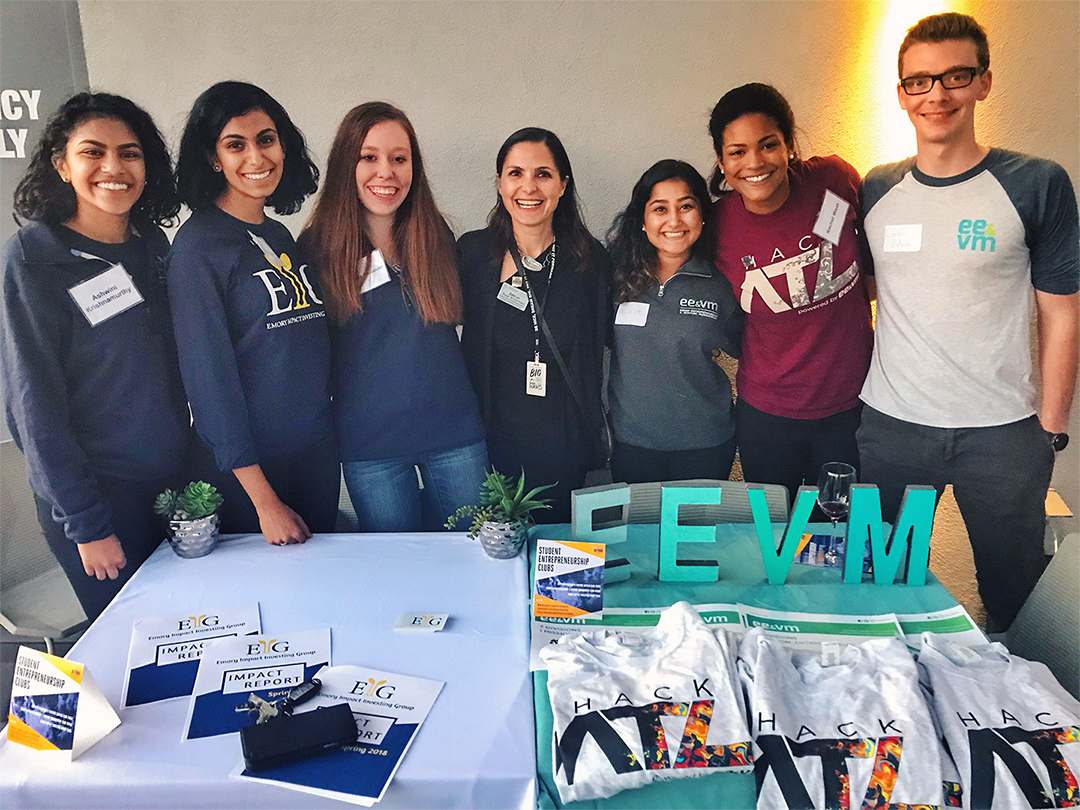 Also promoting a student-run organization was Priyanka Desai 20BBA, chief operations officer of Emory Impact Investing Group. Desai said the organization, which provides microloans to local entrepreneurs, was part of her decision to come to Emory.
"The opportunity to use what I learned in the classroom to make a positive impact in the real world was something I couldn't pass up," she said.
At the event, Desai had the opportunity to talk with alumni about their businesses and share her work with EIIG.
"The event was phenomenal," Desai said. "It was incredible to be able to see what Goizueta alumni were doing with their careers years after they were students like me."
Priyanka Desai is also an example of how a love of entrepreneurship can carry down through generations. Her father, Venus Desai 00MBA, attended the event as well. Venus Desai is a co-founder of NuGen Systems, a company pioneering in energy-as-a-service at the enterprise level. Active in the Goizueta Alumni Entrepreneur Network, Venus Desai attended to catch up with fellow members of the group, as well as with his daughter.
"I enjoyed the event and look forward to more of these in the future," Venus Desai said.
Christine Baker 18WEMBA reflected on the great scenery and sense of camaraderie on the rooftop that evening.
"It's a family," Baker said of the alumni network. "We all encourage each other because it's hard out there. At these kinds of events, you feed off each other's energy. You hear people's stories and it encourages you. You realize you're not alone."
For more information about entrepreneurship at Goizueta, visit http://entrepreneurship.emory.edu.