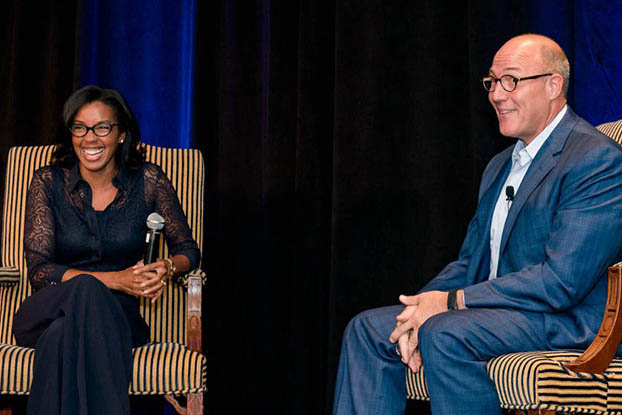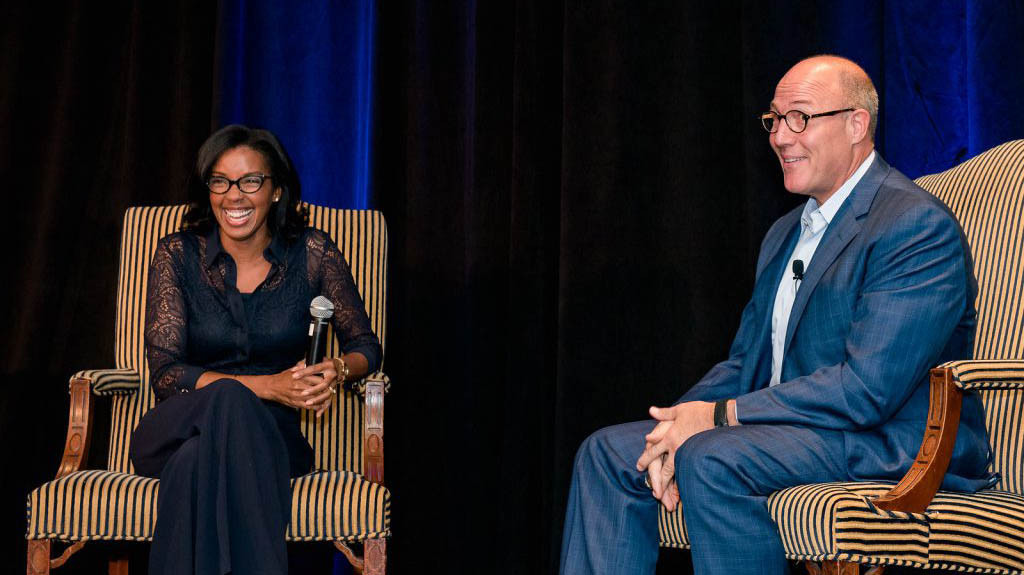 How to "take a seat at the table" was a common theme at the third annual #GoizuetaENGAGE conference, the flagship effort of the Goizueta's women's initiative. The day-long event brought together individuals with a passion to improve gender equality in business and included discussion panels, networking opportunities and inspiring speakers.
Xia Liu 98MBA, EVP and CFO of Georgia Power, shared some ground rules for women navigating a career in business.
"Accept your situation, but define your own destiny," Liu said during remarks that kicked off the day's activities.
She explained that in situations where you may be the only woman in the room, it's necessary to be proactive: If you are passed over during introductions, reach out and initiate the handshake first. Don't be afraid to sit up front, in the middle, or to take up space, literally and figuratively.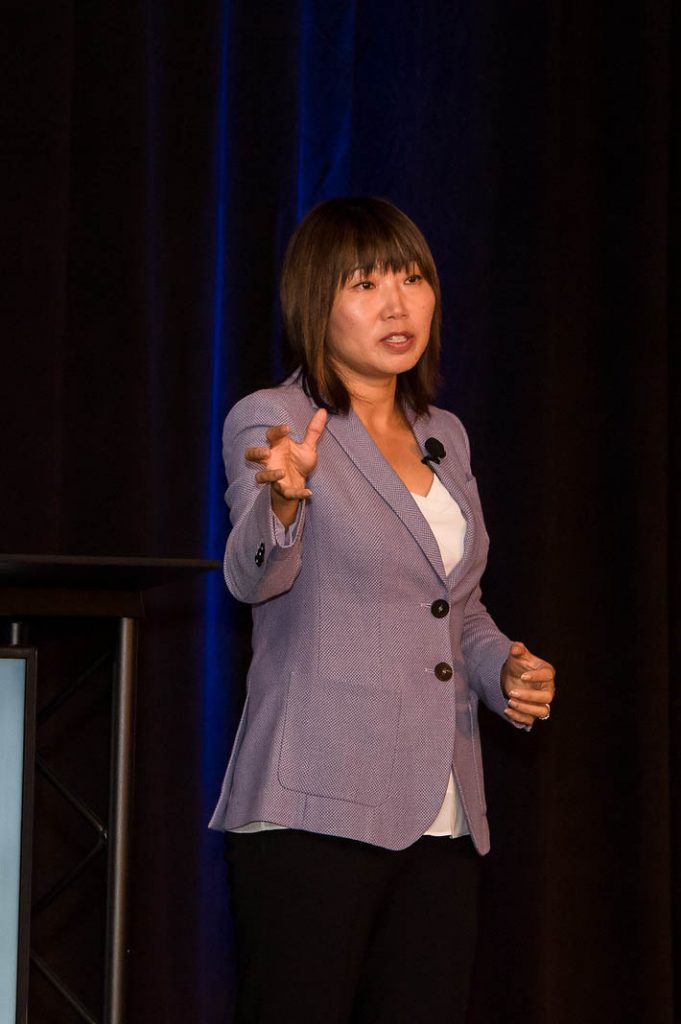 Although it can be nerve-racking at first, "Taking a seat at the table is an acquired skill," she said. "Once you start practicing, it becomes a habit."
Liu continued to address the importance of performance (being really good at what you do), image, genuine relationships, and finding balance from within.
"Whatever your choices are, be okay with it, and never look back," she said. "Dare to dream. Give yourself permission to dream and dream big."
By following these rules, Liu became the first-ever female CFO in Georgia Power's more than 130-year history.
Offering a different perspective, Scott Pioli, assistant general manager for the Atlanta Falcons, shared insights into how to be an ally and advocate for women during a question and answer session with Erika James, John H. Harland Dean of Emory University's Goizueta Business School.
Pioli described how his two older sisters influenced his life early on. Both were talented athletes who excelled in school.
"Today, they would be scholarship athletes," Pioli said.
However, neither was able to get a scholarship at the time. Because he was male, and because he could play football, it was Pioli who got the scholarship and went to college. By going to college he was afforded opportunities that his sisters were not.
"I watched all the extra things [my sisters] had to do, and the pain they had to endure, and I've known since I was a kid it's fundamentally wrong," Pioli said.
Since that early age, Pioli has worked to champion women in the work force, fighting on their behalf for equal pay and opportunities. It has not always been easy in the male-dominated field of professional football.
"I have been intentional about being a disruptor," Pioli said.
Pioli said one of the most liberating things to happen to him was getting fired from the Kansas City Chiefs. When asked to expand on cultivating a spirit of resiliency after a setback, Pioli said, "When you fail, own it. Learn from it. Grow from it. Apologize for it. The fear of failure isn't a bad thing. It's actually a pretty good motivator sometimes. You're going to fail and that's okay. Own it and then move on."
---
Other presenters included:
Faculty Panels:
Power and Ethics in Organizations
Emily Bianchi, associate professor, organization and management
Creative Collaboration: The Art of Teamwork
Jill Perry-Smith, Goizueta Foundation term professor, organization and management
Communicate with Gender Intelligence
Professor, management communications
Alumni Panels:
Making Your Mark: How Problem-Solving Differentiates You on the Job
Lynne Segall 99MBA (moderator), Stephanie Espy 08MBA, Heidi Laki 16MBA, Amy Zehfuss-Loegel 99MBA
Navigating the Future of Business: How to Align Your Professional Journey with Emerging Industry Trends
Angela Bostick, chief growth officer, Goizueta (moderator); Akilah Doyle 17EVMBA, Carolina Mainor 15EVMBA, Debbie Perantoni 00EVMBA, Elizabeth Randall 17EVMBA
Owning Your Why: The Importance of Being Your Authentic Self
Deepa Krishnan 06MBA (moderator), Jodi Evans 16EVMBA, Naya-Joi Martin, 14MBA, Tara Sconzo 14EVMBA
Dispelling Cultural Myths in Business: How to Distinguish Fact from Fiction in Your Desired Career Path
Nancy Lupinski, head of people development, Invesco (moderator); Dedra Casey 14EVMBA, Victoria Cuesta 14MBA, D Miller 11MBA
Professional Workshops:
A Professional's Guide to LinkedIn
Ricky Mackessy, senior enterprise account executive, LinkedIn
Allies, Mentors and Sponsors: Identifying Your Ideal Path to A Seat at the Table
Harmony Foster, strategic decision support controller, UPS; Dekia Scott, public markets director, Southern Company; Patricia Arundel WEMBA11; Kenyatta Walker, vice president, operations, Comprehensive Outsourcing Services
Key Words of Wisdom from #GoizuetaENGAGE
"Action is the antidote to a lack of confidence." Amy Zehfuss-Loegel 99MBA, founder, Springboard Strategy
"Intuition is a power women have. When someone in the room reacts in a certain way and nobody notices it but you, that's power." Elizabeth Randall 17EVMBA, director of corporate strategy and innovation, Turner
"Develop a habit of reading every day about whatever industry it is that you're interested in. Consuming the daily news about your industry will help you see the trends and understand what's coming in the future." Debbie Perantoni 00EVMBA, director of product management and international services, AT&T
(On being the only female at the job site): "Get comfortable being uncomfortable. You're there because you belong there." Stephanie Espy 08MBA, founder and executive director, MathSP
"Do I really believe in work-life balance? No. I do believe in work-life harmony." D Miller 11MBA, senior manager, Accenture
"Problem-solving is the way in which I can demonstrate immediate value. It buys me credibility. It buys me the ability to take risks." Heidi Laki 16MBA, associate director, Vista Equity Partners
"I wish I saw less of women being super apologetic. As women, that weakens us in the workforce." Carolina Mainor 15EVMBA, brand marketing director, Enviroscent, Inc.
"Make sure people are saying your name and saying it often." Victoria Cuesta 14MBA, senior marketing analyst, UPS
"You can't have everything, but you can have anything. Pick your 'thing' and don't give up on that." Dedra Casey 14EVMBA, manager, Bain & Company
"Know your value. And be able to back it up with evidence." Akilah Doyle 17EVMBA, engineer, Georgia Power
View the Gallery
[ngg_images source="galleries" container_ids="56″ display_type="photocrati-nextgen_basic_slideshow" gallery_width="600″ gallery_height="400″ cycle_effect="fade" cycle_interval="3″ show_thumbnail_link="1″ thumbnail_link_text="[Show thumbnails]" order_by="sortorder" order_direction="ASC" returns="included" maximum_entity_count="500″]