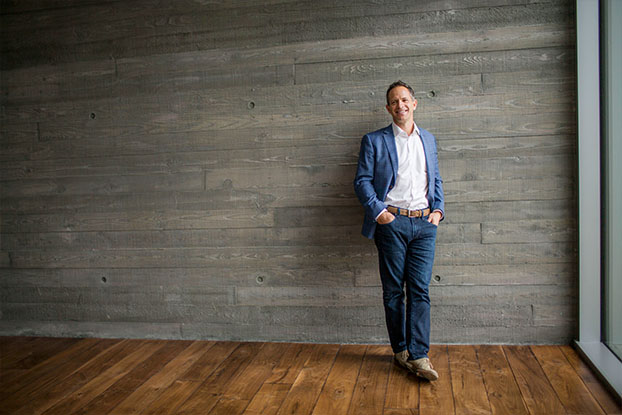 For once, Zander Lurie 99JD/MBA was tired of being the lone outsider in the room.
For more than seven years he relished the role of VP for JPMorgan. There was something of the Wild West in each of the deals he put together in his New York and San Francisco offices. IPOs and M&A were his focus areas.
As an investment banker, he was a hired gun riding in to strategize and help companies raise capital or merge or sell. In the past, a win was enough for him. He'd tip his hat and be on his way to the next assignment. On this day, however, he knew it was time for a change.
"I was really desirous to get on a team," he says. "I remember hosting a big closing event with a management team I'd grown to love. There was a big celebration, and I was kind of jealous because I wasn't on that team."
Never one to doubt his instincts, Lurie launched out on a road with unexpected twists and turns, eventually landing in his current role as head of SurveyMonkey, the leading online survey platform.
Retelling his journey to a majority of undergraduate students at Goizueta late last year, Lurie led a freewheeling, ask-me- anything discussion describing his years at Emory and how his career evolved. Most notable was his tenacity and willing- ness to trust his gut.
He came to Emory in '95 as a first-year law student. He notes, "About two weeks in, I was like, 'Dude, I don't want to be a lawyer. Is there a nursing school or a theology school or a business program? How do I get across the street?!'"
Lurie joined the rigorous JD/MBA program, though he wasn't the typical student. "I am very thankful the business school admitted a 23-year-old with no work experience!" he says.
While at Goizueta, his interest in finance led to internships in New York with PricewaterhouseCoopers and Chase. "I was kind of red up about the investment banking industry," he recalls. "I liked the deal component of it. Then I got really excited about the Internet sector."
The boom in the tech industry was a learning ground for Lurie, who joined Chase full-time as an associate. "It was the bubble economy, and big banks were hiring like mad." When Chase bought a boutique investment bank based out of San Francisco, Lurie moved to the West Coast.
Game-changing moment
Then the epiphany while at a deal closing: He wanted more—to be part of a team. Determined to make a transition, he accepted an SVP of strategy and development role with CNET Networks, one of the earlier Internet companies. The familiarity of the job made becoming part of a team a reality. His next promotion was to CFO. "A job I was wholly unprepared to do," he says.
Lurie persevered even without the often-requisite CPA license. He would aid the management team in selling the company to CBS, the big broadcaster, for $1.6 billion in 2008 and remain with CBS Interactive for four more years, over- seeing its next-generation content delivery initiatives as CFO and head of business development.
But it wasn't all work for Lurie during this time of transition. In 2001 he and a childhood friend, Leah Bernthal, started CoachArt, a nonprofit created in memory of his father. CoachArt connects families impacted by childhood chronic illness with volunteers who can provide coaching in arts or athletics. The nonprofit currently offers free, high-quality arts and athletics activities to more than 1,000 children.
Embracing the unexpected
By 2014, when Lurie moved to GoPro, maker of versatile cameras, he was hitting his stride. Armed with a knowledge of the digital marketplace coupled with the skill set of deal making, financial oversight, and online content development of news and entertainment, his role at GoPro was "a fun job."
When asked by students of the entrepreneur class about his GoPro experience, Lurie returned to a theme he'd stressed throughout his talk: follow your passion.
"All great technology companies are product-led," Lurie notes. "You don't say, 'I want to start a company that's going to do $100 million in sales.' Or, 'I want to start a company that's going to be worth a billion dollars.' You start a company because you're passionate about how you can solve this customer problem."
He then detailed the drive of SurveyMonkey founder Ryan Finley, whose beginning occurred when he was working at an online music service and needed to aggregate data. Not finding an adequate avenue in 1999, he created his own survey and wrote the code for it. Receiving great feedback, he launched a business.
It's this willingness to not plan too tightly, but to have a life compass that is centered on values rather than destination, that defines Lurie. Such occurred in May 2015 with the sudden death of his friend Dave Goldberg, then CEO of SurveyMonkey. Lurie and his wife were vacationing with him and Goldberg's wife, Facebook's Sheryl Sandberg, in Mexico at the time.
Lurie, who was a SurveyMonkey board member, stepped in as interim CEO.
Says Lurie, "As you get older there will be times when you are thrown into the figurative fire and you have to dig deep and figure out 'What are we going to do?' You look back to the compass. As long as you have the best interest of colleagues, workers, friends, and family at heart, you'll make the best decision possible at that moment."
Two days later, Lurie was back in the offices of SurveyMonkey, standing on a platform with members of the board, in front of shocked and grieving employees. "I spent the summer helping people through the pain and trying to keep the trains on the track," he says.
Lurie accepted the role of permanent CEO in January 2016. Today, he actively espouses the value of survey data while keeping the SurveyMonkey organization competitive.
"Looking ahead, we'll continue to build out and innovate business-grade solutions that will help companies find out the 'why' and gain a deeper understanding of their data in order to make better decisions," he says.
Forming deep ties is a way Lurie, as leader, maintains his passion for teams. He still supports GoPro as a board member and serves on the board of Grokker, an online instructional video company.
It's the appreciation for teamwork that continues to drive Lurie and to push his employees to be active collaborators in the company's success. He says, "At SurveyMonkey we have a strong commitment to upholding diversity and inclusion, and that means giving a voice to all of our employees. And just as we emphasize listening to all our customers, we also listen to all our employees—amazing ideas can come from anywhere, and some of the best ones are born of collaboration and teamwork across diverse groups. That's the environment we strive to create."