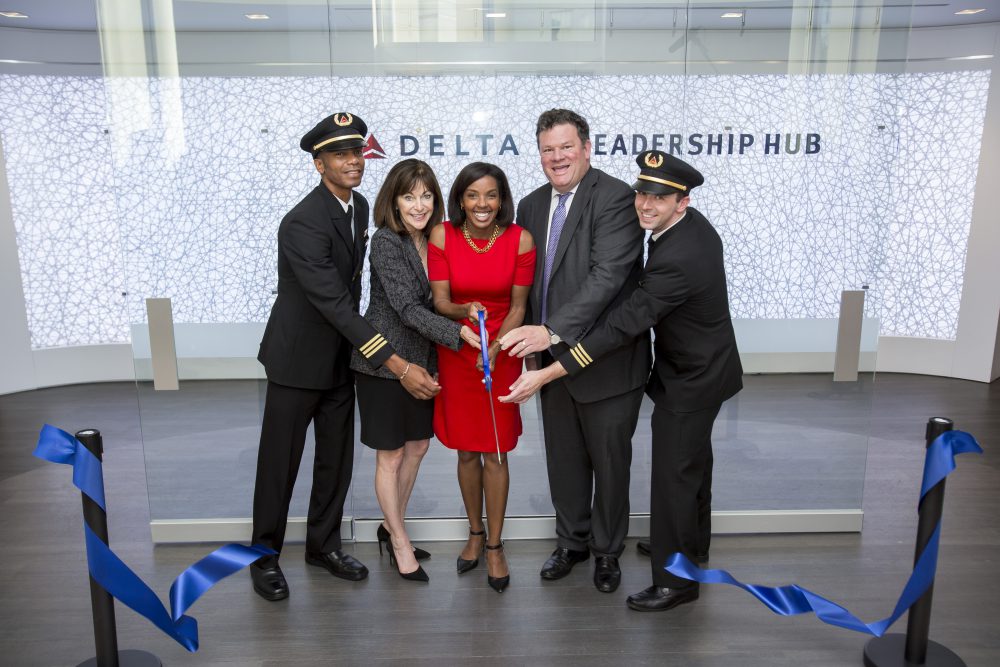 Leaders from Emory University's Goizueta Business School and The Delta Air Lines Foundation opened the Delta Leadership Hub – a state-of-the art classroom and event space on Oct. 10.
The space redesign came as part of a $3.5 million gift from The Delta Air Lines Foundation that also endowed Goizueta's leadership program, a premiere three-pronged leadership development program focused on academic, experiential and reflecting learning for Delta Leadership Coaching Fellows. Through this program, second-year MBA students are able to practice and improve their leadership, team-building and feedback skills, vital to the workplace. They are also able to engage with and mentor first-year MBA students as a part of this initiative.
"The Delta Leadership Hub will be the focal point of our leadership initiatives and numerous other events," said Erika James, the John H. Harland Dean of Goizueta Business School. "It's more than a new style, it's an infusion of technology our faculty, students and any number of guests will enjoy for years to come."
Boasting a dramatic entrance with a glass storefront and the Delta Leadership Hub logo, the classroom features the ability for instructors and students to connect their devices wirelessly using Mersive Solstice technology. The foyer area includes entrance halls or, "jetways," designed with clean lines and multiple display monitors.
"We are proud to open this premiere space for leadership learning with Goizueta," said Tad Hutcheson, Senior Vice President of The Delta Air Lines Foundation. "Giving back to the communities where we live, work and serve is core to Delta, starting with our hometown of Atlanta."
View the Gallery:
[ngg_images source="galleries" container_ids="7″ display_type="photocrati-nextgen_basic_slideshow" gallery_width="600″ gallery_height="400″ cycle_effect="fade" cycle_interval="3″ show_thumbnail_link="0″ thumbnail_link_text="[Show thumbnails]" order_by="sortorder" order_direction="ASC" returns="included" maximum_entity_count="500″]
About Emory University's Goizueta Business School
Business education has been an integral part of Emory University's identity since 1919. That kind of longevity and significance does not come without a culture built on success and service. The hallmark of the Goizueta Business School experience is learning in a tight-knit, intimate community where every student, faculty member, and administrator knows each other by first name. The school trains business leaders of today and tomorrow with an Undergraduate degree program, a Two-Year Full-Time MBA, a One-Year MBA, an Evening MBA, two formats of an Executive MBA, a Master's of Business Analytics, a Doctoral degree and a portfolio of non-degree Emory Executive Education courses. The school is named for the late Roberto C. Goizueta, former Chairman and CEO of The Coca-Cola Company.
About The Delta Air Lines Foundation
The Delta Air Lines Foundation is a nonprofit corporation formed in 1968 to enhance Delta's charitable giving. It is focused primarily on the areas of education, health and wellness, as well as arts and culture. Foundation contributions are unrestricted, allowing recipients to use funds where they are most needed. For more on the Foundation, visit the Delta News Hub.