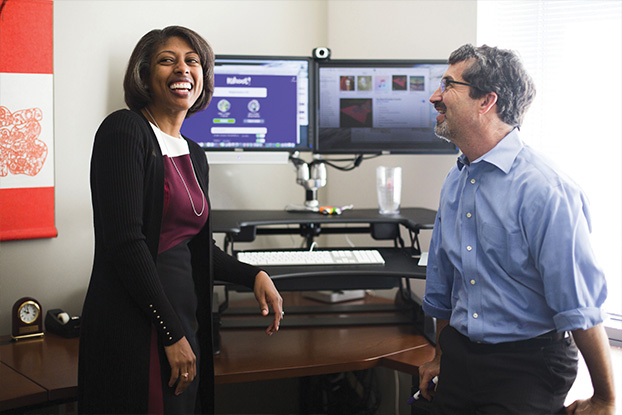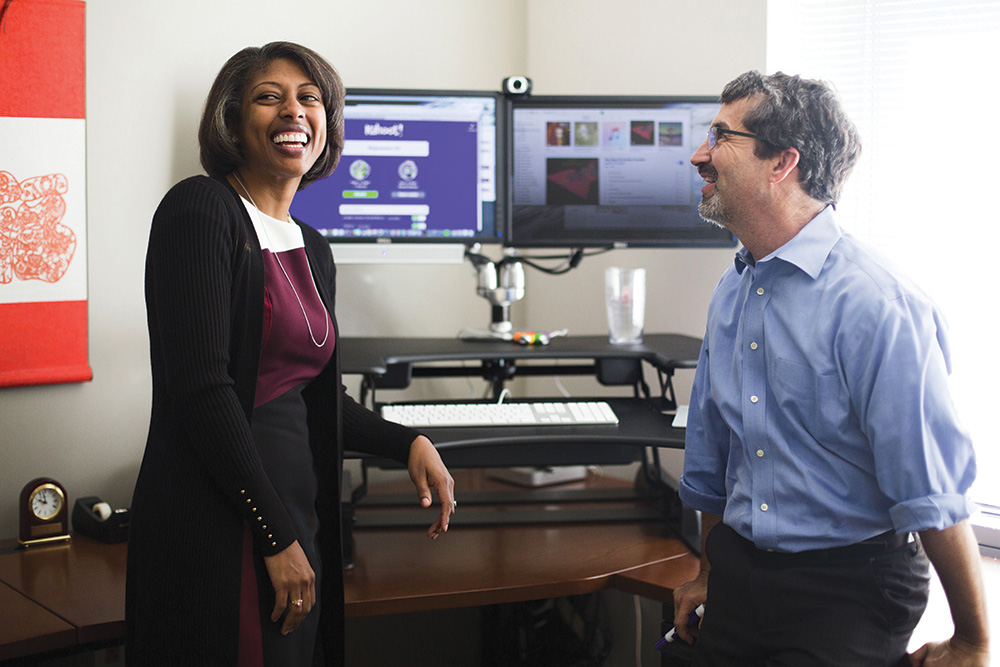 When faculty members want help crafting a syllabus or using technology to enhance the learning experience, they call on Jackie Conner, director of academic affairs and instructional design (ID). Conner leads the instructional design team that works behind the scenes to support faculty and make the classroom experience seamless. As part of Dean Erika James's strategic initiatives, Conner and Steve Walton, professor in the practice of information systems & operations management, submitted an innovation fund proposal to explore new technologies that will impact higher education, and they won. Recently, the duo met up to discuss the project and Conner's career.
---
Walton: Let me be one of the first to congratulate you on our win!
Conner: Thanks, Steve. When Dean James challenged faculty and staff to use our entrepreneurial spirit to collaborate and think creatively to address problems and opportunities, I was totally on board. I have worked with faculty and technology for more than 10 years, and it's great the innovation award will provide resources for our study. Why don't you share your role?
Walton: This fall, I took on the new role of faculty advisor for digital education. I'll partner with you to look forward at new technologies that will likely impact education, mentor faculty, and find ways to bring technology into their classes. At the same time, you and I will explore not only the current best practices but where technology will take us in the future.
Conner: I'm excited to begin!
Walton: Speaking of the faculty, when they come to you, what type of help are they seeking?
Conner: Faculty want to improve the way they engage with their students. As instructional designers, our desire is to dig deeper and define the level of engagement a faculty member wants with students, based on their teaching styles and goals.
Walton: Share more about the work you do—there are multiple aspects?
Conner: Instructional design entails curriculum design and alignment with our school's mission and programmatic goals. Another component is the use of technology in the classroom. In conjunction with Goizueta's Academic Technology Media Services, we work to expose technologies to faculty so that the transformation of knowledge can be enforced and improved through learning technologies. This includes putting content online, creating digital assets for reviewing and reinforcing information, as well as using tools to teach students remotely in real time.
Walton: Is coaching faculty on delivery of this new pedagogy a part of what you do?
Conner: Yes, that's the main piece of our work. We see ourselves as educational consultants, and similarly, we like to put our clients at ease by meeting in their space, be it at their office or home.
Walton: How do you see technology changing what's happening in the classroom?
Conner: My personal belief is that technology is embedded in the classroom experiences in order to enhance a learning experience. To be effective, technology needs to be an advantage rather than a distraction. There is a very fine line between making it work for you and making it work against you. We've seen cases where faculty members are willing to try all the bells and whistles, but sometimes they get in the way. And then we have faculty where a bell and a whistle would really do them some good. The goal is to determine how and when to use the technology to your advantage.
Walton: Consulting with faculty is just one aspect of your role. You also work with academic affairs. What does that entail for you?
Conner: I am responsible for our accreditation within the school, monitoring our rankings, and also overseeing our registrar office for all student records. I really love this aspect of the job because it's an area of growth for me. I've been in distance education for over 15 years, and this gives me the opportunity to see the results from a much broader perspective. Specifically, I get to look at data on the student population as well as the faculty makeup to better understand how all these elements come into play when you're building an institutional experience for students.
Walton: Your background is quite diverse. You majored in math at Spelman, got a master's degree from Georgia Tech, and then a doctorate of education specializing in educational psychology from the University of Southern California. Why psychology?
Conner: The psychology component is important because it deals with the ways people learn and how they think. When we're building online educational content, we recognize that, cognitively, people will only really sit and engage fully in a topic for 8 to 12 minutes. We call that "seat time." That's why our online courses are always chunked within that timeframe. With educational psychology, we're looking at the ways people learn and which learning styles are actually exhibited in these students. For instance, you may have a person who will comprehend the concept better by having a visual cue, or verbal cue, so you have to be mindful of that when you're teaching to make sure you are accounting for multiple learning styles.
Walton: How would you describe your management style?
Conner: Fortunately, I've had amazing managers to aid the development of my style, which I would describe as very collaborative and empowering. For example, my goal is to be as hands-off as possible. This way, individuals take full ownership of their responsibility and their role, which leads to their ability to manage themselves and feel a sense of empowerment in their work.
Walton: When you're not working on all of the many things that you just described, what type of activities do you enjoy?
Conner: There's nothing I enjoy more than spending time with my husband and our three kids: 9, 6, and 3. Children are so amazing in just how honest they are. I think I really learn more about myself in watching them.