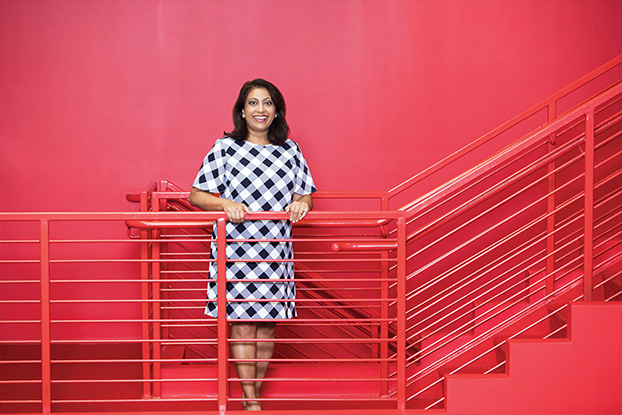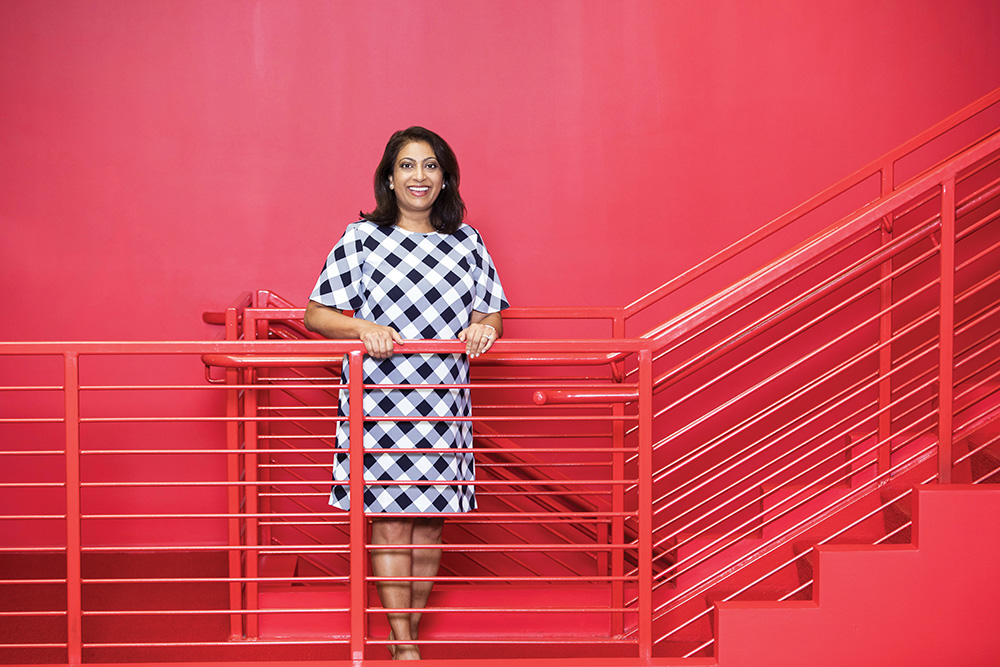 Since 2015, Alpa Sutaria 96MBA has been working on some of the biggest transformations in The Coca-Cola Company's recent history, each with a set of sticky, challenging problems and opportunities.
And that's just the way this Coca-Cola veteran likes it.
Until recently, she worked with the leadership team of Coca-Cola Refreshments to tackle the daunting task of seamlessly selling off all of the company-owned bottling operations in the US to independent bottlers, all while driving great business results.
Sutaria worked closely with a cross-section of leaders to craft and execute "a really good game plan for how we would accomplish it, while we were actually going through it ourselves." They had to ensure that thousands of employees were delivering the business plan, successfully refranchising, and staying engaged and empowered, all while in transition themselves. "Truly a case study of leadership and resilience on steroids," she says.
In June, she was tapped by the new Coca-Cola Company Chief People Officer, Jennifer Mann, and CEO James Quincey to help take the 135-year-old company to the next level and beyond.
"At Coca-Cola, we are working to give our consumers what they are telling us they want, where they want it," Sutaria notes. "We have a great foundation to get there as a total beverage company. To go further, we must become flexible and agile, more curious and entrepreneurial."
Sutaria's current title is lead for strategy execution and culture transformation. In this role, she is figuring out how to utilize "the amazing talent we have all around the globe and leverage their passion to drive some of the changes we'd like to make."
Not surprisingly, Sutaria has built a reputation for delivering value over the nearly 15 years she's worked at the beverage giant. What sets her apart, she says, is focusing on learning instead of a career goal, being fulfilled, and accurately connecting the dots.
"For me, fulfillment comes from the ability to deliver results that really last," she says. "This requires me to be open
and creative."
Sutaria uses her innate curiosity and varied network of fellow employees to make connections. "Because I've had so many different types of jobs within the company, I am able to pull different groups together, which brings fresh ideas to problems."
Her flair for solving problems propelled Sutaria from an initial path of industrial engineering to earning her MBA at Goizueta. Not only did she gain the necessary tools to move into the field of consulting, but she got her first taste of the principals and legend of Roberto C. Goizueta.
"I began school just as the gift named in Mr. Goizueta's honor was announced and the school named for him," recalls Sutaria. "It was such an honor meeting Mr. Goizueta. He was the speaker at our graduation and gave us our diplomas. Needless to say, my passion for the Coke system started way back then."
She spent eight years at Deloitte before joining Coca-Cola in 2003. Reflecting on her tenure, Sutaria credits the work ethic and values instilled in her by immigrant parents.
"I come from a family of first-generation immigrants. My parents are Indian ethnically but have roots in East Africa—Kenya and Uganda. I was actually born in Uganda," she says. "My parents worked multiple jobs just to make ends meet, and yet we had a wonderful childhood growing up. Our life was really all about focusing on hard work, dedication to each other, and enjoying what we had. I learned about grit from them. They really inspired me to think beyond our problems and to understand that we are on this planet to make a difference, and we can do that in so many ways every day."