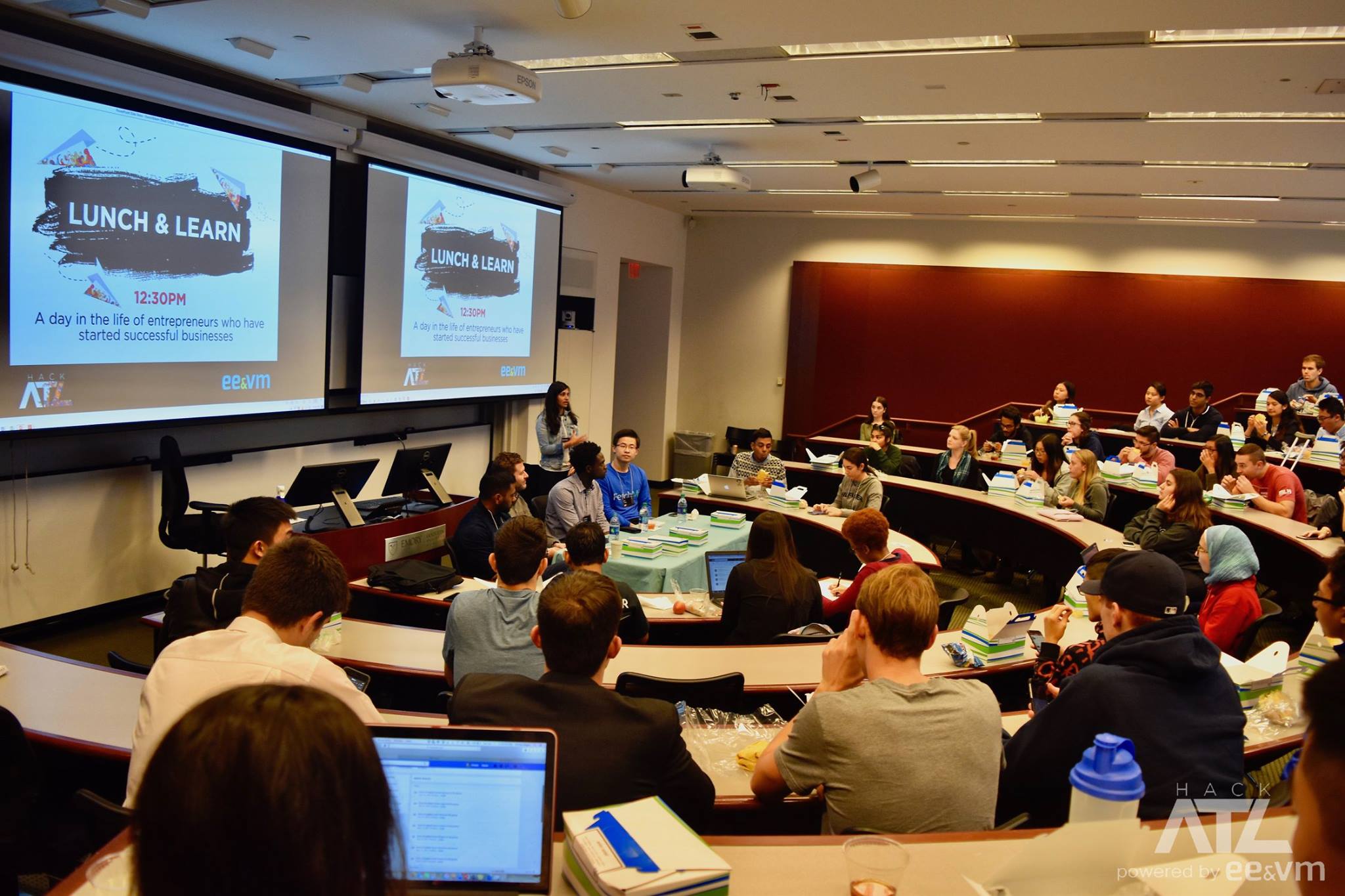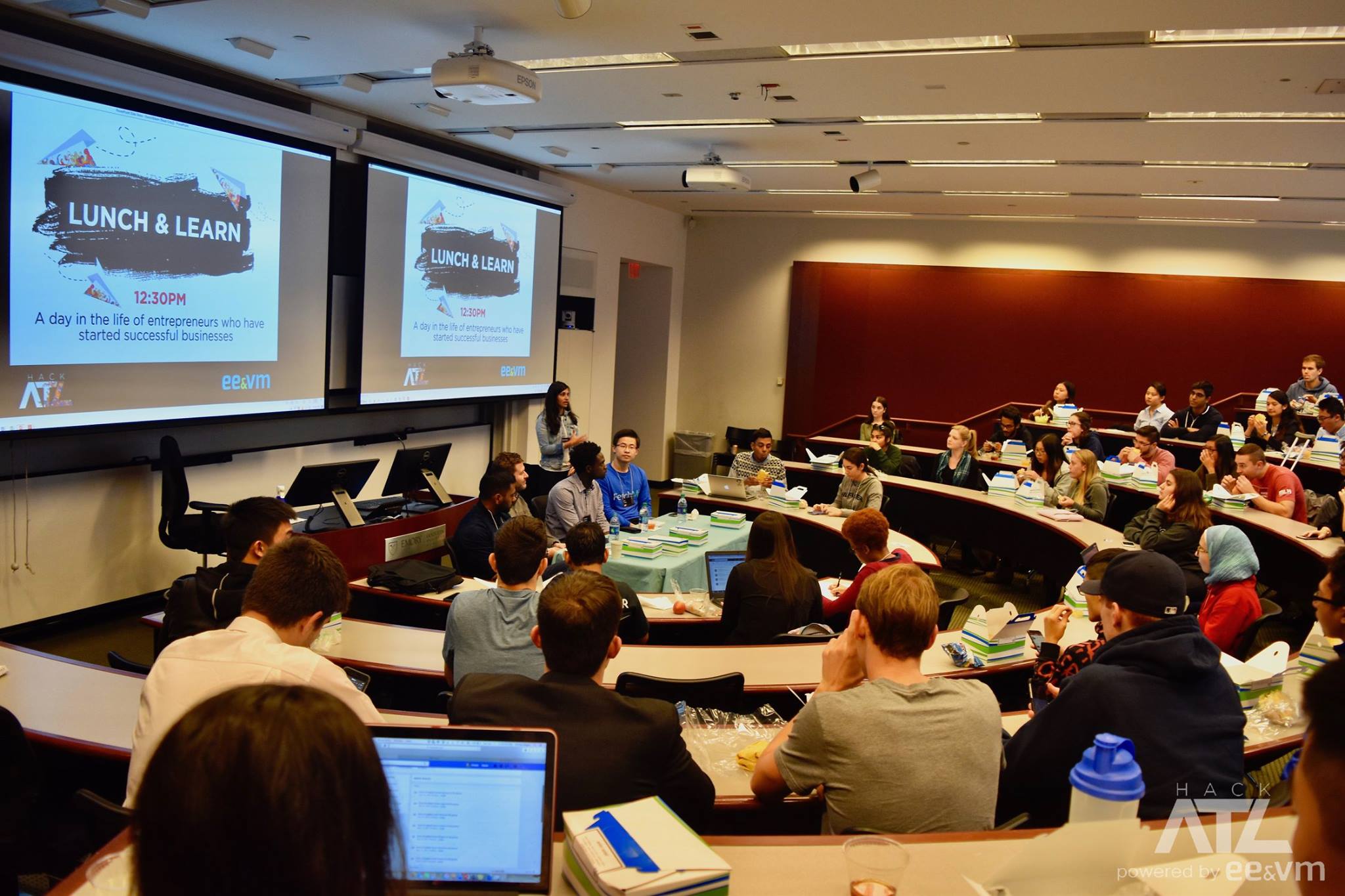 While most students were off enjoying their weekend, the "hackers, hustlers and hipsters" were busy brainstorming and collaborating during the sixth annual HackATL event where teams spend 48 hours building a business to present to judges.
Organized by the Emory Entrepreneurship & Venture Management club, HackATL is one of the largest business hackathons in the southeastern United States.
"EEVM and HackATL are dedicated to helping foster the entrepreneurial spirit at Emory and the greater Atlanta area," EEVM President Sahej Singh 18BBA said.
This year, out of 700 applicants, 300 were chosen to compete and solve problems in categories of social enterprise, health and wellness, innovations, and consumer technology.
Keynote speaker David Cummings understands the lifelong serial entrepreneurship HackATL desires to cultivate. Having started his path as a freshman at Duke University creating a service where students could buy and sell textbooks from one another, he has since become the founder of marketing software Pardot and the Atlanta Tech Village.
Cummings recounted his experiences developing into a sales and marketing-focused entrepreneur and figuring out how to acquire customers from someone who was primarily idea- and product-focused. After spending two years learning how to sell and market products, he started building the software and business that would later become Pardot, designed from the ground up for business marketers.
After less than six years of existence, Pardot was sold for almost $100 million. Cummings next had to tackle "how to go from success to significance." After having started three businesses in college, he wanted to find a way to recreate that "campus feel" with hundreds of entrepreneurs and businesses under the same roof by opening a tech entrepreneurship center and co-working space.
"From an entrepreneur's perspective, having a campus and a collaboration would increase the chance of success of everyone in the building," he said. "By bringing together 100,000 square feet worth of entrepreneurs, we were going to be able to make a bigger impact."
The Atlanta Tech Village has become one of the largest tech entrepreneurship centers in the United States with 250 different startups in the building, but even within the first week of its opening, they had rented out every desk and office. That signaled to Cummings that there was a high demand for entrepreneurs to be around each other.
Cummings' message to the students was clear: the time to start is now.
"Don't get a job. Don't wait. Don't make your parents happy," he said. "Start your companies now to solve problems or make someone smile because the sooner you get the flywheel going, the more time your business has to compound on itself."
After a competitive process of hacking and pitching, the judges chose six winning teams. The first-place team, winning $2,000, was a group of computer science students from The University of Alabama who created Runa, a mobile app dedicated to enhancing early childhood speech development.
The Artem group from Emory University, who created a hedge fund for art, won second place and $1,500. Perspective, an app connecting those suffering from anxiety and depression to clinicians in the area made by two students from the University of Georgia, was the third-place winner of $1,000.
Arise, a marketplace and augmented reality virtual try-on tool for people who want to buy prosthetics, won fourth place. Enabled, a workplace accommodations platform, came in fifth place. The sixth-place team created StudyFind, an app bringing students seeking money to clinical trials seeking participants.