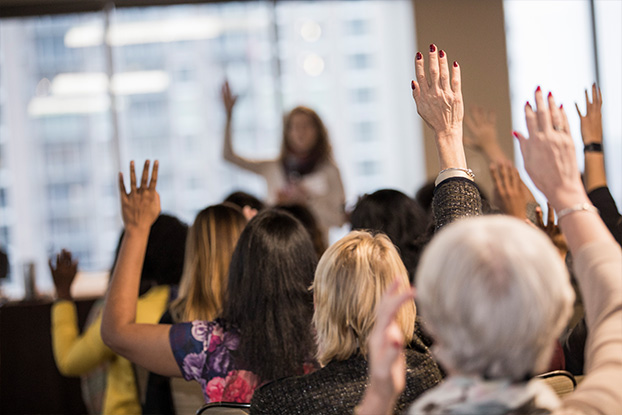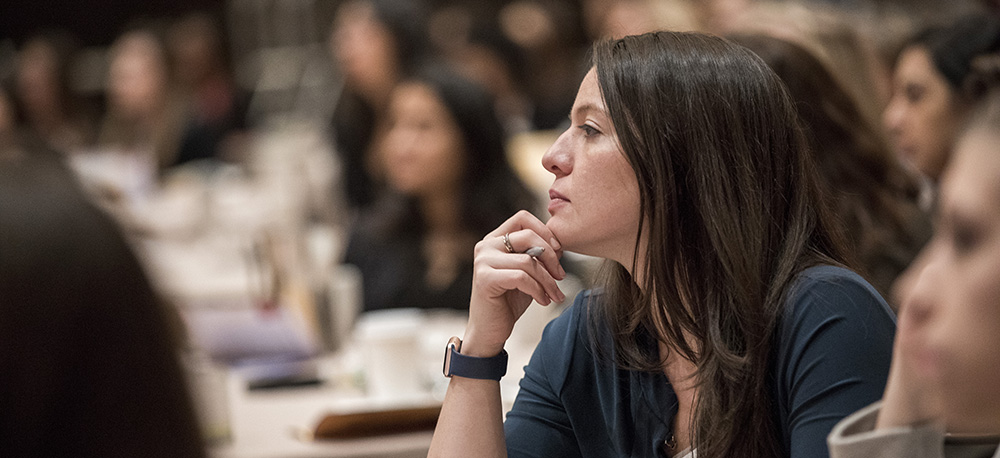 More than 250 women and men came together to hear from key stakeholders, network with fellow business leaders, and learn from faculty and alumni panels about women's equality during Goizueta Business School's second annual #GoizuetaENGAGE conference.
Although abbreviated due to Atlanta's winter weather event, the day did not disappoint as both men and women engaged to learn more about women's equality and advancement in the business environment.
Erika James, John H. Harland Dean of Emory University's Goizueta Business School, opened the conference stating there is no better time than right now to discuss women's equality in the workplace.
"When we gathered a year ago, we had one goal: to start a conversation on gender equality in industry and business education," James said. "There's no better time to continue that conversation than now. At Goizueta Business School, we have a focus on diversity programming and continually look to educate women on opportunities stemming from their business degrees."
The #GoizuetaENGAGE conference works directly with the school's ongoing goals of taking ownership and action of gender equality, including
Bringing together business and educational leaders to increase dialogue.
Engaging companies with resources to secure a diverse workforce.
Empowering women with knowledge and confidence to advance their careers.
Creating environments that allow female students to thrive.
Offering new and thoughtful programming for female alumni.
"One of our biggest strengths, however, is convening key stakeholders, experts and thought leaders for conversation," James said. "How else can we normalize what it means to be a woman at work? I hope that today sparks conversation in your classes, board rooms and homes to find a way to tackle gender inequality together."
Focusing on gender inequality directly was keynote presenter, Andrew Davis 08WEMBA, global chief diversity & inclusion officer at The Coca-Cola Company.
Davis walked attendees through the Coca-Cola journey with a focus on how the company approaches gender and diversity in its workforce.
In the U.S., 40 percent of Coca-Cola's bottlers are minority owned, according to Davis.
"The nature of our business is what makes us diverse," he said. "What I always love to say is that we better be diverse if we're going to be playing in these markets."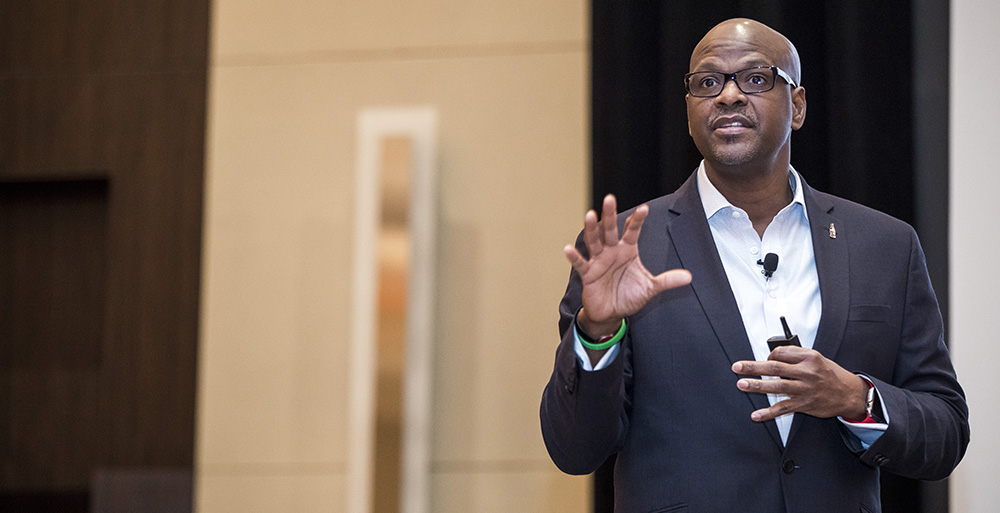 While the diversity-inclusion strategy at Coca-Cola is not a one-man or one-woman job, Davis said it's important to have someone in a point leadership position.
"It's not just a strategy job," Davis said. "It's a roll-up-your-sleeves, get-it-done job. It's making sure these elements come to life, but it's also partnering with all these stakeholders."
Women represent roughly 47 percent in the workplace, according to statistics from Davis. However, women control 70 percent of the buying power in their communities and homes, equating to 40 trillion dollars globally by 2018.
"When you think about that, it's a no-brainer," he said. "If you don't get that as a business leader, then something is wrong."
To cap off his presentation, Davis left attendees, specifically women, with a challenge moving forward.
"I want you to raise your hand when you want that promotion and don't wait to be 80 percent ready," Davis said. "I want you to go back to the negotiation table and get the pay that you deserve. Try to blow some of this research away and focus on how you can change the game individually."
Other presenters included:
Faculty Panels:
Is Your Employee Homo Economicus or Abi Normal?: How to Encourage High Performing Employees
Karen Sedatole, professor, accounting
Standing Tall: The Role of Assertiveness at the Office
Melissa Williams, associate professor, organization and management
*Creative Collaboration: The Art of Teamwork
Jill Perry-Smith, associate professor, organization and management
*The Not-So Perfect Gift: Consumer Behavior in Gift-Giving
Morgan Ward assistant professor, marketing
Alumni Panels:
Discovering Your Fit: How to Evaluate Your Career Options
Kathleen Kuhnert Vieira 09FTMBA (moderator), JoAnn Lynen 02FTMBA, Katie Silverston 16EvMBA and Karen Wishart 03EMBA
Finding Your Why: Identifying Your Career Passion
Shelley Howell Megede 11EvMBA (moderator), Courtney Timmons 18EvMBA and Jazmyn Williams 16FTMBA
*Owning Your Why: The Importance of Being Your Authentic Self
Dolly Meese 05FTMBA (moderator), Jodi Evans 16EvMBA, Glenys Fernandez 13FTMBA and Tara Sconzo 14EvMBA
*Making Your Mark: How Problem-Solving Differentiates You On the Job
Lynne Segall 99FTMBA (moderator), Stephanie Espy 08FTMBA, Heidi Laki 16FTMBA and Amy Zehfuss-Loegel 99FTMBA
Executive Education Workshop:
Executive Presence
Allison Gilmore, founder, DuMore Improv
Luncheon Keynote Speaker and Panel:
Directing Your Career Journey with Purpose
Joann Lublin, author of Earning It; Abbey Kocan 09FTMBA, executive director, Kupona Foundation; Catie Morette 14BBA, consultant, Bain & Co; Rebecca Sandidge (moderator), chief of staff, Goizueta Business School
*Final Keynote Presentation:
The Importance of Allies: Why Male Advocacy Is Critical in the Battle for Equality
Erika James and Scott Pioli, assistant general manager, Atlanta Falcons
*Unable to present due to inclement weather
Gallery
[ngg_images source="galleries" container_ids="13″ display_type="photocrati-nextgen_basic_slideshow" gallery_width="600″ gallery_height="400″ cycle_effect="fade" cycle_interval="2″ show_thumbnail_link="0″ thumbnail_link_text="[Show thumbnails]" order_by="sortorder" order_direction="ASC" returns="included" maximum_entity_count="500″]
#GoizuetaENGAGE on Social