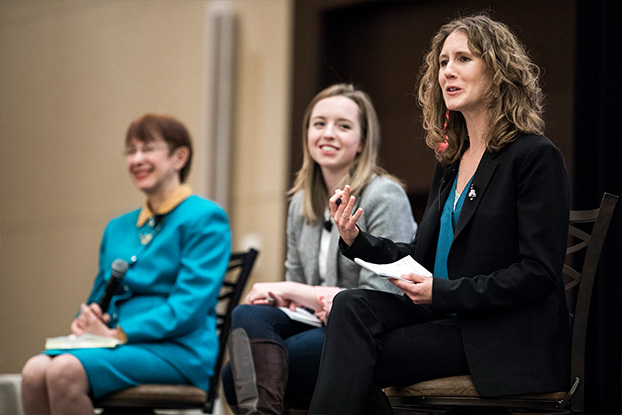 ­­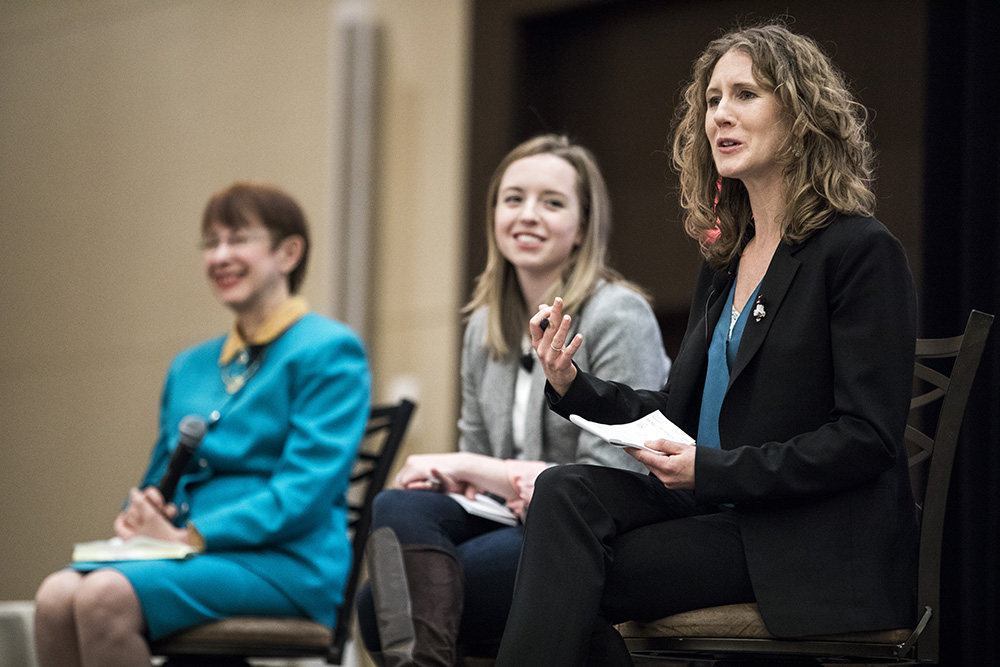 When Abbey Kocan 09MBA took a sabbatical with her husband to Tanzania, she never expected to tumble right into her purpose. But she did.
While her husband worked on a consulting project, Kocan was introduced to Kupona Foundation, a nonprofit that improves access to high-quality healthcare for people and communities living in poverty in Tanzania. Soon she was offered a chance to do more than admire the organization's efforts.
"It was not necessarily on my timeline, but I had this unique opportunity to work for Kupona. I knew this organization incredibly well, saw the need that existed and believed I could make a difference," she said. "So, I took a big leap, and it has been a very exciting four years."
Kocan, the executive director of Kapona, shared her trek from working as a manager at Deloitte Consulting to leading a lean nonprofit during the second annual #GoizuetaENGAGE conference on December 8 in Atlanta. As part of the panel discussion, "Directing Your Career Journey with Purpose," Kocan admitted the shift meant a 50 percent cut in pay and changes in the family dynamic ("it's a team effort!"), but the ability to turn a passion into work is well worth it.
For those seeking to follow purpose, Kocan advises, "You need to know what it is you want to achieve. This will change over time, but have a mental dialogue with yourself or discussion with a friend or partner, then look for opportunities."
Kocan knew she wanted to enter the nonprofit space. When the chance suddenly presented itself, "I recognized it was a risk worth taking."
Fellow panelist Catie Morette 14BBA, a consultant with Bain & Co., agrees. Morette, however, chose a slower trajectory.
"I really enjoy consulting, especially the ability to work with clients and make a meaningful difference in how they think about their businesses," she said.
After three years at Bain, Morette found her interest in health care projects continuing to grow. "I thought health care was a tangible way to make meaningful change and give back," she noted. That's when she began to tap into her network and seek ways to act on her interest.
"My experience is much like Abbey's: Do I stay in consulting or go to a nonprofit or hospital? Or do I start my own company or get an MBA?" she said. Ultimately, she took six months off from Bain, moved to Chicago and began working as a chief of staff for health plan services with Evolent Health.
"I learned a tremendous amount about health care, starting companies, and innovation," she said, adding, "I realized, however, that I had a lot more to learn."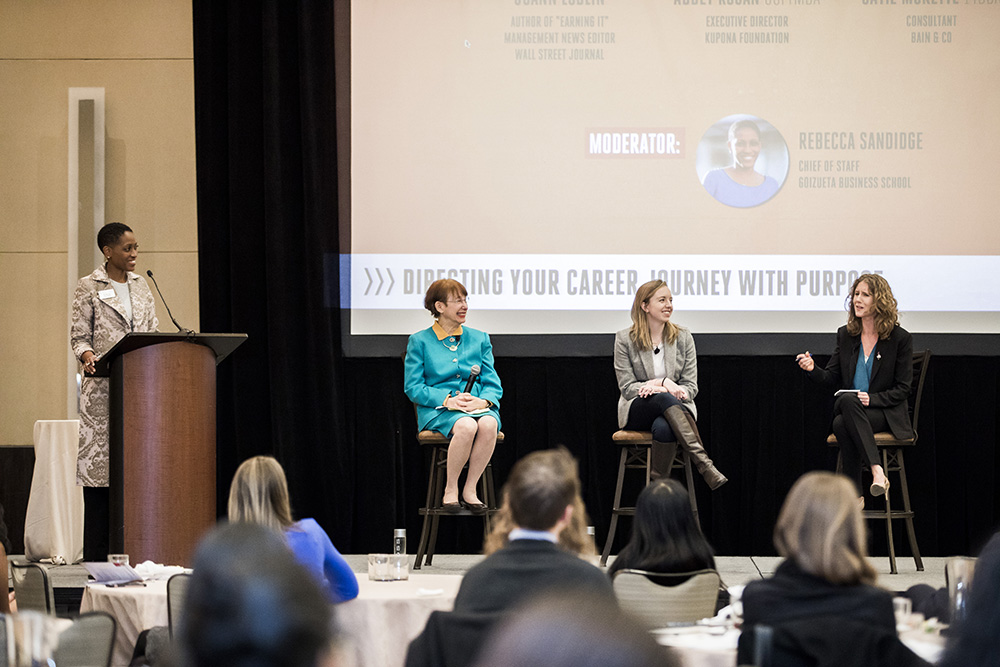 Morette returned to Bain and shared with the audience the important role male mentors played in her move and time at Bain.
"I have amazing male advocates at Bain, some I know well and others actually I never met, but who stuck their necks out for me when I said, 'I am really passionate about health care and can see myself working for these companies,'" Morette recalls. "I have really great mentors too, people who showed me ways to navigate tricky client situations and have helped me think through the tradeoffs of different career decisions."
Indeed mentors and sponsors are a great resource when identifying purpose, added panelist Joan Lublin, journalist and author of "Earning It: Hard-Won Lessons From Trailblazing Women at the Top of the Business World."
"A sponsor is not the same as a mentor," she said. "I like to say that a mentor will tell you before you go on stage to speak that your fly is open, but the sponsor is the one who will recommend you as the speaker."
When asked by moderator Rebecca Sandidge, Goizueta's chief of staff, what the major obstacle to purpose is, Lublin was quick to take up the question.
"The biggest obstacle is not knowing what your purpose is. For those who are able to recognize their purpose, be sure to acknowledge that it may change," said Lublin. "It's very important, as both panel members noted, to not only be introspective, but to reach out and constantly build and renew your network. In fact, each of us should have our own board of directors, who serve as informal mentors and are willing to let you know when they think the purpose you are pursuing, perhaps fruitlessly, needs to be tweaked."
Lublin also detailed insights from her new book "Earning It." The idea for this rich tome came out of a personal essay she wrote reflecting on the sexist atmosphere of her early work experience during the 1970s. Lublin is management news editor at The Wall Street Journal and writes a column, Managing Your Executive Career. She interviewed more than 50 women for the book, including Cheryl A. Bachelder, CEO of Popeyes Louisiana Kitchen Inc; Cathie Black, former president Hearst Magazines; Anne Mulcahy, former CEO of Xerox Corp.; Ginni Rometty, chairman, president and CEO IBM; and Challis Lowe, former highest human resources officer at Beneficial Corp., Ryder Systems Inc. and Dollar General Corp.
"Initially, my idea was to ask them how they handled gender bias, but as I interviewed these 52 women, it became clear that each had suffered and had setbacks, not just in their careers but personally," Lublin said. "The way they dealt with those setbacks resulted in their becoming better leaders."
From her interviews, four leadership trends emerged:
Resiliency. "This might be the most important because it requires courage. These women learned that occasionally you will have backward falls, but you have to learn from them and make sure you don't make that mistake again."
Innovation. "These women broke through, particularly midway in their careers, and became known as individuals who were willing to take a risk and do something that would set them apart from the crowd."
Lublin says the risks were calculated and noticeable. "It struck the women and their colleagues that they were innovators. If you get an opportunity to innovate, whether early, mid or late career, it's critical that you choose an opportunity that plays to your strengths. Also, that you have a fallback position, in case that innovative risky role doesn't work out."
Persistence. "You are going to get turned down for the jobs you want, for a position in an area you don't know or an industry where you are a newcomer. Don't let it bother you. To move into a new industry, you may have to choose a less than ideal job, but as you advance, the lessons you learn about being persistent is going to help you find fresh ways to get around other professional roadblocks.
Empathy. "Being empathetic requires an ability to walk in the shoes of the people you work with and who work for you. To be an empathetic listener signals to your colleagues that you are willing to collaborate and that you are interested in their success. To the extent you help them succeed, they will pull out all the stops and help you succeed."
Lublin concluded by stressing that part of "Earning It" is to give back.
"Part of earning it is returning it, and these women who chose to cooperate with me on the book are women who have chosen also to give back," Lublin said. "To the extent that you are mentored and sponsored by others, you have a moral, professional obligation to be a mentor and sponsor for others in turn."