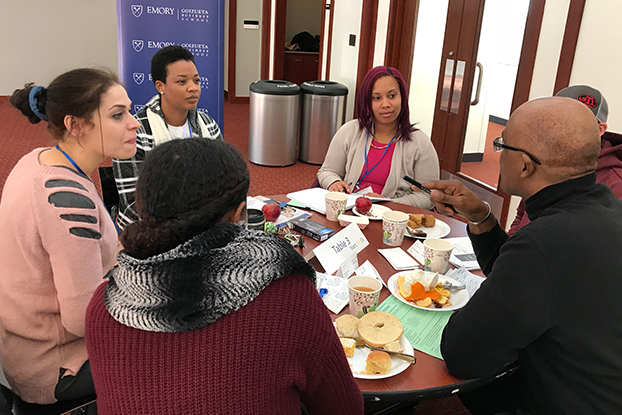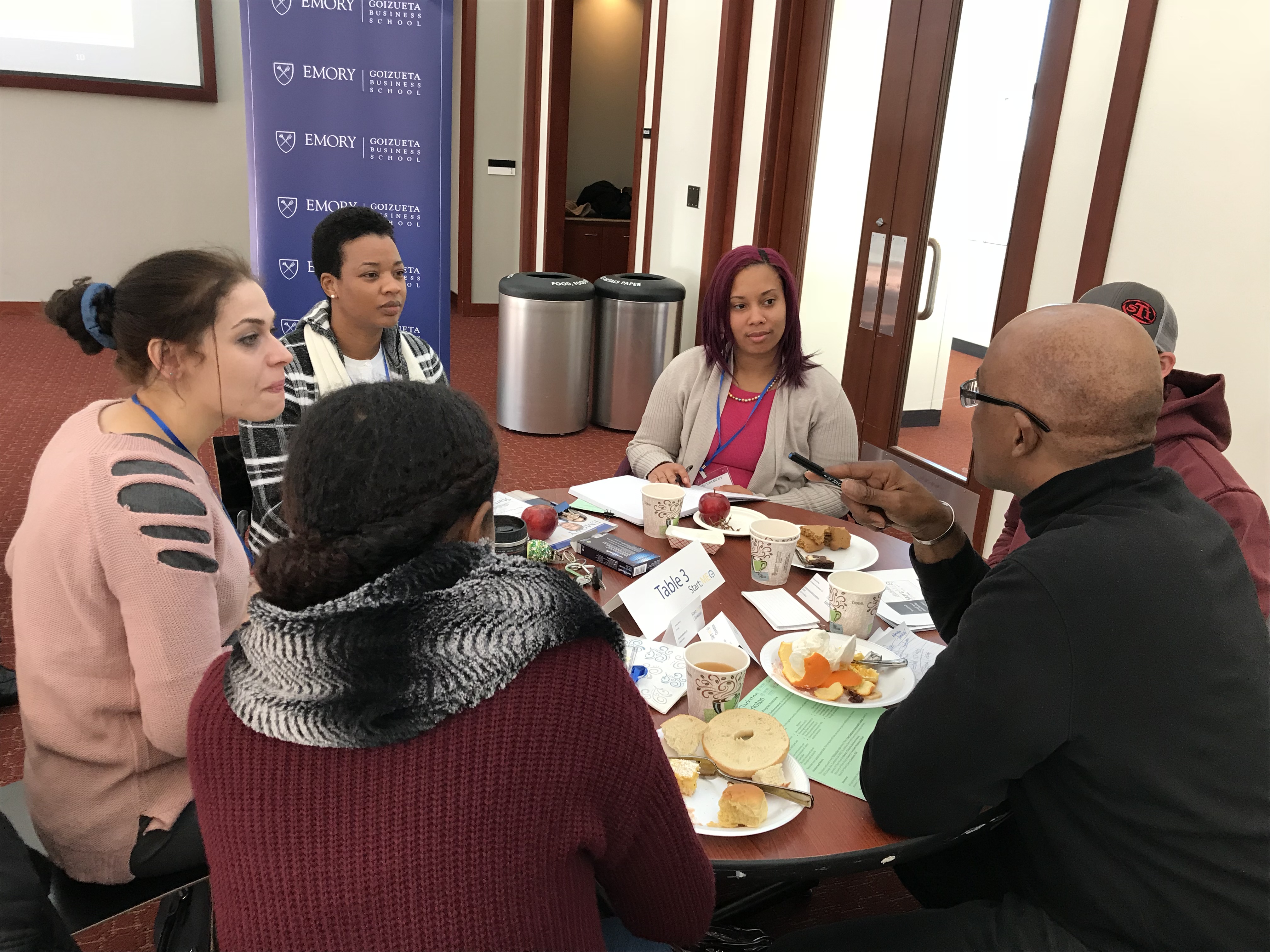 The Start:ME Accelerator has selected 49 promising small businesses in the Clarkston, East Lake and Southside communities for its 2018 cohorts.
Start:ME is a free, intensive 14-week accelerator program for promising local small businesses in underserved metro Atlanta communities. The program operates within communities, drawing talented entrepreneurs that live, work and/or provide valuable products and services to the community.
During the 14 sessions, and well beyond, Start:ME connects those entrepreneurs to the knowledge, networks and capital needed to build and develop sustainable businesses. The program works across all business stages and industries – mechanics, artists/makers, bakers/caterers, farmers, tutors and more – and focuses on entrepreneurs with promise and dedication.
Ventures in the 2018 cohorts generate over $850,000 in annual revenues, account for 49 jobs and occupy seven brick and mortar locations. Of the 49 businesses:
83% of the ventures are minority-owned
71% are female-run
45% of entrepreneurs have started a previous venture
20% are foreign-born
All communities offer peer-selected, seed grant pools of $10,000 to invest in the most promising businesses to help ventures start or scale. Since its inception in 2013, Start:ME has supported more than 110 local businesses that account for 186 jobs and 20 brick and mortar locations. The program has peer-selected 24 ventures to receive startup capital.
The program is developed and delivered by Emory University's Social Enterprise @ Goizueta (SE@G) in partnership with East Lake Foundation (East Lake), Friends of Refugees (Clarkston), Focused Community Strategies (Southside), Purpose Built Schools Atlanta (Southside), and Access to Capital for Entrepreneurs (ACE).
Selected from a pool of more than 200 applications, the winter 2018 cohorts feature the following ventures:
Clarkston
Almaz Coffee (Almaz Welday) – Local coffee shop with an international flair
Comfort On Tha Go (Keicha Moore) – Mobile beauty salon serving the Clarkston area
Cool Moms Dance Too (Quyionah Wingfield) – Mommy and me exercise dance classes
CY Love (Harina Bitow) – Online marketplace for socially conscious local artisans
Daisy's Concierge (Darryl Prewitt) – Concierge services
Frey's Handcraft (Frezewd Teklu) – Handcrafted Ethiopian art, clothing, and accessories
Kathmandu's, LLC (Deepak Bhandari) – Specialty Nepali dog treats
Massage Art Studio (Dasha Price) – Clinical massage therapist specializing in physical rehabilitation
Melin Michelle Events (Melinda and Johnathan Brundidge) – Experienced wedding and event planning services
Mzz Gwen's Custom Creations (Gwendolyn Farris) – Custom hairnets for medical and culinary professionals
Naumba Child Care (Victoria Buko) – In home quality childcare
Network Atlanta Inc (Misgana Bedassa) – Computer parts refurbishing and recycling
Simply Doyenne' (Tangenika Wilson) – Organic juices that deliver nutritional benefits without sacrificing taste
Smart Aid Tutoring Center (Zinah Ghazi) – Arabic, math, and computer tutoring services
Suryana Cuisine (Malek Alarmash) – Caterer specializing in traditional Syrian cuisine
Tru.Self.Fitness (Samiyah Gumbs) – Fitness and wellness coaching
Your Popcorn Shop (Michael Henry) – Gourmet popcorn stand offering 62 flavors
East Lake
A Paradigm Shift, LLC (Katrina Pittman) – Mental wellness provider promoting a holistic approach
Arbitrary Living (Quianah Upton) – Home décor produced by local artisans
Best Face Forward Cosmetics (Ashley Gordon) – Organic makeup for women of color
BRMB Radio (Danielle Osofsky) – Online Hip-Hop radio station supporting local artists
Chattapoochie Dog Hiking Adventures LLC (Leslie Doucette) – Dog hiking adventures for your four legged friends
Cornerstone Handyman LLC (Joshua Shirley) – Home repair and handyman services
Daddy's Little Girls LLC. (Lauren Myers) – Culturally sensitive and diverse educational dolls
Dad's Tree Care Inc. (James Rhynold) – Tree care services
Delightful Sites (Leslie Brashear) – Web design and marketing for small businesses
Minw Learning (Tchaas Omijeolukore) – Tutoring, educational enrichment, and academic coaching
Perfect 10 Media (Jason Jackson) – Web design and digital media services
Ritual Purity LLC (Diane Ford) – Cleaning and organizing services for senior citizens
SHWAXX Laboratories, LLC (Kevin Rodgers) – All-natural hair products crafted by an experienced barber
Smugs Fitness (Sam Mugavero) – Personal and group training for individuals and businesses
Spa Doulah-Lah at the Belly & Yoni Bar (Safira Zayas) – Doula and massage therapy for expectant mothers
Southside
After Dark Day Care (Colleen Bell) – Child care services for late and night shift workers
Beauty for Ashes (Charmaine Davis) – Boutique offering custom lace wigs
Big Ego Boutique (Roselyn Coleman) – Upscale, comfortable fashion for plus sized women
Black Lotus Salon & Beauty Bar (Stephanie Brazier) – Salon offering skin, hair, and feet care and make-up consultation
Business Name Pending (Folami Prescott-Adams) – Training and co-working space on the Southside
Carey Steele Security LLC (April Williams) – Certified security services
Carla's Boutik (Carla Bailey) – Boutique offering an eclectic fusion of fashion, art, and beauty products from around the globe
Cordillera Apothecary (Rebeca Escalona Rosas) – Certified herbalist producing herbal products
Fruity Ice Treats (Alicia Gibbon) – Mobile dessert catering specializing in Italian Ice
Haygood's Petsitting Service (Kara Haygood) – Pet sitting and grooming for Southside residents
Lay-ette (Francoise Carroll) – Pre-packaged luxury baby clothes
POSH The Elite (Anhtisha Cole) – Consultant and coach for hair stylists
Ruby Brick (Sarah Quezada) – Content marketing services for nonprofits
Saboor Construction, LLC (Musa Abdus-Saboor) – Electrician for both residential and commercial properties
Serve University (Brandi Rae Hicks) – Training for nonprofit leaders and community members
Southern Charm Promotions (Daniale Stowers) – Marketing company specializing in printable items
Southern Star Group Development, LLC (Soisette Lumpkin) – Consortium of health and human services to support housing developments
Start:ME also engages 75+ volunteer mentors with significant professional business and/or entrepreneurial experience to provide coaching support for entrepreneurs participating in the program. Start:ME welcomes applications from interested business professionals.