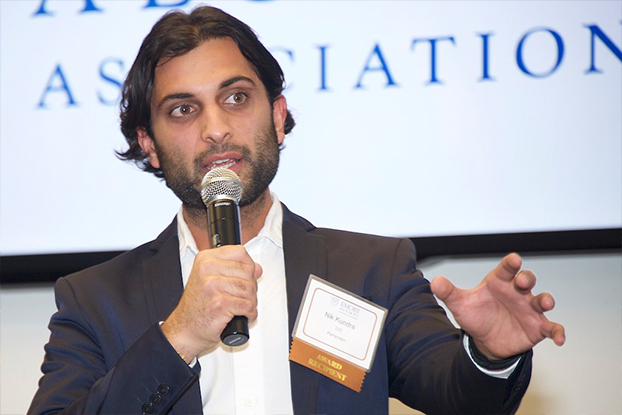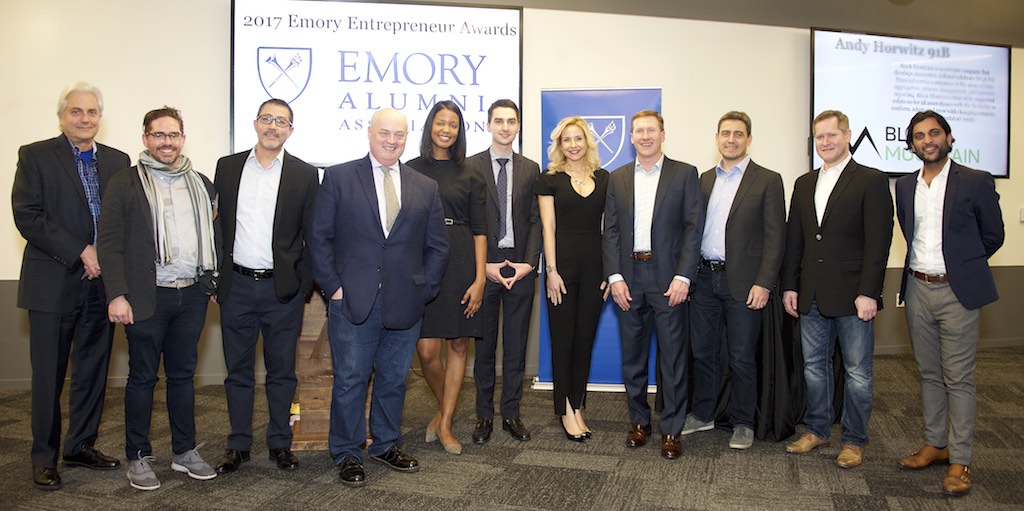 Starting and maintaining a business is no easy task. Several Emory alumni know this firsthand, which is why the Emory Entrepreneur Network in conjunction with the Emory Alumni Association recently recognized 25 entrepreneurs and Emory alumni during the second annual 2017 Emory Entrepreneur Awards.
The awards recognized outstanding alumni entrepreneurs who demonstrate the highest caliber of innovation, and each of the winners is a founder of a growing organization.
"As you'll see tonight, we've got a really good diversity of different folks from different industries and different business that they've created," Steve Greenfield 04EvMBA, co-president of the Emory Entrepreneur Network said. "Thankfully, with the support of folks like the Emory Alumni Association and Goizueta, we've finally gotten some momentum behind this."
This recognition program was created by alumni volunteers who are passionate about spotlighting the successful products and ventures that were driven by Emory alumni.
This year's group includes alumni whose business endeavors span the creative, finance, health care, hospitality, law, real estate, retail, social enterprise and technology spaces.
---
View this year's honorees:
---
Joshua Backer 05C 13G
Unified
Co-founder, President, Advertising and SVP Operations
Los Angeles, California
Angie Bastian 91N
Boomchickapop
Co-founder and Owner
Minneapolis, Minnesota
Sean Belnick 09B
Belnick Inc.
CEO
Canton, Georgia
Craig Bernstein 05C
Doc B's Fresh Kitchen
CEO and Founder
Chicago, Illinois
Scott "Scooter" Braun 04C
SB Projects
Founder
Los Angeles, California
Euler Bropleh 02OX 04C
VestedWorld
Founder
Chicago, Illinois
Natalia Castillo 85C
Escapada Living
CEO and Founder
Mt. Pleasant, South Carolina
Stacey Epstein 91C
Zinc
CEO
Lafayette, California
Stephanie Espy 08B
MathSP
Founder and Executive Director
Atlanta, Georgia
Andrew Foote 10C
Sanivation
Co-founder
Naivasha, Kenya
Linton Hopkins 92C
Resurgens Hospitality Group
Founder
Atlanta, Georgia
Andy Horwitz 91B
Black Mountain Systems
Co-CEO
San Diego, California
Lucienne Ide 07G 04M
Rimidi
President and CEO
Atlanta, Georgia
Zach Klempf 12C
Selly Automotive
Founder and CEO
San Francisco, California
Hayal Koc 03C
Expertera
Partner and Vice President of Sales
Istanbul, Turkey
Nikhil Kundra 11C
Partender
Co-founder and CEO
San Francisco, California
Chris Lee 12G
Vertera Spine
Founder, President and CEO
Atlanta, Georgia
George "Trey" Lee, III 92C
Real Time Neuromonitoring Associates
Founder
Nashville, Tennessee
John Leffingwell 62G 63G
Sunkist Soft Drinks
Vice President
Canton, Georgia
Andy Levitt 92C
The Purple Carrot
Founder and CEO
Needham, Massachusetts
Jim Minnick 99B
eVestment
CEO
Atlanta, Georgia
Lin Rogers 08B
Rogers Electric
Founder and Chairman
Atlanta, Georgia
Laura Schilling 90B
Financial Innovations, LLC
Founder
Atlanta, Georgia
Vikram Singha 97B
Global Energy Talent
Co-founder and Vice President
Dubai, UAE
Brian Tolleson 94C
Bark Bark
CEO
Atlanta, Georgia