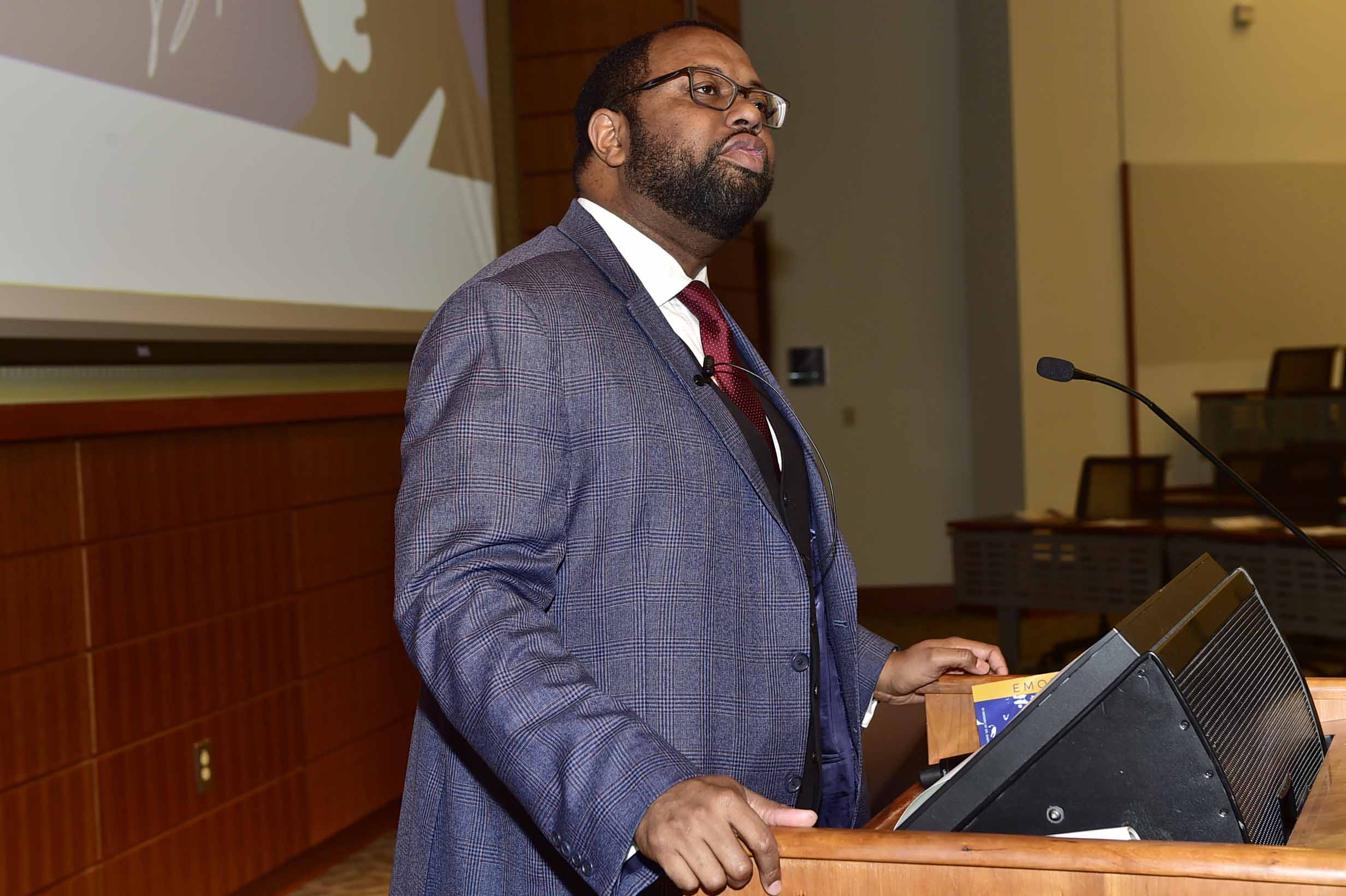 "In a real sense, all life is inter-related. All men are caught in an inescapable network of mutuality, tied in a single garment of destiny. Whatever affects one directly, affects all indirectly. I can never be what I ought to be until you are what you ought to be, and you can never be what you ought to be until I am what I ought to be….
This is the inter-related structure of reality."
—Martin Luther King Jr., "Letter From a Birmingham Jail"
---
Managing Partner of Greenwood Archer and CEO for the Southeastern Region of Operation HOPE James "Jay" Bailey opened his keynote speech using Martin Luther King's words during the 26th annual MLK Community Service Awards program.
The event recognized eight organizations for their hard work, unwavering commitment and dedication to building a better world.
With presentations from AHANA A Cappella Group and a "reflections in word" from Goizueta's Paula Fontana, the afternoon was capped off with a heartfelt keynote presentation from Bailey, focusing on how to be united in divisive times.
"It's a powerful thing when we talk about Dr. Martin Luther King Jr.," Bailey said. "At a tender age of 26, he started on a journey that would make him legendary. And he changed the world without firing a single shot."
At the age of 32, Bailey found himself head of a $50 million nonprofit organization with a presence in 52 countries, but his journey to personal success was not an easy one.
Bailey was born and raised in Decatur, Georgia. When he was 12, he started his first business. He bought a house when he was 19, made his first million by 26, but at the age of 28, he was left homeless and living in a nine-by-nine unit in a storage facility. It was in this moment when Bailey realized the importance of relationships.
"I'm one that professes that unless you've been on your back, you may have never really seen the sun," Bailey said. "Typically, we take walking upright for granted. We're always focused on what's in front of us, but when you're on your back, you have absolutely no choice but to look up."
Starting with the loss of his mother in 1996 at Emory Hospital, Bailey continued to lose close family and friends the following 10 years. His breaking point came after losing his cousin to gang violence.
"I'd been successful by the world's standards, monetarily," Bailey said. "Successful, but I had zero significance. I'd done nothing to put a dent in this world. I'd done nothing to change anybody's life. I had done nothing to make a difference. I found myself at a place where relationships mattered most."
Establishing authentic relationships became Bailey's key to personal success, which meant taking people for who they were — not based on their positions or possessions.
In his closing thoughts, Bailey noted this event was the answer to his grandparents' prayers — a day that everyone could sit in a room and celebrate those that think of others before self.
"Let us not take for granted this moment in history that we're living in, and ensure that the children of the future have a moment that they can live in as well," Bailey said. "Plant seeds that will grow trees whose shade you may never sit in. I doubt anybody in this room actually sat with Dr. Martin Luther King, but all of us today are sitting in the shade."
---
2018 MLK Award Recipients:
---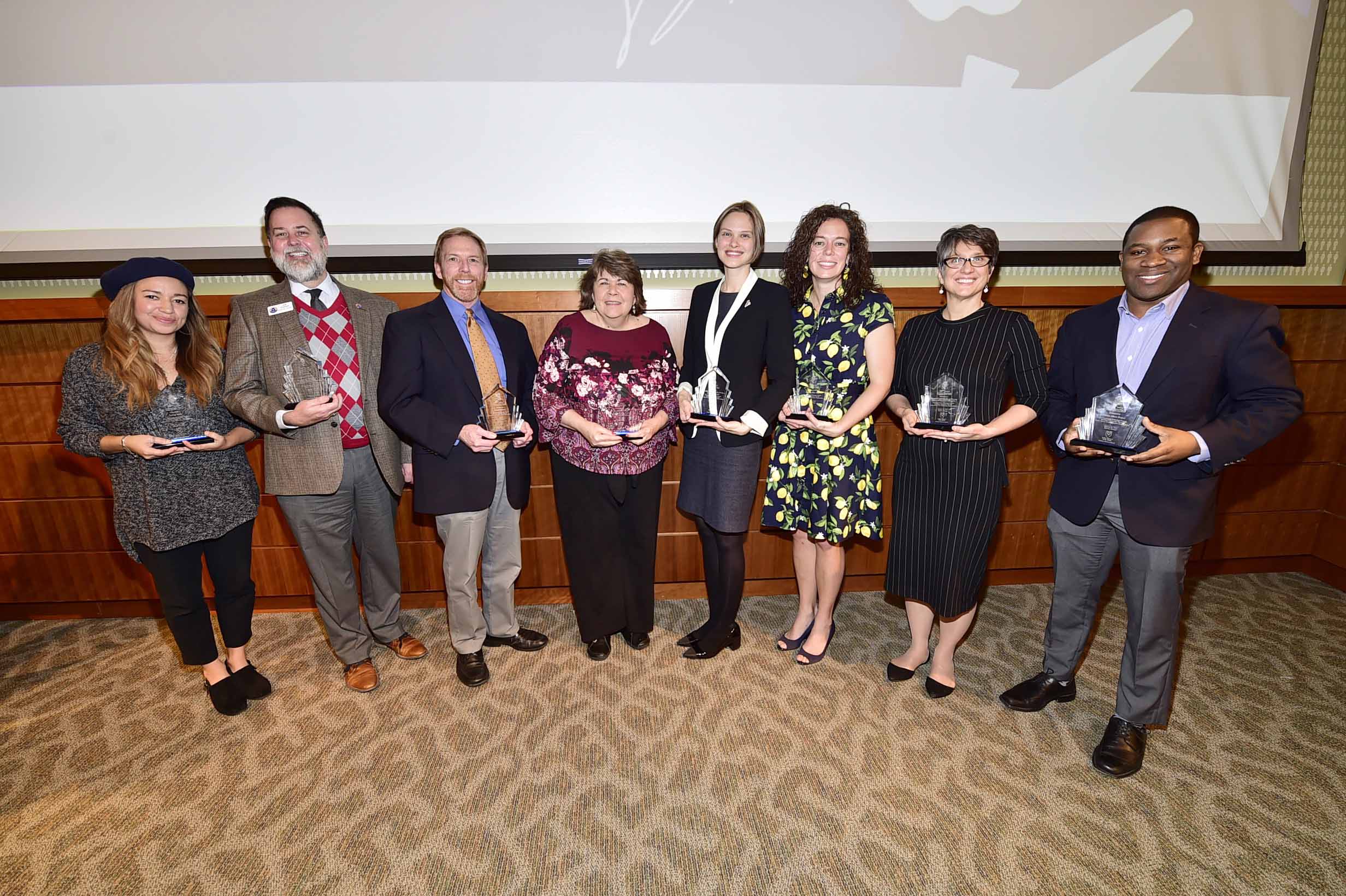 Atlanta Music Project
Founded in 2010, the Atlanta Music Project provides intensive, tuition-free music education for underserved youth right in their neighborhood. Now in its eighth year of programming and serving 300 students at six sites, AMP provides all its students with an instrument, a teaching artist, and classes in Symphony Orchestra, AMPlify, the choral program of the Atlanta Music Project, the AMP Academy, providing advanced musical training to AMP's most talented and dedicated students' and the AMP Summer Series, a music festival and school. AMP music ensembles perform 40 concerts per year. In 2015, Clayton State University established the Atlanta Music Project Endowed Scholarships, providing college scholarship funds for AMP students.
Georgia Equality
Georgia Equality is a statewide organization dedicated to advancing fairness, safety and opportunities for gay, lesbian, bisexual and transgender communities throughout Georgia. Their work is accomplished by: (1) Educating the public, elected official, and policymakers; (2) Building coalitions and mobilizing allies; (3) Increasing the participation of the LGBT and allied communities in policy making; (4) Organizing and empowering the LGBT community and their allies in urban, suburban, and rural communities across Georgia; (5) Strategic electioneering and candidate endorsements. Georgia Equality has a membership of over 67,000 people with an email alert network of 41,000 individuals from throughout Georgia.
Bearings Bike Shop
Do you remember the amazing times you and your friends had on your bikes when you were kids? Bearings Bike Shop delivers that same joy to kids in southwest Atlanta through the opportunity to earn a bike. Bearings Bike SHop takes people's old bikes and teaches kids to make them new again while having the opportunity to earn a bike of their own. However, earning a bike isn't all there is to it. Along the way, kids learn how to build healthy relationships with adults and other kids in their neighborhood. They learn an empowering skill set that literally opens up a whole new world to them — A world that is no longer controlled by negative influences but instead positive voices who speak into their lives instead of luring them into life-altering mistakes. At Bearings Bike Shop, kids learn and develop work ethic, gain confidence, and experience the joy and independence a bike can bring into their lives. Bearings Bike Show is able to offer long-term development rather than short-term relief. Participating in Bearing Bike's shop changes a kid's future trajectory, supports preventative work, and allows change that other people don't think is possible.
Georgia Campaign for Adolescent Power and Potential
Founded in 1995 by Jane Fonda, the Georgia Campaign for Adolescent Power & Potential's (GCAPP) mission is to improve the overall health and well-being of young people in Georgia. GCAPP's three program focus areas are: teen pregnancy prevention, nutrition and physical activities, and healthy adolescent relationships. GCAPP's primary work is teen pregnancy prevention. Ms. Fonda founded GCAPP 22 years ago as the Georgia Campaign for Adolescent Pregnancy Prevention when Georgia had the highest teen birth and teen pregnancy rates in the country. Since the founding of GCAPP, teen pregnancy in Georgia has decreased by 66 percent. Through its programs and services, GCAPP reaches nearly 55,000 young people a year with age appropriate, medically accurate sexual health information.
Healthy Mothers, Healthy Babies Coalition of Georgia
Over the past 40 years, Healthy Mothers, Healthy Babies (HMHB) has worked to improve access to prenatal and preventative healthcare for thousands of women, children and families in Georgia through direct service, collaborative advocacy and community education. One of the ways HMHB connects Georgians to resources is through the bilingual information referral call center. The call center, which has the most comprehensive health database in the state of Georgia, is a statewide 800 number that links Georgians to resources in their community. Incoming calls address a variety of concerns including affordable health services, the Women, Infants, and Children (WIC) program, and child abuse prevention resources. HMHB also performs outgoing calls on behalf of Children 1st, a program that reaches out to families of infants born with certain risk factors. These calls are designed to provide families with resources to support their child's development.
Janelle Yamarick
Throughout her almost 30-year non-profit career, Janelle Yamarick has worked to advance reproductive justice while building a reputation as both a leader and a coalition builder on the state and national levels. She recently retired as the Executive Director of the Feminist Women's Health Centers (FWHC), where she worked for over 18 years. In this role, Janelle Yamarick led FWHC and its dedicated staff in its mission to provide accessible, comprehensive gynecological healthcare to all who need it without judgment. FWHC is the only independent, locally based organization in Georgia providing accessible reproductive and abortion health care, while simultaneously organizing to protect and expand access to such care. For the past 41 years, FWHC has thrived as a very unique health provider and resource serving a very diverse population of women and transmen, many of whom identify themselves as living in poverty or low-income.
Jerusalem House
Jerusalem House is Atlanta's oldest and largest provider of permanent housing for Atlanta's low-income and homeless individuals and families affected by HIV/AIDS. Founded in 1998, what once began as a five-room boarding house for men and women with AIDS who were in the last days of their lives, has grown into five programs providing permanent, supportive housing and wrap-around services for over 420 homeless or low-income individuals and families affected by HIV/AIDS in Atlanta. The mission of Jerusalem House is to provide homeless and low-income individuals and families affected by HIV/AIDS in Greater Atlanta with a continuum of housing options, supportive services, and educational opportunities that contribute to a resident's overall self-sufficiency. These services include tutoring for children and adults as well as personal development workshops and training around issues of financial planning, resume writing and more. Working with counselors, all residents set goals in individual service plans when they enter one of the housing programs.
Living Walls
Living Walls creates intentional, thought-provoking public art to inspire social change and activate public spaces. Living Walls promotes the power of public art as a social and economic engine, providing an artistic workforce to create healthy, sustainable urban spaces for the city of Atlanta. Living Walls has facilitated over 100 public murals featured throughout the metropolitan area, created through citywide conferences attended by 5,000 art enthusiasts annually. The organization has featured a host of world-renowned local and international artists, with collaborative projects in Miami, South Africa, Rome, Barcelona, and Moscow. Living Walls connects public art to urban development, helping to establish Atlanta as a destination for provocative arts and culture.