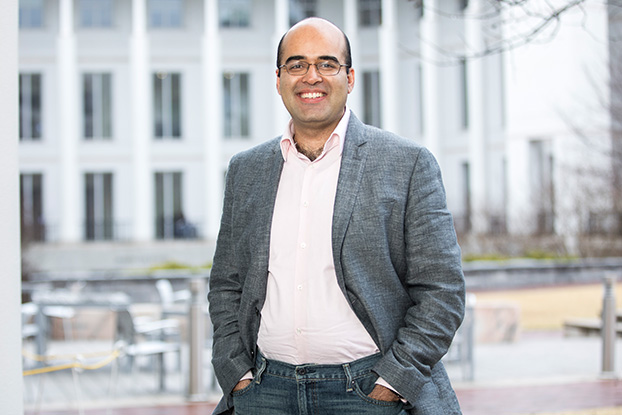 On a recent visit to Atlanta, Safee Shah 16MBA joined Lt. Gen. Ken Keen, associate dean of the Leadership Development Program at Goizueta, for a "lunch and learn" session with first-year FTMBA students. Shah, a Delta Air Lines Leadership Coaching Fellows alum, chatted with Keen, the students and other faculty about being the first general manager of Uber, Pakistan — and how vital he considers his MBA experience to be in terms of his success in that role.
After working for several years in investment management in the U.S. and Pakistan, Shah's career changed course when he decided he wanted to have an impact on the people and larger society of Pakistan.
"I was clear on what, but not clear on how," he said. When an initial foray into entrepreneurism didn't take his vision as far as he'd hoped, he decided to hone his skills and develop new ones by earning his MBA. Beyond the literal knowledge he gained at Goizueta, Shah also discovered an environment designed to force him outside of his comfort zone. Shah was pleasantly surprised by how diverse his class and teammates were. Goizueta's intimate class size only amplified the positive effects of working with people from different backgrounds and made Shah's transition into Uber's culture much easier.
"One of the things that makes Uber successful is that it has no borders or boundaries," Shah said. "It's collaborative."
Shah also considered his time as a Leadership Coaching Fellow instrumental to his success at Uber. Complex problems, he said, "can only be solved by working in teams." Being an LCF offered Shah a unique opportunity to learn about teamwork and leadership. Learning to recognize how to build a high-performing team and how to increase a team's potential were great learning experiences for Shah. He told the current students how important that ability is.
"That's how it's going to be once you graduate," he explained.
Experiencing diverse cultures and distinct work ethics while at Goizueta means multiculturalism won't be a surprise when students encounter it in the real world.
"One of our challenges [at Uber] is that not everyone you work with has local context," he said. "They don't understand things on the ground. The nuances."
According to Shah, there are approximately 800 to 900 cars for every 1,000 people in the U.S. In Pakistan, that number is less than 100 per 1,000. A large swath of the nearly 195 million people who live in Pakistan don't have access to economic opportunities in large part because they just can't get where they need to go for work. If Shah and his team get the processes down and the business model right, Uber, Pakistan will offer access to safe, affordable rides for more and more men and women in the country. Yes, recalled Shah, 2017 was an intense year at Uber, Pakistan, but with all the hard work comes the realization that he is succeeding in his wish to have a positive impact on a large scale.
"The sky is the limit," Shah said.