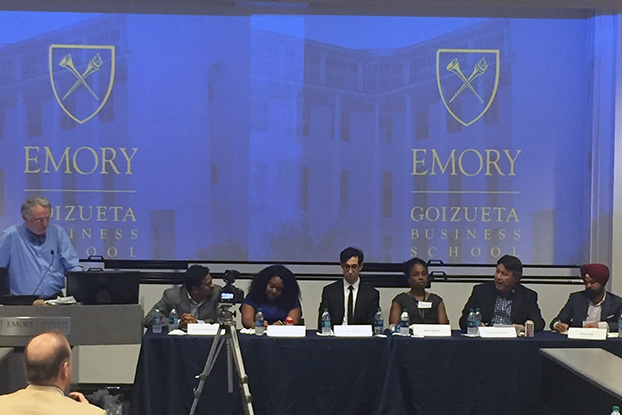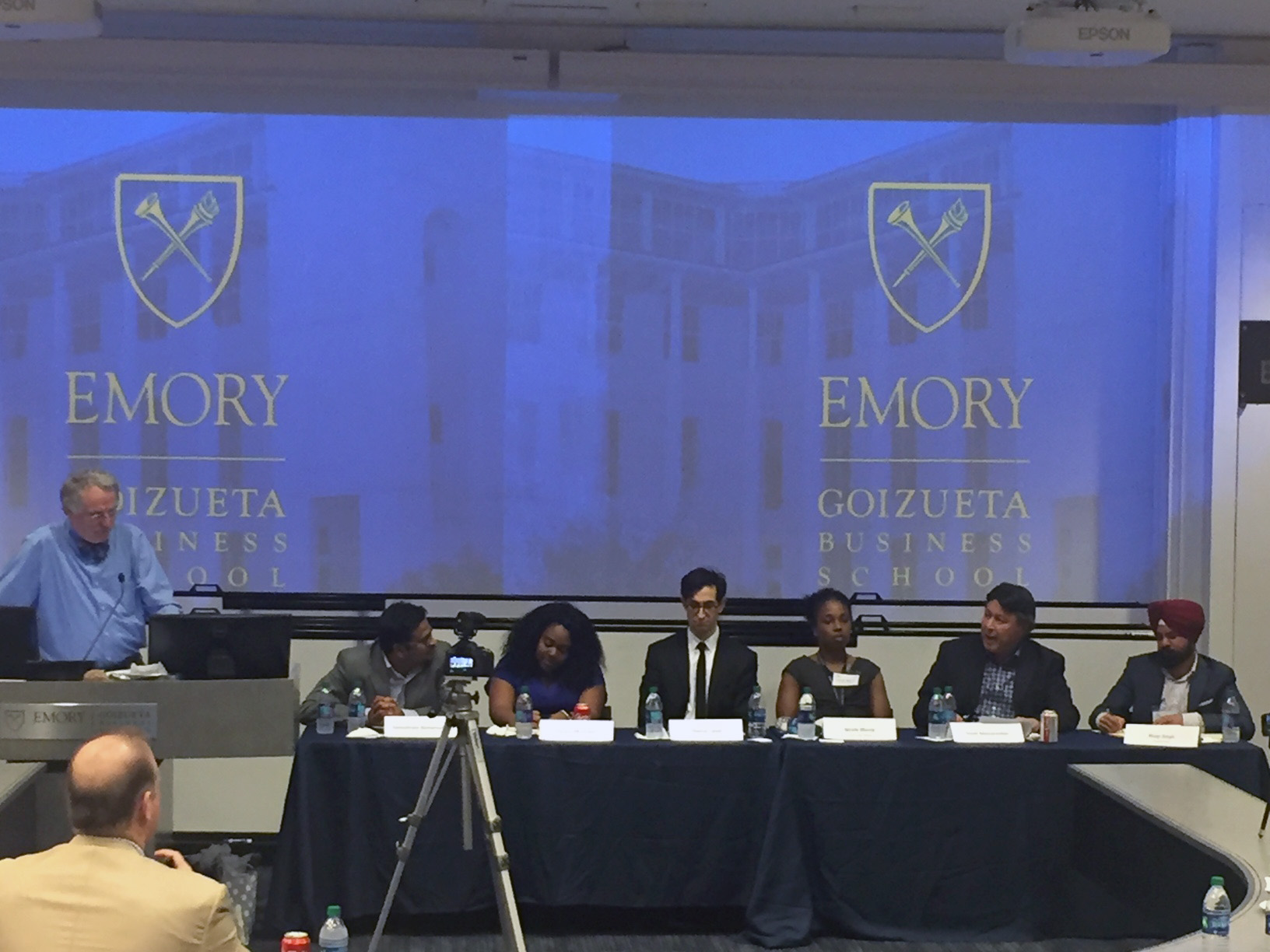 Artificial intelligence and blockchain technologies are beginning to change the huge business of healthcare and will continue to transform the industry in some important ways in the future. That was the consensus of a panel of innovators and thought leaders during a recent discussion at Goizueta moderated by Benn Konsynski, George S. Craft distinguished university professor of information systems and operations management.
Sponsored by Atlanta Applied Artificial Intelligence and Health Futures Forum, the panel-led discussion on "AI and Blockchain in Healthcare" included
Frank Mascarenhas, Touchpointz
Nicole Morris, Emory Law School
Ganeshram Ramamurthy, ObjectFrontier Software
Thomas Savel, CDC
Chrissa McFarlane, Patientory
Roop Singh, IntuitFactory
Although AI is already being used to uncover patterns in mental health, for example, that lead to better patient diagnosis, sharing data across healthcare provider facilities remains largely fragmented today and unsecure.
"The public health universe wants to exchange information in a decentralized way but hasn't had the technology to do that," Savel said, adding that the CDC ends up being the trusted third party by default.
The combination of AI and blockchain technologies, however, is a game changer with implications for patient records, predictive analytics, payer-provider relationships and even doctor/patient relationships. Blockchain exists as a shared and continually reconciled database and is not stored on a centralized single server, making it virtually impossible for hackers to corrupt or steal data. Blockchain allows providers to quickly obtain and review vast amounts of data across different providers and healthcare facilities. It also allows them to securely share that information with patients, family members, caregivers, nurses and specialists.
Distributed Trust
"AI is learning from data," Singh said. "Blockchain results in a much less fragmented model by giving us more training data to make better models and better decisions from those models." At the core promise of this technology is patient-centric care and patient empowerment, noted McFarlane, whose company, Patientory, is a pioneer in merging blockchain technologies with healthcare.
"Doctors spend less time doing reports and test results," she said, enabling them to focus more on the actual care of patients.
And patients can have more control over their records and history by accessing their "health wallet" and sharing selected pieces of their records remotely through encryption codes that make it HIPPA compliant, Konsynski added.
This allows organizations to build trust, Singh said, with a movement to more openness and distributed computing with no single owner of information. "Trust is in the chain or algorithm and not in a company or individual."
For business, this avoids costly data breaches, saving money and time.
Technology and the future of healthcare
As technology continues to evolve, the panel agreed that new business models and entrepreneurs will emerge.
"We will see a growing ecosystem of private blockchains mature and evolve," Savel said, noting that both public and private blockchains will need to interact and co-exist to solve business problems. There also will be scalability issues for public and private blockchains, Ramamurthy noted.
Mascarenhas added that AI will also help regional hospitals survive in the future by offering "speed to value and speed to money." In addition, blockchain can provide more options for patients about where to go, including a huge growth in freestanding clinics, he said.
And as blockchain technology evolves, inevitably there will be some complex legal questions as well. The trend toward more patient control will challenge the assumption of who owns or has rights to patient data, Konsynski said.
"The law punishes unauthorized disclosure of data," Morris said.
The legal field will need to adjust to how far patient authorization regarding data goes, noting that it "becomes murky when you give permission to release data and don't know what you are giving it for."
The goal is "empowerment to the user," Singh said, allowing consumers to be very selective about what records they want to share and to whom.
As healthcare approaches 20 percent of GDP in the U.S., the panel agreed that there are significant potential benefits for the industry as a whole and for patients. The challenge, Singh added, will be changing mindsets and continuing to explore new ways of doing things.