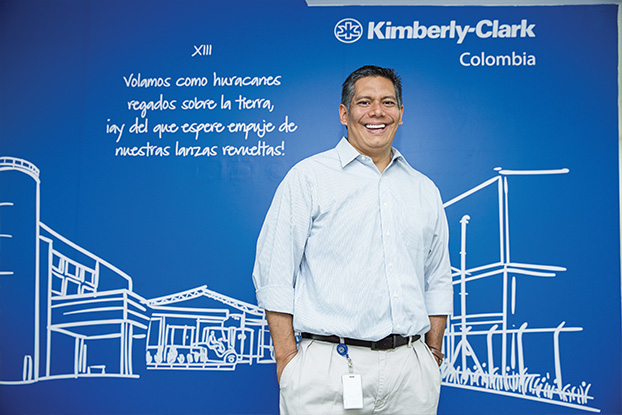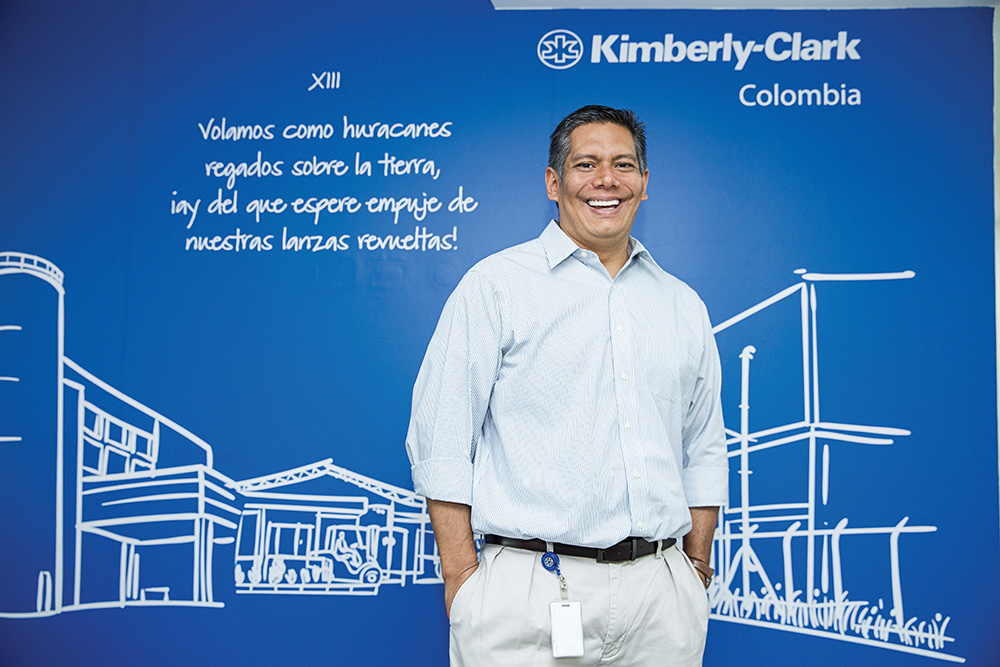 Percy Muente 08MBA's office is in a modern, mid-rise building in the upscale Chico neighborhood of Bogotá, Colombia. It's a relatively quiet area, with good restaurants and shops, several blocks away from Bogotá's congested thoroughfares. Dressed in khakis and a button-down shirt, Muente blends in with employees moving about Kimberly-Clark's open office space. He is quick to say hello to coworkers, often stopping to give them a hug and a single kiss on the cheek—a typical Colombian greeting. He keeps a low profile, but Muente is the boss. As general manager of Kimberly-Clark's Colombia, SA operation, Muente oversees nearly 2,000 employees (Kimberly-Clark has nearly 42,000 employees in 35 countries) and is responsible for ensuring that all aspects of the company's business in Colombia, from sales to supply chain, are aligned.
A native of Peru, Muente began his Kimberly-Clark career as an intern a decade ago. After he graduated from Goizueta, Muente accepted a full-time role with Kimberly-Clark, an $18.2 billion consumer products company that produces some of the world's most recognized brands, including Huggies, Kleenex, and Kotex. "The values of the company resonate with me. The leaders inspire me. I feel good about the culture here," he says. "I love what I do. That's helped me grow in the company."
While with Kimberly-Clark, Muente has worked in Peru, Bolivia, and Colombia, where he's been for the last three years. Toggling between cultures, Muente realized he needed to be humble and learn different approaches—both personally and professionally—to connect and engage with people. "You cannot come in and impose your ideas and strategy without gleaning an accurate picture of what's going on from your team," he says. "You have to have an active listening approach."
When he's in the office, a typical day might mean huddling with his sales and marketing team or getting briefed on how the turmoil in Venezuela is affecting business in Colombia. But much of Muente's time is spent in the field, visiting supermarkets and vendors—from chain retailers to mom-and-pop shops in impoverished neighborhoods. When company representatives noticed that the small storeowners sold individual Huggies diapers to customers who couldn't afford to buy an entire package, Kimberly-Clark designed a large pack so that small shopkeepers could sell individually wrapped, hygienically sealed diapers.
Muente relishes this proactive approach and is often guided by the principles of Roberto Goizueta, who is quoted as saying, "Competition may copy your strategy, your product, and your go-to-market strategy, but they can't copy your people and your culture."
"That's the ultimate strategic advantage a company can have," Muente says. "People see who you hire, who you promote, and who you fire. Meritocracy is the most powerful message you can send in an organization.
"Roberto Goizueta has a famous phrase—'The only task a leader cannot delegate is communication.' I carry that with me always," he explains.
When he first moved to Colombia, Muente's fellow Goizueta classmate Lucas Marulanda 08MBA, director at Advent International in Bogotá, helped him get settled. "Goizueta creates a great sense of community, of friends all around the world. That's huge. I love the relationships I built over those two of years of my life," he says. In 2013, Muente accompanied Peter Roberts, professor of organization & management, and a group of Goizueta students on a trip to Bolivia. The team prepared a feasibility study for Kimberly-Clark regarding the improvement of the paper recycling
program in Santa Cruz. "It was a win-win project," states Muente. Each year, he returns to Atlanta to judge student presentations at Goizueta IMPACT Showcase Day. "It's a way to give back," he says. Plus, many of the project solutions shared at the event "are great starters of ideas that I can apply in the company."
Percy isn't the only Muente to graduate from Goizueta. His older brother, Arturo Muente Kunigami 06MBA, inspired Percy to choose Goizueta. (Arturo currently works for the Inter-American Development Bank in Washington, DC.) A younger brother, Juan Jose Muente, lives in Lima, Peru. Percy and his wife, Carla, have two children, Ignacio and Antonio. What Muente likes most about living in Colombia is "the culture and warmness of the people and the ability to enjoy a variety of wonderful places with my family. Colombians are very educated, warm, and happy people. They are proud of their country, heritage, music, and their development in recent years."
When he's not working or exploring Colombia with his family, Muente likes to go to the gym. If he's watching television, it could be Game of Thrones. "I'm a big fan," he says.
Muente plans on staying with Kimberly-Clark for the foreseeable future, but he's motivated to do more. He'd really like to teach at a university in Latin America. "As a way to give back to society and to develop new leaders," Muente says. "People are the base to build a better future."