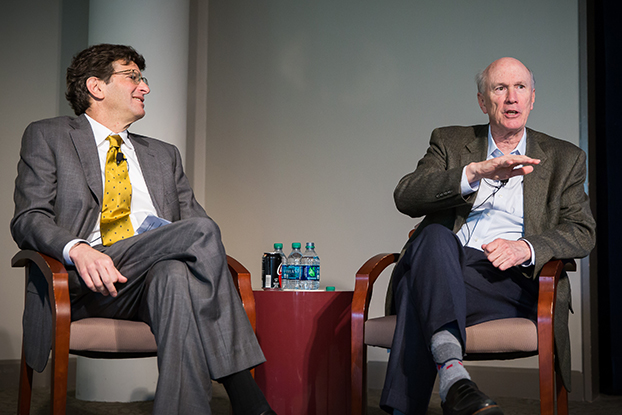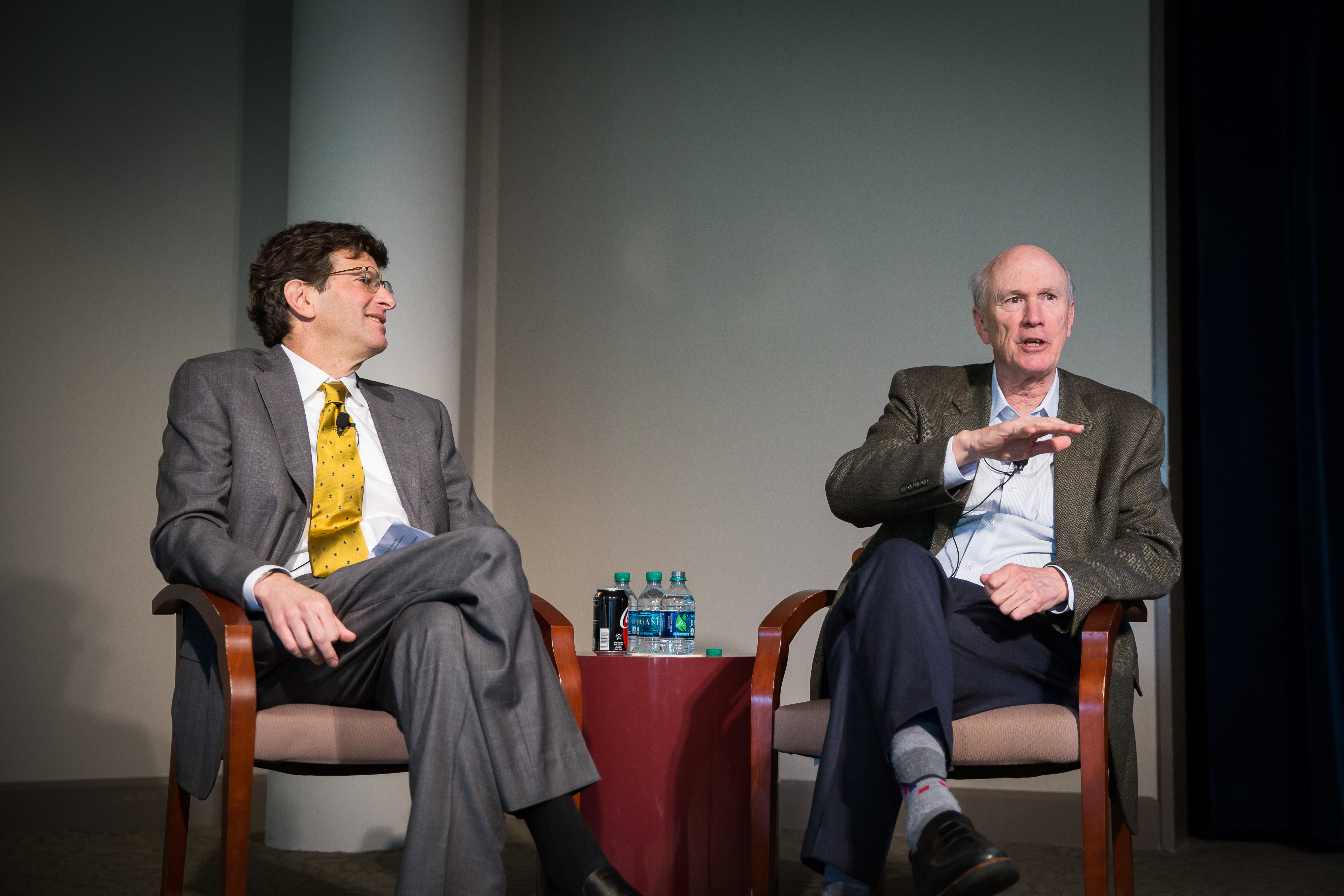 As Frank Blake progressed into the highest levels of leadership in business, he acquired several key pieces of advice along the way.
The Columbia University law school graduate, chairman of Delta Airlines, former CEO of Home Depot and former executive at General Electric shared wisdom he's obtained during a life well lived. Blake shared that recently at the Carter Center during the Robson Program Inaugural Conference in a conversation with Jeff Rosensweig, director of the John Robson Program for Business, Public Policy, and Government.
Blake was among a host of speakers and thought leaders who shared examples of their experiences domestically and internationally by outlining innovative practices in privacy, security and public policy industries.
"It's hugely important to be thinking about your career as solving a set of problems and that every problem you solve is the key to unlocking the opportunity to solving a bigger problem," he said. "You ought to be thinking of your career as a progression of solving increasingly bigger problems. When you get frustrated that you're not solving bigger problems, that might be a good time to switch paths."
One of the problems Blake is known for solving is the breach of some 56 million credit card numbers at Home Depot exposed to hackers in 2014.
At the conference, Blake explained that the reaction by the company was never lodged with lawyers. Rather, the head of public relations became the point person for the response. Blake, a lawyer himself, said, "we're ridiculously bad at communicating."
At the direction of the public relations department, the customer was the focus of the company's reaction.
"If you're the customer, what do you want to know? Make sure anything you say reflects that statement to the customer," Blake said.
While not picking on Target, Blake said he had the unique position to look at how that company responded to its own breach. Namely, the company hesitated to apologize because they had a legal opinion that that admitted liability.
"Well, that's just ridiculous," he said. "Your liability is going to exist, or it's not, don't worry about that. So right at the start of the breach, I laid out three principles for the team: One was we were going to be transparent. The second was no one's ever going to write an article that says, 'Massive data breach at Home Depot, everybody did everything right.' So since that article's never going to be written, don't worry about covering your ass, just move forward and fix what you've got. Third, every communication has got to address the customer, what the customer cares about and what you would do if you were the customer. That ended up working out."
Rosensweig then outlined Blake's family life, his work as board chairman of Grady Hospital, his service as deputy secretary of the U.S. Department of Energy, and asked him what is a life well lived.
Blake recalled Pastor Andy Stanley's response to a similar question about success, and he said, "You are admired the most by the people who know you the most. If you can get those two things conjoined, that's great."
Blake then shared his early experience as CEO of Home Depot, and how he leaned on a leader he worked with at G.E., Jack Welch. Blake received eight years of advice from Welch, but in the final year, Blake asked Welch one more question. He asked for one key characteristic of leadership.
"Genorosity," Welch said, which surprised Blake.
"That was not the descriptor that I expected," Blake said. "He said the reason that's true, and I think this extends beyond leadership into the life well lived, is that you want to be fueled by the success of others. If you can derive energy and excitement and passion from seeing the success of others, that's a life well lived."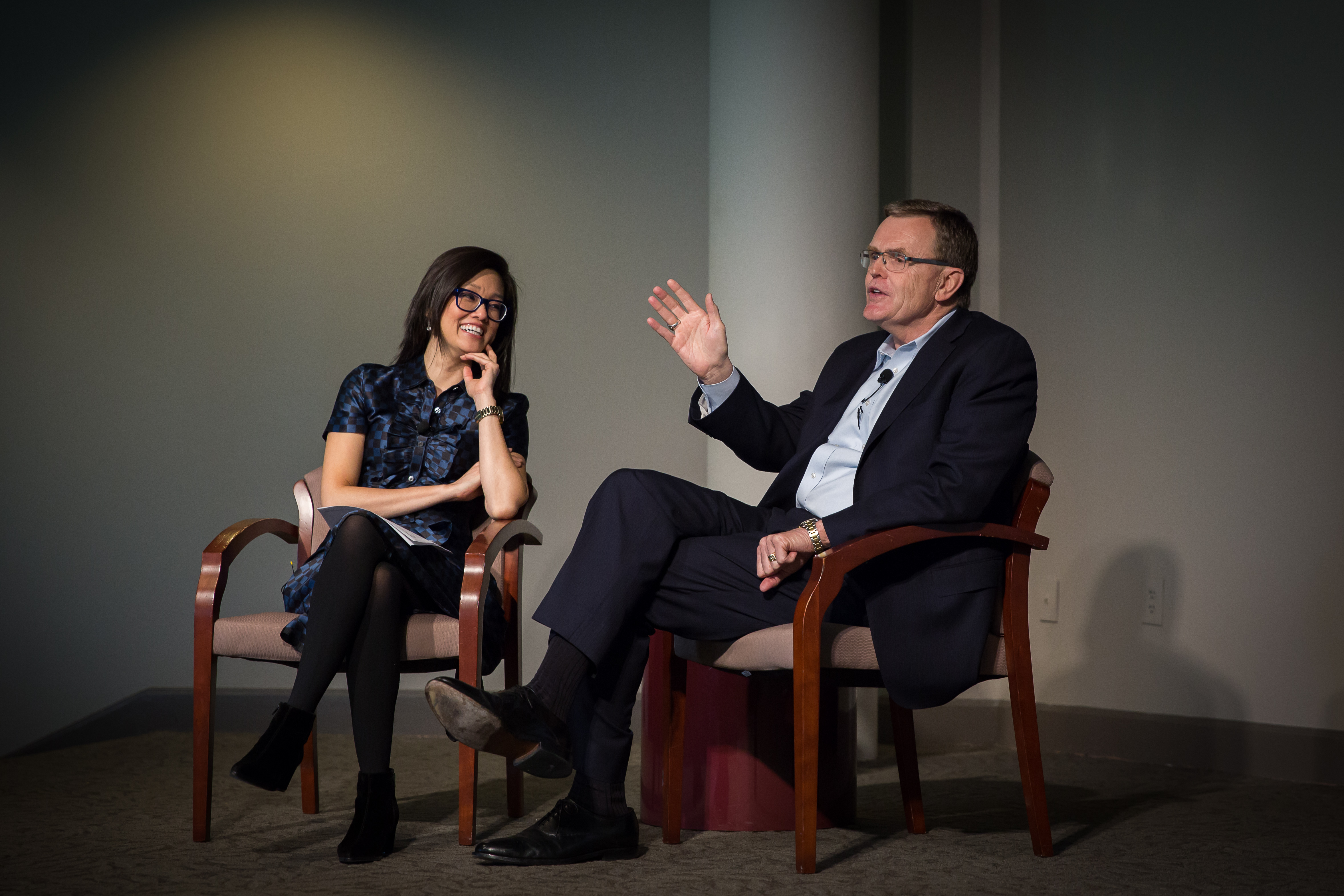 At the conference, Blake was part of a group that included former Prime Minister of Georgia Lado Gurgenidze, a career banker, who Rosensweig said went from his student to his mentor after Gurgenidze earned an MBA in 1993.
"He made Georgia an example for other nations in Eastern and Central Europe on how to clean up an economy," Rosensweig said. "If I want to know anything about finance, or how to run a government, I hear about blockchain, what's really going on. How do you take a broken bank and fix it? I turn to Lado."
The former prime minister quickly deflected credit back to Goizueta.
"This school has been a life-changing experience for me," Gurgenidze said. "Everything I've accomplished the past 25 years is because of those two years at Goizueta."
Jose Cisneros, treasurer of the City of San Francisco, explained how his city pioneered a program called "Bank on San Francisco" to help low-income or unbanked residents open bank accounts. The city, along with the Federal Reserve and 15 banks and credit unions, helped some 10,000 people each year open bank accounts, primarily focused on the urban poor, a number sustained for four years.
Cisneros, who has 14 years in civic management, said the program was such a success, he's helped explain the best practices approach to other cities like Boston; Miami; Louisville, Kentucky; Evansville, Indiana; and Atlanta. It's now in 75 cities, Cisneros said.
San Francisco has since expanded financial wellness programs to offer one-on-one financial coaching and children's savings accounts.
David Abney, CEO of UPS, was interviewed by Betty Liu of Bloomberg TV, and was later presented with the Global Innovation Award by Rosensweig, one of just five winners.
Abney addressed a host of current issues, and said that he is hopeful that China and the U.S. can have successful trade negotiations. However, tariffs and bold statements can cause things to spin out of control. Abney added that there is work to be done to modernize trade agreements, like the 25-year-old NAFTA agreement, something that should consider e-commerce.
Adam Ghetti, founder and CTO of IONIC Security, updated the audience on the latest in privacy, trust and cybersecurity. When news broke of Facebook's privacy scandal with Cambridge Analytica over improperly accessed user data, Ghetti was asked if this story was a watershed moment in the privacy conversation. He said the Facebook incident is the most understood part of this narrative by the most diverse group of individuals to date.
Is government regulation the answer?
"I'm very reluctant to say yes," said Ghetti, who didn't finish high school, but was named a "30 under 30" honoree in technology by Forbes. "Until that changes in our country and our law, we should not expect to see changes in our country under our law."
View the Gallery
[ngg_images source="galleries" container_ids="18″ display_type="photocrati-nextgen_basic_slideshow" gallery_width="600″ gallery_height="400″ cycle_effect="fade" cycle_interval="2″ show_thumbnail_link="0″ thumbnail_link_text="[Show thumbnails]" order_by="sortorder" order_direction="ASC" returns="included" maximum_entity_count="500″]