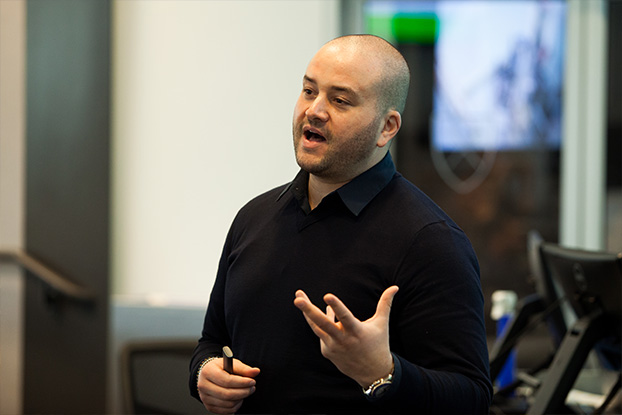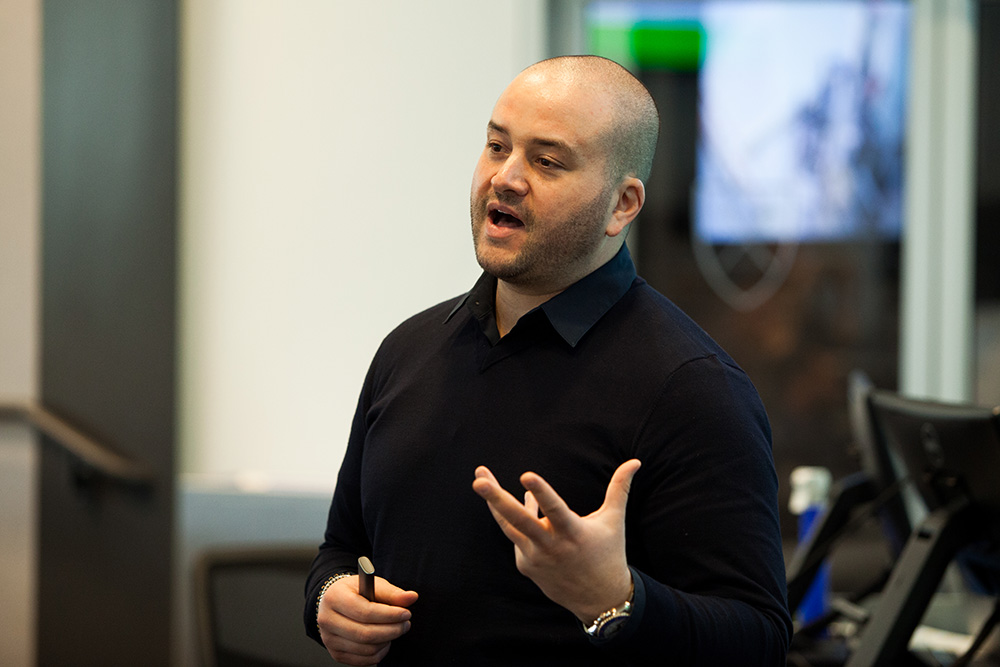 As always, a key highlight of the fourth annual Emory Entrepreneurship Summit was hearing from alumni who had stated their own ventures. This year's entrepreneurial spotlights were all BBA graduates, returning to campus to share their stories and words of advice with eager students looking to potentially start their own entrepreneurial journeys.
Andrew Berman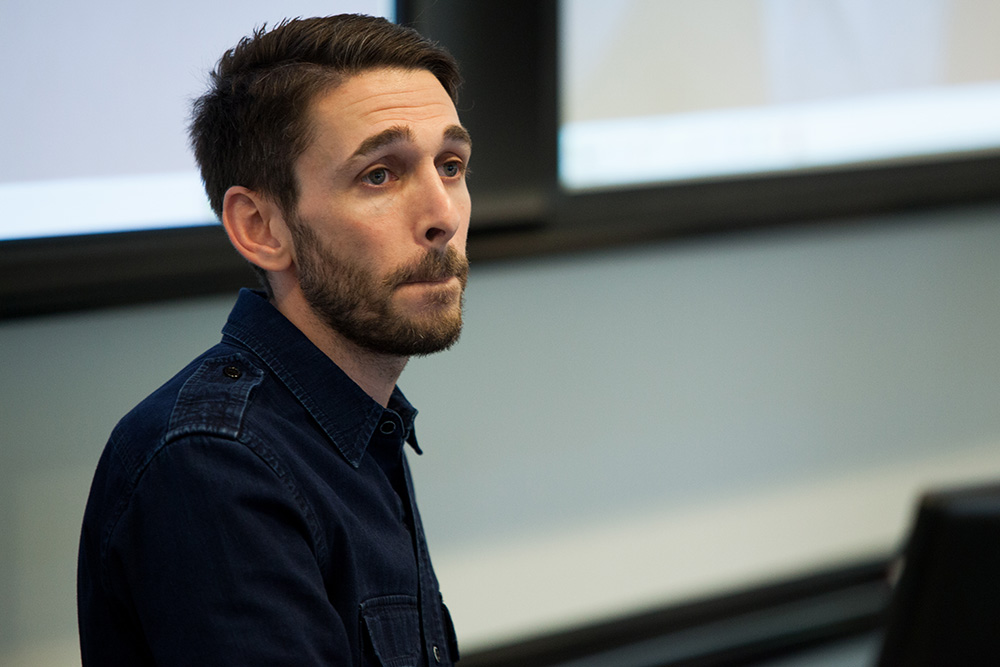 Entrepreneur, angel investor and advisor to venture capital-backed companies, Andrew Berman 07BBA Is at his most satisfied when he is building a venture. Berman is the founder and former COO and board member of Nanit, a VC-backed smart baby monitor that uses computer vision and machine learning to help babies and their parents sleep better,
Berman, who started his career in investment banking, developed his passion for entrepreneurship at Norwest Venture Partners as a venture capitalist.
"I've sat across from a lot of CEOs who now have public companies," Berman said. "I was learning about this, and I was always wondering what it would be like to be on the other side."
After getting his MBA and leaving his job in finance, Berman took the plunge and started his own company.
"We were two guys in a room with a whiteboard at the time," Berman said. "In fundraising, you're just pitching a dream. You're trying to convince people the future will come true. After that, you have to actually go build that product. For us, we made it, but it was a lot of blood, sweat and tears. I think the two most important things to know in venture-backed startups is lack of speed kills them and perfection is the enemy of good. It's a 24/7, 365-day job."
Today, Nanit employs about 30 individuals and is thriving, but after four years, Berman is considering his next challenge.
"I want to start another company," Berman said. "Today, I'm advising and investing in companies and focused on starting something new."
Brandon Fishman
Brandon Fishman 03BBA has more than 10 years of experience in the online marketing and advertising industry. As the CEO of Internet Marketing Inc and CEO of VitaCup, he describes himself as a serial entrepreneur. Fishman started IMI in 2007 and has grown it to 100 employees and $30 million in annual revenue. He is currently burning the candle at both ends, running IMI while nurturing VitaCup, his most recent endeavor. He launched his new company, which makes Keurig-compatible coffee pods infused with vitamins, in April of last year and in only five months, has built sales to $1 million a month in revenue.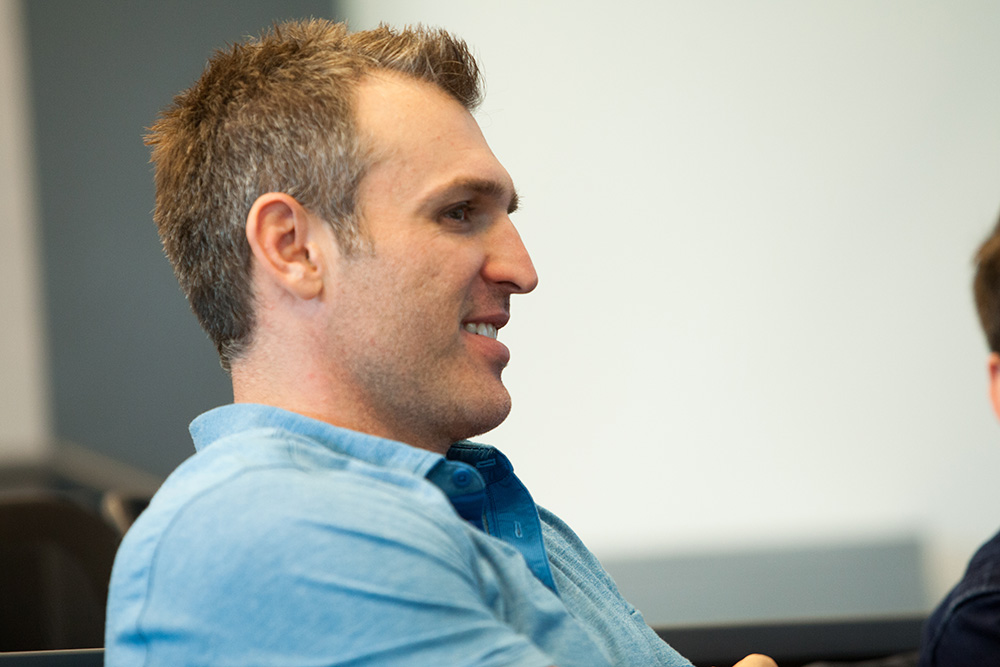 "Just through Facebook and Instagram advertising, we grew very quickly in a five-month period," Fishman said. "[In order to grow more], it's basically been a year of fundraising. We had just under 200 pitches driving all around the country and constantly pitching."
His story includes a dramatic turnaround, when, after a critical offer fell through on Christmas Eve, Fishman made more than 200 calls to VCs and equity firms in a frenzied scramble. His diligence was rewarded when one of the firms he called came through with the investment "miracle" he was hoping for.
Over the next three months, the company went from being nearly bankrupt to now being sold in Sam's Club around the country, Whole Foods and more. A marketer at heart, Fishman is well aware of the power of advertising.
"Everyone builds these companies and then they put no marketing dollars behind them," Fishman said. "If you don't have the marketing dollars to grow your customer base, then no one is going to be interested in giving you money. Maybe we did go a little too crazy and spend a little too much, but every single person kept telling me to slow down on spending, and every day I would double the spending. Now they're happy I did."
David Gaspar
"There is no one way. There is no one path. There is no one thing that guarantees success or failure."
David Gaspar 02BBA, managing director at DDG, an innovation consulting company, understands the complexities of driving growth inside a Fortune 50 as well as he knows the intricacies involved in launching a start-up. After honing his skill set as a financial analyst and an M&A and business strategy specialist at GE Capital, David began simultaneously managing, advising, and investing in new ventures. That path led him organically to DDG, where he focuses on helping large companies develop and execute revenue creation strategies.
"Knowing the other side of it and knowing how that conversation could go is huge," Gaspar said. "I am able to shepherd clients through that process, not from a, 'I read this in a book,' but from an actual empathetic standpoint. I have been there."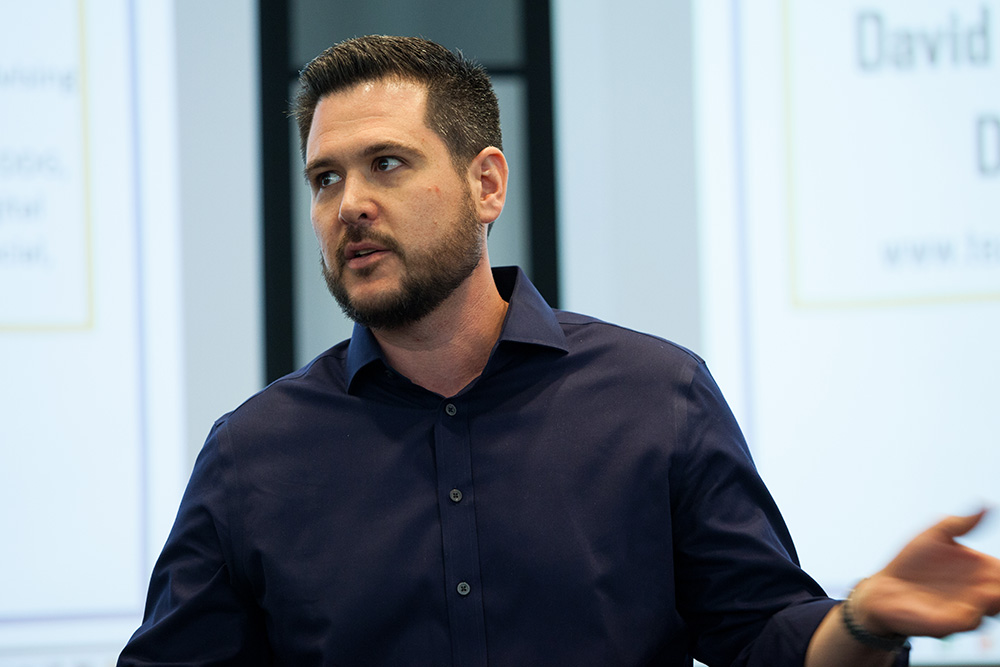 DDG has no employees. For Gaspar, it's about people and storytelling. The company is "a collaborative," made up of various entrepreneurs who don't want to work in a big agency but don't want to work independently either.
"These are entrepreneurs who have come together to fly under a bigger flag to be able to do something better," Gaspar said.
Gaspar has created a business that is boutique-by-design, not a statement of size but by ethos meaning the company is extremely selective in their client-selection process.
"It's being able to grow something at the pace that you want to and being able to choose the situation that you want in life," Gaspar said. "You can spend 100-hour weeks, and I have done that. You can also have 30-hour weeks and also be really effective. You can travel all the time and crush it, but you can also be home with your kids every night and figure out a way to balance it."
David Mandelbaum and Jessica Lloyd
Since meeting during their freshmen year at Emory, Jessica Lloyd and David Mandelbaum 07BBAs have been inseparable personally, and most recently, have also merged forces professionally. The married couple leverage the powerful combination of Lloyd's finance and operations expertise and Mandelbaum's affinity for brand building in co-founding PANATĒA, a premier health and lifestyle-driving matcha green tea company.
When coffee wouldn't cut it, the couple stumbled upon matcha in China Town. The two were hooked and knew they saw potential for something more.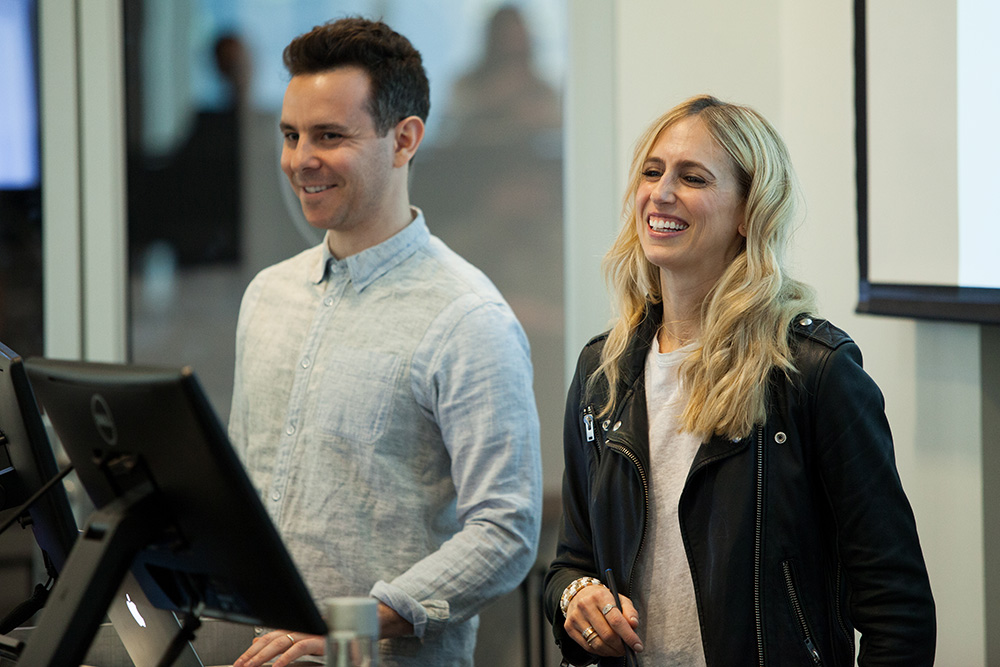 After traveling to every matcha farm, they could access in Japan with a team, the dynamic duo developed and perfected the brand and business model. In just four years, PANATĒA became a health and lifestyle matcha green tea company that has been credited with pioneering the matcha movement.
Their direct-to-consumer business delivers matcha products to customers in every state and abroad, while their food service distribution business provides matcha to over 450 café and restaurant doors across the country.
"You have to create innovative products that the category hasn't seen before," Mandelbaum said. "In building a lifestyle brand, which is what we set out to do in the beginning, you have to work with other, like-minded brands who have like-minded communities. That was something that really made us stand out."
Just a week before the summit, Lloyd and Mandelbaum's wholesale distribution business was acquired by a Japanese manufacturer, and the two are selling off the remaining online inventory to move on to their next venture.
"Everyone doesn't have to have that unicorn story," Mandelbaum said. "The deal made sense because the manufactures now have 500-plus distribution points that they never had. You can't think of just yourself. You have to look at the market, where that's heading and make business decisions based on that."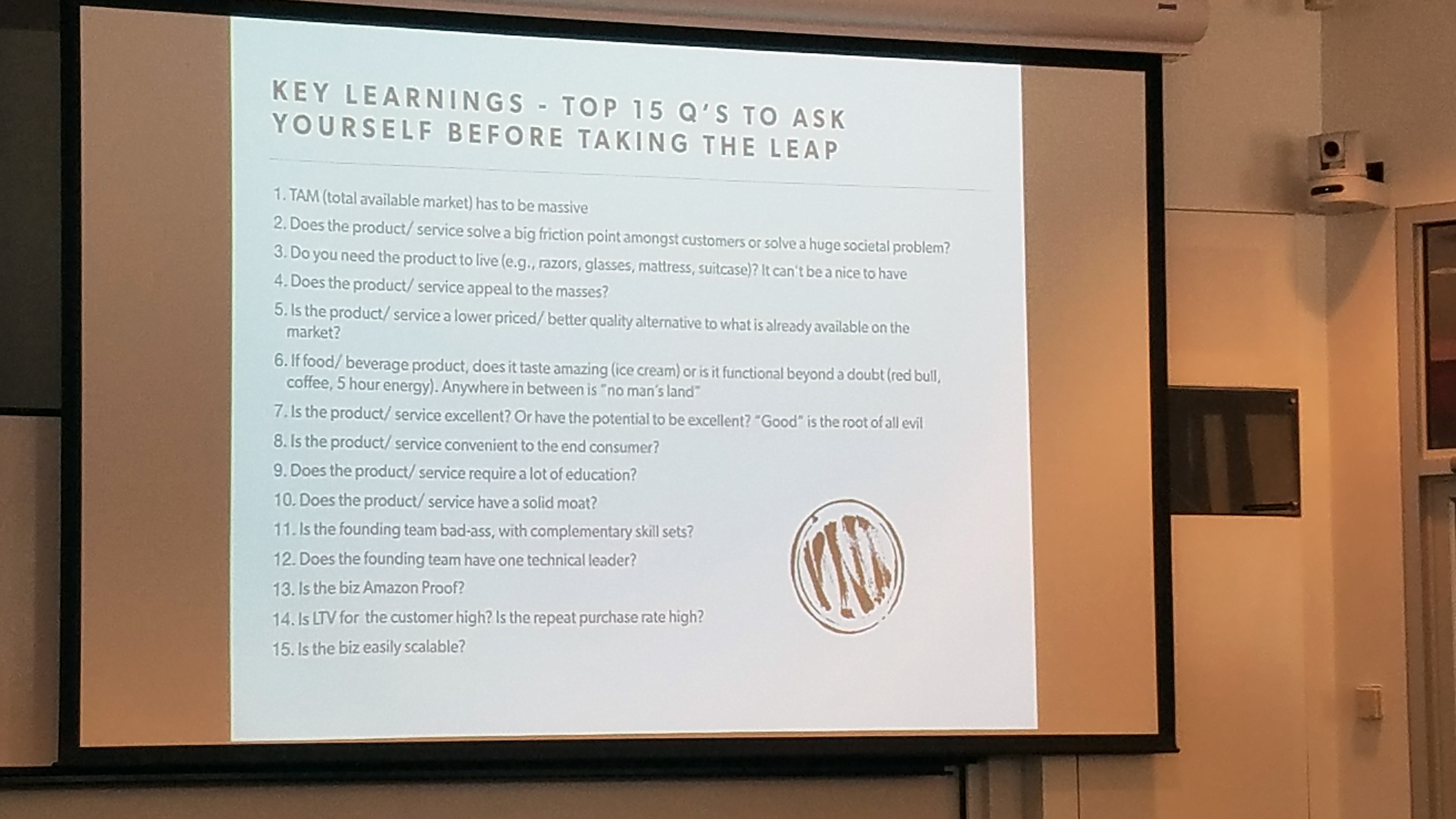 Nathan Meeks
As co-founder and CEO of Gigzolo, a company that helps event producers book professional-grade entertainment for live experiences, Nathan Meeks 07BBA knows what it takes to keep a company going.
After working for Golden Sachs for four years, he saw an opportunity when he encountered a Julliard-trained friend struggling to become established as a working musician.
Meeks launched Gigzolo in 2015 in a time where a curated marketplace for performers didn't really exist, making their services unique and therefore in demand. Within the year, Meeks and his team knew they had a product market fit but they also had a problem.
"We realized that even though the business on a transactional basis was making money, the business overall was actually on a path where it wasn't going to make much money at all," Meeks said.
There were three major flaws in the business model: the platform, the types of inquiries coming through the platform and the amount of cash being spent on customer acquisition. Meeks was forced to make a decision — he felt he had to focus on the curated artists because that base represented the true value of the company.
To control his burn rate, Meeks was forced to lay off most of his team and started freelancing much of the work. Within two months, the company was able to lower costs more than 80 percent and increase productivity by 400 percent.
"That's the lightbulb moment," Meeks said. "That's the moment you realize your business still has value."
By March 2017, the company had grown to 16 cities of artists and 16,000 vendors.
"I think all of the entrepreneurs here have already told you that it's hard," Meeks said. "It's extraordinarily hard. It's emotional. It's painstaking. You risk everything, but this life is glorious. But you have to ask, is this life for me?"
Joshua Sigel
Joshua Sigel 02BBA considers himself a technologist.
His love of technology and his background in the food industry ultimately led him to a powerful convergence of his skills as the chief operating officer at Innit, an "eating technology" company where he leads the company development of the world's first platform for the connected kitchen.
In the early 2000s, Sigel gained first-hand experience in nascent and emerging business technologies while working at Deloitte, and eventually brought his IT and operations savvy back to his father's wholesale food distribution company.
"As I started looking at the business, I realized a lot of opportunity from the business was technology related," Sigel said. "As a result of that, I started growing more and more passionate about tech."
When the company was acquired, Sigel began to oversee the tech division under the new ownership but decided to move on to other endeavors. His activities led him to an encounter with the former CEO of Nestlé France who shared the idea of a new company called Innit.
"I took the plunge and moved to Silicon Valley," Sigel said. "It was going to be my first startup opportunity. We started thinking about the world of eating and the consumer foods base."
Today, the company has developed the first connected food platform, focused on building an ecosystem of how individuals decide what to eat from how they decide to buy groceries and then prepare that food in a home.
"We've basically rebranded ourselves as an eating technology company," Sigel said. "We're focusing on connecting people to the right food."
Sigel believes there's more to the world of entrepreneurship than only making money.
"We live one life, and time is everything," Sigel said. "Just continue to think about what you can do not only to help yourself but what you can do to make a difference, not just within the immediate world you live in but in other people's lives."