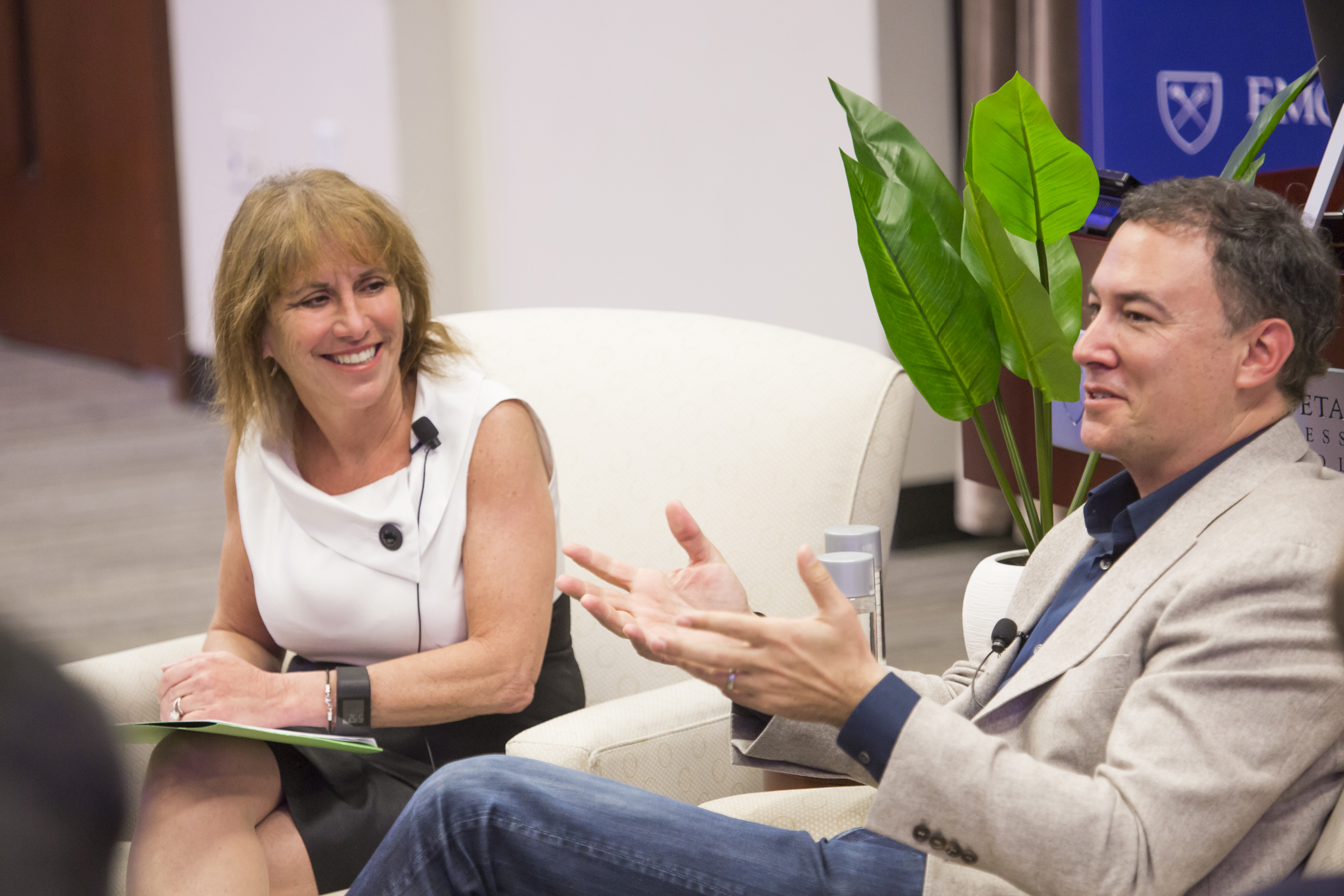 Many of the skills one acquires through the ventures of entrepreneurship can be used throughout a lifetime. Jim Lanzone 98JD/MBA knows this firsthand.
Now the chief digital officer at CBS Corporation and chief executive officer at CBS Interactive, Lanzone believes without his entrepreneurial mindset, skills and drive, he wouldn't be where he is today. His journey is a long one, full of highs and lows, all of which he shared to a room full of eager students and his former faculty and staff during a keynote presentation at the fourth annual Emory Entrepreneurship Summit.
Although Lanzone now oversees digital media strategies and helps launch industry-leading products in the corporate world, this wasn't always the case.
His passion for entrepreneurship started in the classrooms and halls at Goizueta during the "dot-com" boom when he and two fellow students decided to launch eTour, an online web surfing guide to connect users with websites that match their personal interests. On graduating in 1998, Lanzone and his team already had good financial backing, 15 employees and an office.
"I was taking three classes [at Goizueta] and three in the law school to try to graduate, which I can't believe I did," Lanzone said. "And we were off to the races. We were young. We had no track record. We were in Atlanta trying to raise money out of Silicon Valley, which was tough. But we put together a great team, had a compelling product and were able to grow into a real company."
The startup raised more than $50 million, became a top 100 website and started preparing for an IPO. However, the company hit a wall in 2000 when the market crashed.
"The whole dot-com boom crash started, and we crashed along with it," Lanzone said. "We went on fumes for nine months until we sold it to Ask Jeeves, which had its own version of the crash."
In a time before Google dominated, there were dozens of search engines battling to be the best, including a struggling Ask Jeeves.
Lanzone joined the company as head of product and moved back to his home state of California. He immediately put his product management skills to work and used data and better business models to help turn around the public company. The company was sold to IAC/InterActiveCorp for "roughly" $2 billion in 2005.
"We really had a renaissance on the user experience side," Lanzone said. "We didn't have all of the great ingredients that Google had, like having a data center in every single city across the globe, but we were really good chefs with the ingredients we had."
After leaving IAC in 2008, Lanzone became an entrepreneur-in-residence at venture capital firm Redpoint Ventures, backers of companies such as Netflix and MySpace. He then turned down a public company CEO job in order to accept venture funding (from Redpoint and Benchmark Capital) to start a new company from scratch.
"I stared a lot of money in the face and did what theoretically could've been the stupidest thing I ever did in my life," he said. "But it all worked out."
In 2009, after seeing the video era explode and the need for a TV guide of the future, Lanzone started video search engine company Clicker Media Inc.
With his experience from Ask Jeeves, Lanzone had the right people (some of whom still work for him today) and financial backing, the company survived another stock market crash in 2008.
"It was terrifying because I had a lot to lose," he said. "I had three kids and a mortgage. But this is the other thing about being an entrepreneur. I've had people in my office passionately tell me their great idea, and I think it's a terrible idea. But you can see the look in their eyes. They think the world needs this product, and that is who should build a company.
"When you are so passionate about it, you don't care if it doesn't work, if you lose everything, if you think the world needs this thing that you feel so passionate about — that's the moment you should do it. The truth is only one out of 1,000 companies is going to work. We were very lucky."
Within 16 months of Clicker's launch and after much deliberation, Lanzone sold the company to CBS. The success of the company, according to Lanzone, was not only having the right timing but having the right people.
"My biggest secret sauce is I had great people, and we knew exactly what we wanted to build," he said. "When you know exactly what that product should be and you have the purity of thought, it's so much easier."
Although Lanzone may not be working in a true startup company anymore, to him, he's been doing the same thing since 1997 when he first started.
"To be honest, I've spent half my career doing startups and half running top 10 internet companies that are public companies, and I've just never seen them being as different as people do from the outside," Lanzone said. "It's the same skillset. I get a team of any size, and we move. My job is always being the source of energy, momentum and quality, and 'things not being good enough' and pushing it."
View the Gallery
[ngg_images source="galleries" container_ids="20″ display_type="photocrati-nextgen_basic_slideshow" gallery_width="600″ gallery_height="400″ cycle_effect="fade" cycle_interval="3″ show_thumbnail_link="0″ thumbnail_link_text="[Show thumbnails]" order_by="sortorder" order_direction="ASC" returns="included" maximum_entity_count="500″]