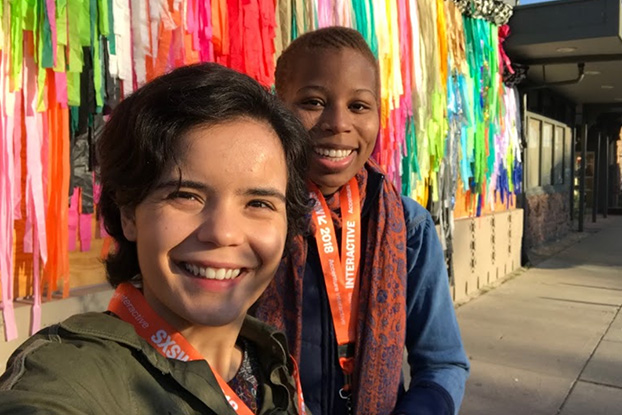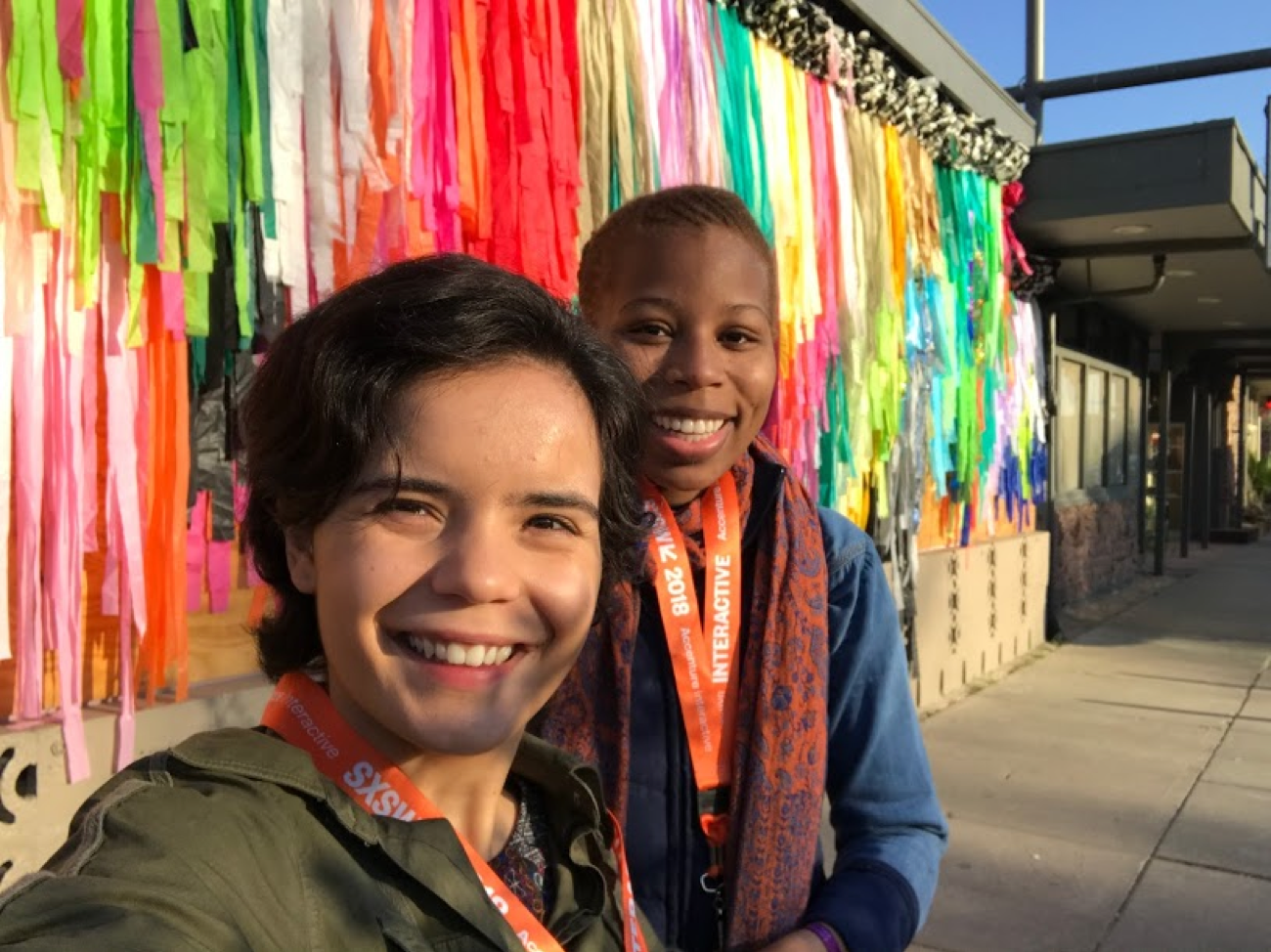 Our first activity was the Lightspeed Ventures, Fenwick & West LLP and Giphy's BBQ. There, we met national venture leaders like Jonathan Gottfried of Major League Hacking and venture capitalists turned startup lawyers like Mark Stevens of Fenwick and West. Moreover, we received extensive advice on how our startup can avoid common pitfalls around navigating user-behavior change.
Later that evening, we attended the Google-x-Management Leadership for Tomorrow reception for Black and Brown leaders. The night's headliner was Marlon Nichols, co-founder of Cross Culture Ventures, a leading financier of ethnic minority founded startups. After he provided in-depth tips on how to mitigate VC bias and pitch effectively to social impact groups like CCV, we ran into David Santos, an Emory economics major alum and MLT alum.
We began our Sunday by exploring Accenture Interactive's Innovation Hub @ Michelada's. There, the R&D teams led us through augmented reality, virtual reality and mixed reality breakthroughs.
After that, I attended the "Hacking the Brain: The Power of Neuroenhancement" interactive session, whose panelists included Emory neurosurgeon, Jordan Amadio, the director of Stanford's Center for Law and the Biosciences, Henry Greely, and Germany's first female editor-in-chief of a leading business publication, Miriam Meckel. Adopting a bio-psycho-social model of how ability-enabled views disability inclusion is just one of the positive takeaways from attending this session.
Next, we attended #SonyAtSXSW's WOW Studio, where we were inundated with the newest developments in artificial intelligence/robotics, 3D creation platforms, and superception exhibitions.
Later, we attended the "Better Than Stereotypes" diversity in tech session at Austin's Capital Factory. There, we had the pleasure of hearing Goizueta Business School alum and OkCupid iOS engineer Jordan Guggenheim discuss actionable steps for self-advocacy and inclusion via technology. Jordan's emphasis on seeking better practices rather than just the "best practice" underscored the importance of ethical decision making in business practices.
We started our Monday by attending the Institute of Electrical and Electronics Engineers "Extreme Bionics: The Future of Human Ability" session because it was necessary that our startup, Ability Enabled, be up-to-date on new advancements in regenerative medicine and biomechatronics so that they are ahead of the curve in helping people with disabilities in the workplace.
Our Tuesday centered on the "Neurodiversity in the Workplace" SXSW meetup for neuro-atypical people. Each person we spoke with helped shape new hypotheses about how to best solve workplace disability inclusion challenges!
We are so thankful for our trip to the SXSW interactive festival in Austin, Texas. It was an enriching experience and provided us with great insights that we've been able to apply in class, in our startup and in our lives. The trip gave us the chance to explore different areas of business ethics, startup innovation and entrepreneurship strategy. From great discussions with investors to hanging out with bionically enabled paralympians, this was the learning experience of a lifetime.
Special thanks to Peter Paquette, Brian Goebel, Amelia Schaffner, Libby Egnor, Tina Giannakopoulos and Andrea Hershatter who transformed our spring break into a spring experience!