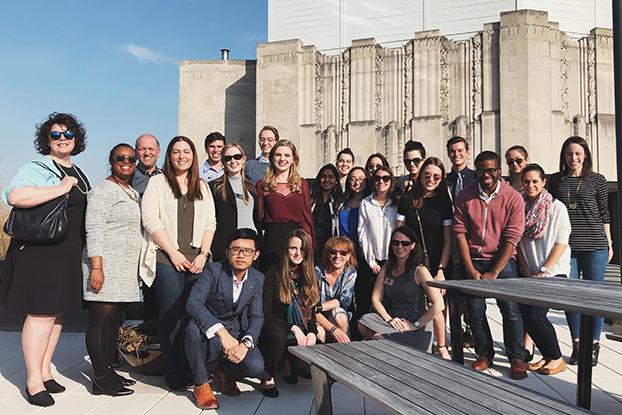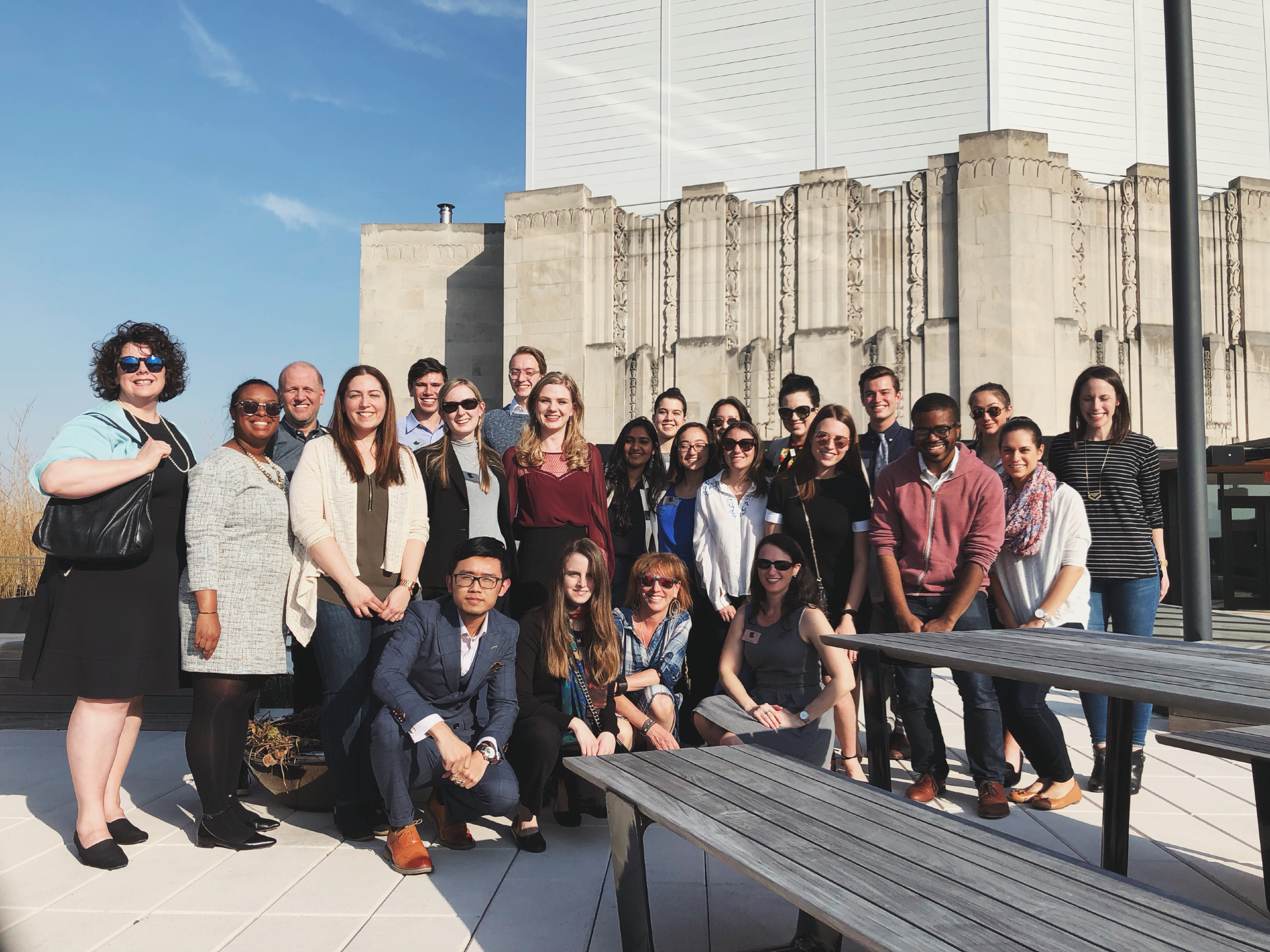 For the first time ever, 16 students, drawn from the BBA program as well as from arts majors in Emory College, had the opportunity to attend an Arts Management Trek in New York City.
This is the fourth year Goizueta has offered the Arts Management concentration, allowing students majoring in dance, music, theater and arts history, as well as BBA students who are passionate about those areas, to deepen their perspective and competencies at the intersection of the arts and business, according to BBA Program Director Andrea Hershatter.
"The goal of the trek was to provide insights, networking and inspiration to Emory students as they consider arts-related careers," Hershatter said.
As co-director of the concentration, Hershatter developed the trek and accompanied the students, along with BBA team member Jennifer Ross, who coordinated all logistics, and Ariel Fristoe, a faculty member in the theater studies who teaches all senior arts management students in the required capstone course.
Students were able to get the firsthand experience by meeting with prominent companies, noted alumni and influential speakers. The group first met with Nathan Meeks 07BBA, owner of Gigzolo, a company that connects artists and entertainers to event professionals. With help from a current Emory parent, students were able to visit Lincoln Center where they were hosted by Vice President of Development Tamar Podell. BBA alumnus John Casavant, who runs event marketing, also joined the meeting, along with CFO Robert Cundall. BBA alumna Kelli Cross AVP, preferred programme manager at Sotheby's arranged a visit for the students and included BBA alumna Orly Brooker who works in fine jewels.
"Kelli also had someone from RM Sotheby's talk to our group in anticipation of a Porsche 70th anniversary event to be hosted at the Experience Center in Atlanta next year," Hershatter said.
Fristoe used her extensive theater Emory contacts to help set up a meeting with The Lark Theater, an organization that provides residency, fellowship, support and access to playwrights. Host Arthur Kopit, who was in residency at Emory almost 20 years ago, is the current director of the Lark's playwright's workshop. The night ended with an alumni reception at Grant Thornton, hosted by partner Sheldon Ganis.
"It was a great event and was a unique offering for people in NYC in the arts who do not always find like-minded alumni at these gatherings," Hershatter said.
The group continued their trek the next morning by meeting with Emory College alumnus Brandt Haynes, senior vice president in marketing at HBO. The second and third visits were generously facilitated by BBA alumna Sarah Arison, patron of the arts and president of the Arison Arts Foundation, a private grant-making organization that supports emerging artists and the institutions that foster them.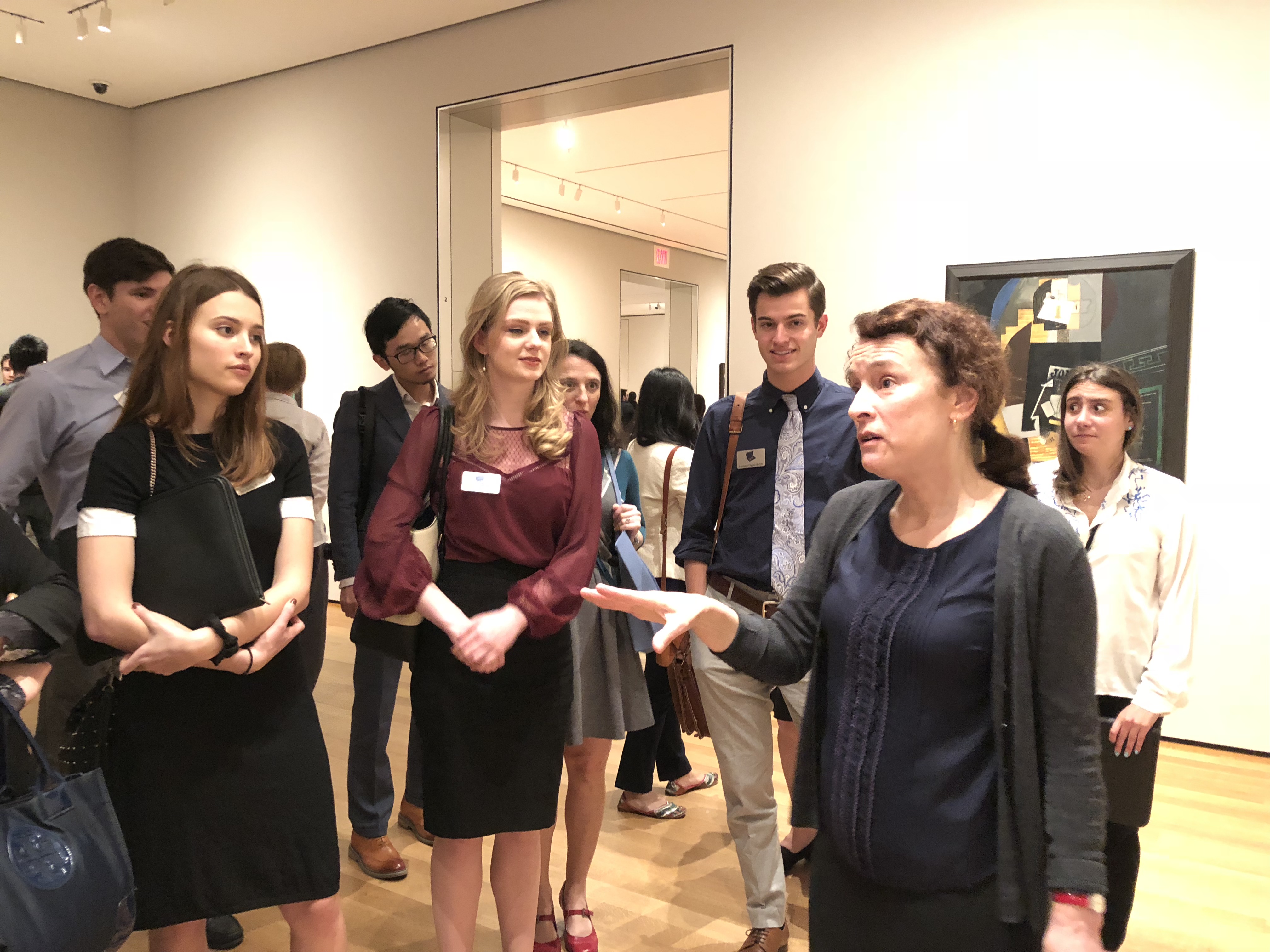 "We had the absolute joy of visiting the American Ballet Theater where Kara Barnett, who is the executive director, was unbelievably generous with her time," Hershatter said. "We also had a very long and wonderful visit at MoMA that started with an amazing educator-led tour of the fifth-floor collection, including, amongst other great works, 'Starry Night.' We were treated to a dynamic array of speakers over lunch, led by an array of MoMA execs, including a representative from PS1 which is an ultra-hip MOMA affiliate."
The final visit of the trek was a visit with Sony Music where students met with alum Lee Stimmel, head of original content, and Tara Master 01BBA, associate director at Legacy Recordings.
"The concentration is a distinctive and unique offering, and having both business students and arts students present made it an unbelievably rich and rewarding experience," Hershatter said. "The questions they asked and the insights they gleaned were reflective of their varied perspectives.
"The trek displayed the power of our university network at its best," she continued. "We were hosted by an unbelievable array of alumni who are deeply committed to the arts and incredibly loyal to Emory. Also, I truly cannot imagine a more powerful event."