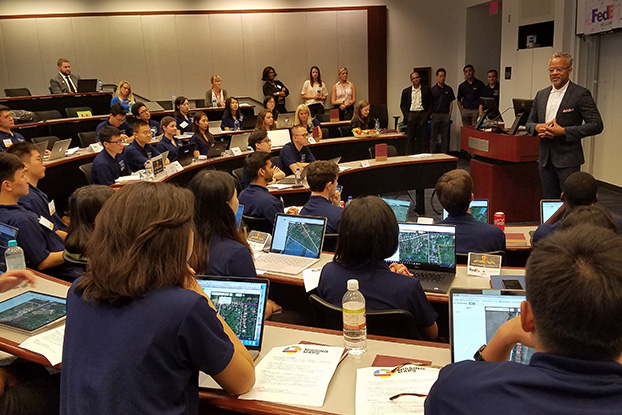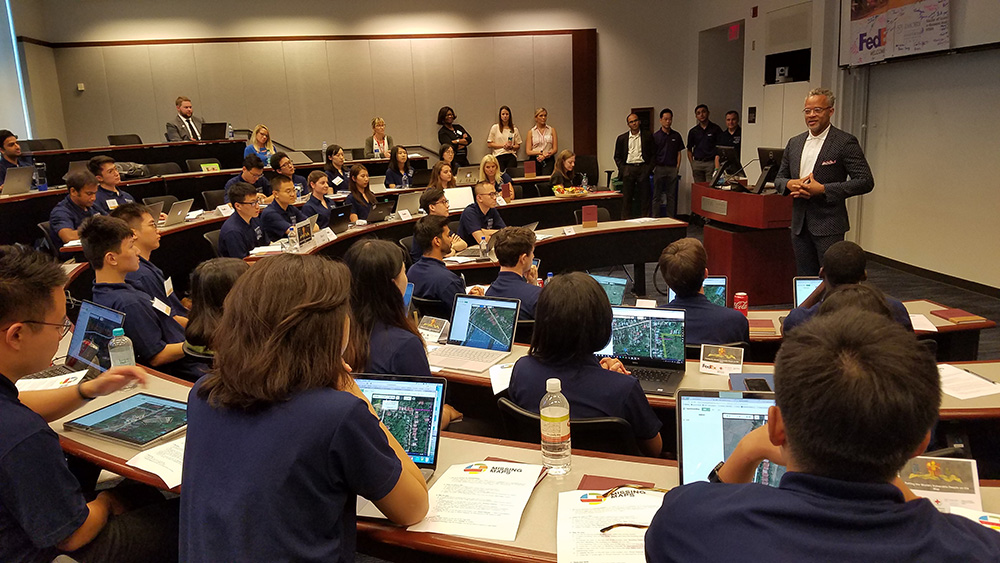 When most people get in their car at the end of the day, it's almost second nature to pull up a mapping device to find the best way home, check traffic and get an estimated time of arrival. What may seem simple could be seen as a luxury to areas all over the world where the location of buildings, roads and entire villages are left in the dark.
The incoming class of students in the Master of Science in Business Analytics program aimed to help shed some light in those areas during their onboarding experience at Goizueta.
For two hours, students participated in the Missing Maps map-a-thon facilitated by the American Red Cross and in celebration of the program's founding partnership with FedEx.
"Missing Maps, founded by the American Red Cross, the British Red Cross, Doctors Without Borders and the Humanitarian Open Street Map Team, aims to reduce risk and help speed up recovery efforts by mapping out vulnerable areas throughout the world — before a large-scale emergency or disaster occurs," said Ashley Henyan, communications manager at the American Red Cross Georgia Region.
With only a laptop in hand, students immediately got to work mapping the Ayeyarwady Delta area in Myanmar. By mapping this area, the Red Cross can better understand where critical infrastructure and roads are to inform decision making during potential disasters. For instance, a cyclone in 2008 killed at least 77,000 people with more than 55,900 missing and left about 2.5 million homeless. With better map data, the Red Cross can better understand where people live in relation to potential hazards.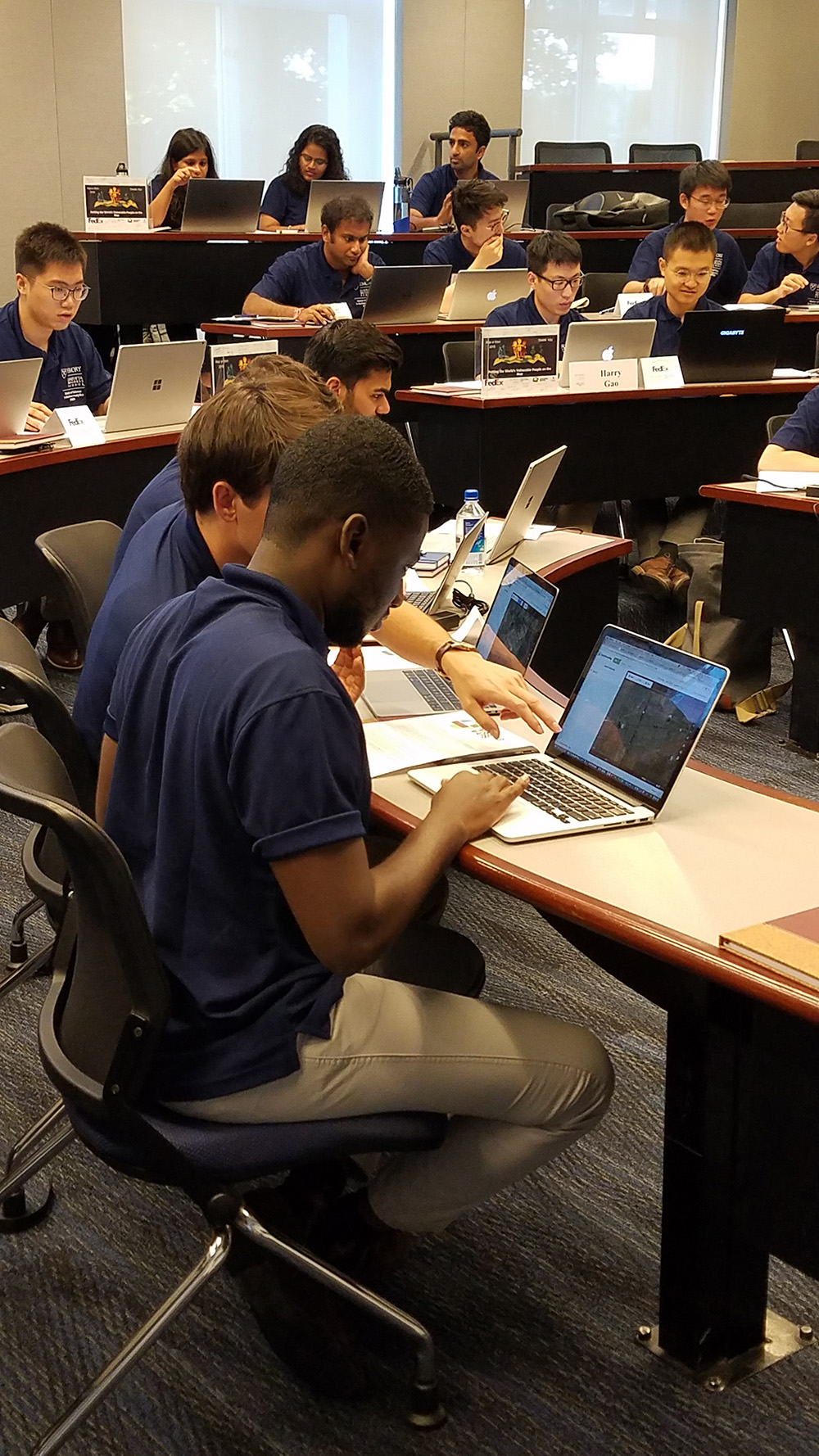 "In a two-hour span, we were able to make a difference in another part of the world through harnessing the power of technology, data and business," said MSBA Career Services' Ginger Baxter. "Simultaneously, and of almost equal importance, the map-a-thon enabled our students to witness the complexities and issues related to data-generation. This unique project reminded all of us that each data point has meaning and represents something of value to someone, in this case, each data point represented critical infrastructure in Ayeyarwady Delta in Myanmar that could save lives in the event of disaster."
Associate Dean and Academic Director of Master of Science in Business Analytics Ramnath Chellappa said volunteerism and giving back are the core to the program's professional development and is also essential to the FedEx culture.
"When FedEx visited campus in November of 2017 launching the FedEx-Goizueta MSBA founding partnership, they challenged us to develop a community engagement that blended technology and analytics, while delivering a social good," Chellappa said. "What better way to celebrate diversity and highlight how interconnected our world is than to have FedEx and Goizueta saving lives by mapping the world's most vulnerable communities on day nine of our graduate students' bootcamp?"
During the map-a-thon, Donald Comer, vice president of operations analysis at FedEx, visited and spoke with the students.
"This relationship between FedEx and Emory is one of the most significant relationships we have in terms of having a major impact," Comer said. "It is my desire that by the time you finish this program and by the time we continue to engage with you, that you will see FedEx is your employer of choice. When you get this degree, you're going to believe that the best place to apply your skills in the disciplines that you care most about is at FedEx."
The Missing Maps project plans to map 20 million people worldwide and has already seen success in Bangladesh, South African, Zimbabwe and Rwanda.
"A map-a-thon is a great opportunity for volunteers to digitally connect and map vulnerable places so that local and international nongovernmental organizations can use these maps and data to better respond to crises affecting these areas," Henyan said. "Through Missing Maps, you can volunteer your time and have a real impact on people's lives."
To learn more about holding a Missing Maps Map-a-thon in Georgia, please contact Kelly Sharon by email at Kelly.Sharon@RedCross.org
View the Gallery
[ngg_images source="galleries" container_ids="54″ display_type="photocrati-nextgen_basic_slideshow" gallery_width="600″ gallery_height="400″ cycle_effect="fade" cycle_interval="3″ show_thumbnail_link="0″ thumbnail_link_text="[Show thumbnails]" order_by="sortorder" order_direction="ASC" returns="included" maximum_entity_count="500″]