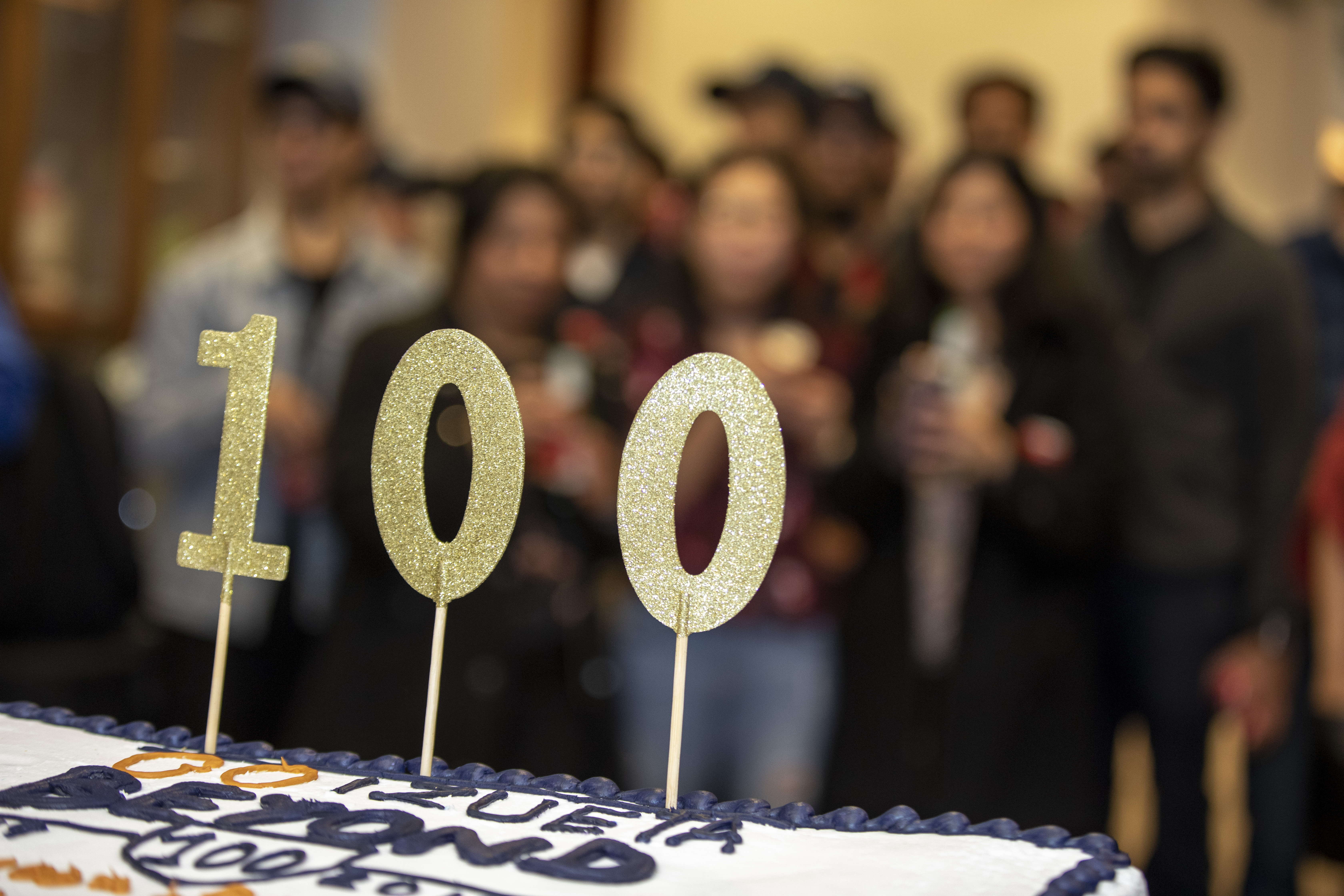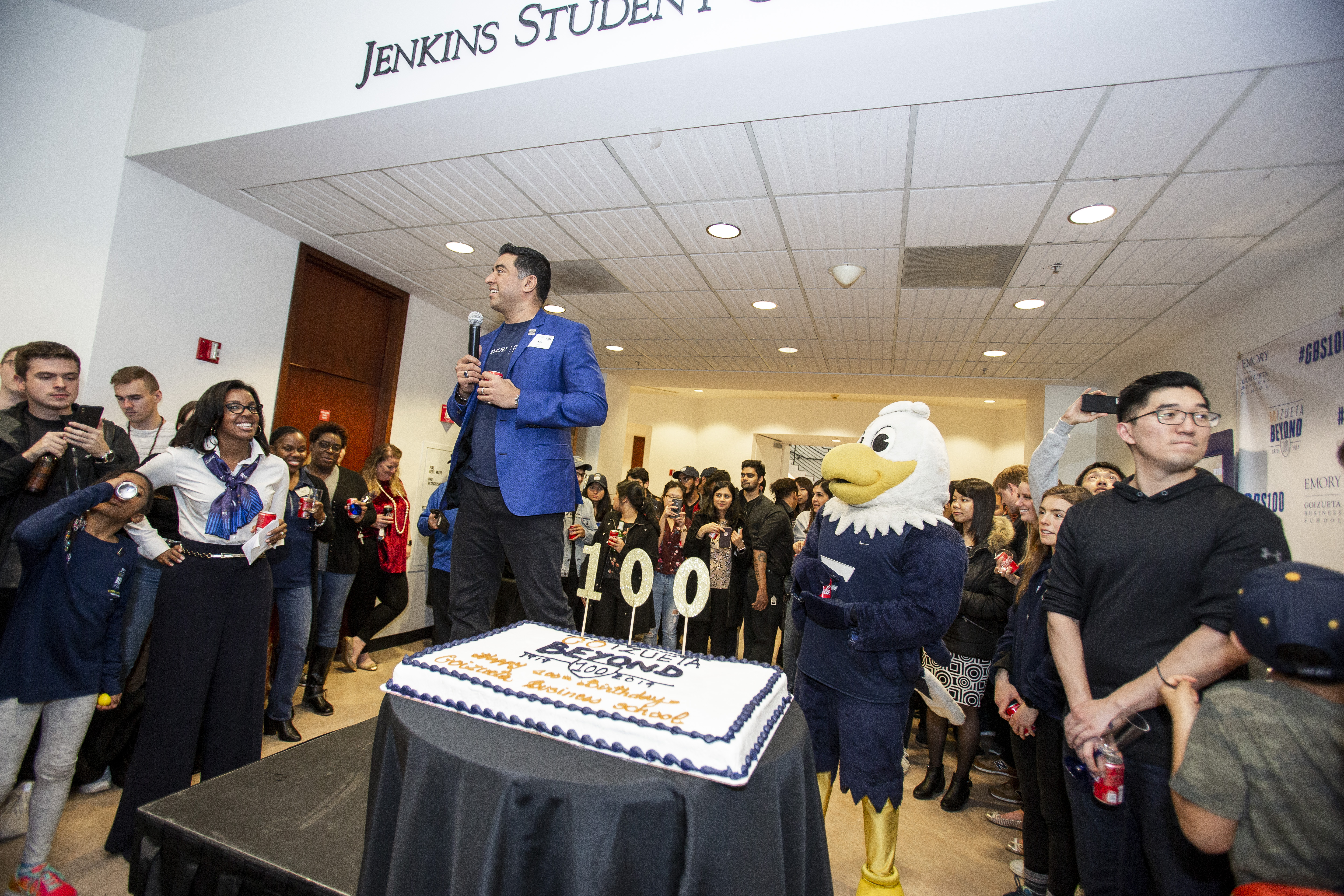 There is no better way to celebrate 100 years of business education than gathering together faculty, staff, students and alumni for a rousing series of birthday parties.
On Thursday, February 21 hundreds gathered at Goizueta Business School to enjoy hors d'oeuvres, birthday cake and to raise cans of Coca-Cola to toast the school's namesake and former CEO of Coca-Cola, Roberto C. Goizueta In addition to Dean Erika James, other notables at the party included Goizueta Alumni Board President Aditya Rao and Emory's "Swoop," mascot. A chill in the air and chance of rain was not enough to keep the revelry at bay. The crowd spread onto the courtyard area to enjoy food, swap tales and celebrate.
"This is an exciting year for our school and it's appropriate to celebrate our Centennial birthday as a community, with 24 parties around the world, enabling our alumni both near and far to engage with each other and with our students and treasured faculty and staff." Dean James said.
In February 1919 the Dean of Emory College recommended the creation of a school of economics and business administration. The Board of Trustees approved the motion the same day. The purpose of the school was public service, training in business methods, and "training in social efficiency alongside financial development."  In Fall 1919, the school began offering courses in economics, accounting, and business law. By 1925, there was one faculty member, a full-time assistant, five staff members and 145 students. The business school moved to its home in the C. L. Fishburne Building in 1936. A later gift from The Rich Foundation facilitated a move into a building of its own. After more growth, the school moved into the first of two buildings at 1300 Clifton Road, thanks to a gift from the Woodruff Foundation. In 1994 the school was named in honor of Goizueta.
Emory's business school has continued to grow in size and stature. With alumni spread around the globe, such a celebration could not be contained to Atlanta. So, in late January, Goizueta kicked off its 100th anniversary with parties in 11 cities throughout the United States, including Atlanta, Miami, New York City, San Francisco, Chicago, Boston and Washington, DC.  Alumni volunteers served as City Captains, assisting with hosting parties and promoting attendance.
"Many of our alumni live outside of Atlanta and the multiple birthday parties were a great way to enable as many alumni as possible to celebrate our Centennial," said Julie Barefoot, associate dean of Engagement & Partnerships and Leader, 100th Anniversary Celebration. "We are so fortunate to have so many outstanding alumni leaders who served as our City Captains."
Like the on-campus fete, each domestic party included a Coke Toast with 100th logo fluted glasses, a Goizueta Trivia game, photo backdrops with fun 100th props and city photo frames, and, of course, cake or desserts. On February 28, alumni in eight countries, including China, Japan, India and South Korea, will share in the festivities. Graduate students traveling to Beijing, Tokyo and Delhi as part of a global learning experience, will join those parties. International City Captains will greet students as well as alumni who live or are work in the area.
One alum who will be in attendance at the Mumbai party is Aditya Rao 08MBA, president of the Goizueta Alumni Board, and chief strategy officer at Blast. "Any time I have a chance to meet and interact with other alumni, I'm there," Rao said.