The evening before finalists in the Goizueta Healthcare Futuring Competition presented their visions of the U.S. healthcare landscape in 2040, a panel of senior leaders across multiple sectors of the healthcare industry gathered to make their own predictions.
Renee Dye, associate professor in the practice of organization and management at Goizueta, moderated the panel. During the discussion, each panelist shared their vision for the future of U.S. healthcare in 2040.
Jeff Fusile is president of Blue Cross and Blue Shield of Georgia and offered a perspective of the future of healthcare from an insurance provider standpoint.
"More than half of a family's gross income goes to cover the average family of four's healthcare cost—not a sick family, not a healthy family, the average family," Fusile began. "If we don't seriously try to make a change, 10 years from now, maybe 20 years from now, we'll be here saying, 'Now it costs 100 percent of your gross income.'"
Fusile proposed a future where payers, providers, hospitals, pharmaceutical companies and everyone else involved in healthcare share the same incentive: keeping patients healthy. "How do we come up with a better model so we can keep people healthy, rather than reward them when they are sick and need help?"
Fusile suggested using financial incentives to reward providers for keeping patients healthy, such as paying them for services, or hospital beds, even when they are not needed. If patients stay healthy, the funds could be used to offset other costs.
"If we can align those incentives and build models where everybody's working together to keep people healthy, how different could it be? And how much more affordable?" Fusile asked.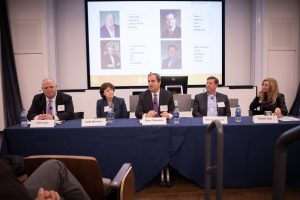 Judith Monroe, president and CEO of the CDC Foundation, prefaced her remarks with a disclaimer: "The future really will depend on a complex web of things, all the way from science, technology and data to economics, political factors, social factors and certainly environmental factors."
However, Monroe said it's a sure bet that healthcare technology is going to continue to advance. "By 2040, we're going to have new devices that we can't imagine today. When you wake up, you're going to have real-time blood pressure, biometrics and blood chemistries." This data, according to Monroe, would be aggregated and used for public health purposes. "And these new smart devices, I would predict, will create a new addiction that is going to help drive health and wellness.
"We will be addicted to staying fit and healthy."
However, Monroe said there are dangers lurking in the future as well. She said some challenges are imperative to get right: developing an effective influenza vaccine and combating antimicrobial resistance. If we don't stay ahead of these issues, Monroe said, we could be faced with another flu pandemic or knocked back a century in standards of care due to rampant infections.
Dane C. Peterson, chief operating officer of Emory Healthcare, agreed with Fusile that the current cost of healthcare will continue to rise and added that if trends continue, the current system is unsustainable. "I think healthcare will have to change because it's going to be forced to change," Peterson said.
"Technology is going to drive a lot of this."
According to Peterson, key technologies will be artificial intelligence and virtual reality. Peterson envisioned a healthcare landscape where virtual reality helps patients visualize end-of-life plans, and artificial intelligence is used to assist patients and their families in decision-making when choosing a provider.
Even with new and advanced technology, Peterson said, "I still think we're going to have inefficiencies in equity of coverage, mostly driven by socioeconomic status." And new technologies could come with downsides, as well. "We will have to deal with unethical algorithms, and I don't know how to fix that one. We need AI for AI," Peterson said.
Mike Van Den Eynde is managing director of Deloitte Strategy and Operations. At Deloitte, he said, they have been thinking about asymmetry of data a lot.
"We believe that the next 20 years finally will be the time for the age of the consumer in healthcare and that some of the required changes are actually starting now."
Currently, however, the healthcare consumer has the least information of anyone in the system.
According to Van Den Eynde, a movement toward interoperability and completely open platforms is beginning today. As Van Den Eynde sees it, the end point will be a system where the individual owns their own clinical data, including medical history, genetic information and consumer buying history. When patients own that information, they will have negotiating power with the other players in the system.
When that happens, Van Den Eynde said, "All the existing players will have to change their formats — and how they go about making money or staying viable — dramatically."
Goizueta's Healthcare Futuring Competition took place on February 1, 2019. Learn more at https://goizueta.emory.edu/events/healthcare.