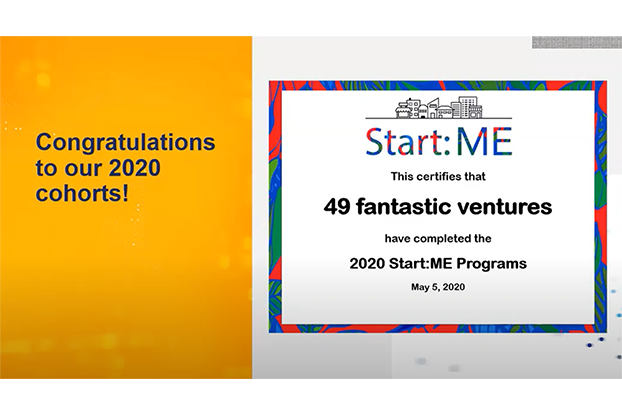 ATLANTA, GA – (May 6, 2020) – Forty-nine promising entrepreneurs in the Clarkston, East Lake and Southside Atlanta communities have completed an extensive mentoring and business training program offered through the Goizueta Business School's Start:Micro-Enterprise Accelerator Program (Start:ME). Start:ME celebrated the 49 ventures completing this year's program with its Entrepreneur Showcase on May 5.
The program took a "virtual" turn during the COVID-19 pandemic, shifting to online meetings, presentations, and networking. Program managers worked with hundreds of Start:ME alums to help them weather the pandemic and pivot their offerings where possible to remain profitable.
Start:ME also launched a momentum crowdfund campaign to support microbusinesses: https://momentum.emory.edu/startme and captured COVID-19-focused small business resources for any small business in Atlanta, including emergency funding opportunities and resources to build resilience: https://www.startmeatl.org/response-to-covid-19
For the first time, the event was held virtually. It featured a celebration of all graduating ventures, speeches from alumni, and grant investment award announcements.
The 14-session accelerator program provides business know-how, mentorship support, and early-stage capital to promising micro-entrepreneurs (those with 1-4 employees) to develop viable and sustainable businesses. Entrepreneurs supported one another while competing for peer-selected seed investment grants from a $30,000 pool ($10,000 in each community).
The following entrepreneurs were selected to receive seed invest grants to help grow their businesses:
Start:ME Growth Grants of up to $4,000
Brandon Williams + Ebony Blanding of Puncho's Fry Trap (East Lake)
DeAndrea Byrd of Tutu Maniac (Southside)
Jan O'Shaughnessy of The Neighborhood Sprouts (East Lake)
Maria Campos + Anthony Frazier of SECPRO (Clarkston)
Teasha Chestnut of Sugarholic Desserts (Clarkston)
Veronica Woodruff of Travelsist (Southside)
Start:ME Start Grants of up to $1,500
Joshua Westover of Bake-N-Jam (Southside)
Lanii Dennis of Othello Communications (Clarkston)
Lorraine McCall of Breathe Balance Energize (Southside)
Madison Copeland of Rogue Digital (East Lake)
Tamara Lucas and Amanda Farahany of My Panda (East Lake)
Teresa Abboud of Teresa Afternoon (Clarkston)
Peer-of-the-Year Grants of $500
Jocelyn Johnson of WorshApp (East Lake)
Sonia Tyler of STyler Visuals (Clarkston)
Sonya King of Beyond the Skys Catering (Southside)
Community Impact Grants of $500
Katecia Wilson of MamaWanderlust (East Lake)
Thomas Cotton of Next Level Freedom (Southside)
Yohana Solomon and Amanda Plumb of Chow Club Atlanta (Clarkston)
Other businesses represented in the 2020 cohorts offer everything from art to underground dining, educational therapy to urban farming.
The program is offered annually by Emory University's Goizueta Business School in partnership with trusted community lead nonprofit organizations Friends of Refugees, the East Lake Foundation, Focused Community Strategies (FCS) and Purpose Built Schools Atlanta.
Start:ME 2020 is made possible through the generous support of signature supporter Regions Foundation along with champion investors Emory University, The Goizueta Foundation, PNC Foundation, and SunTrust Foundation.
Since its inception in 2013, Start:ME has supported more than 250 local businesses and awarded 86 working capital investments in the form of loans and grants. Start:ME also engages more than 75 volunteer mentors with significant professional business and/or entrepreneurial experience to provide critical support for entrepreneurs participating in the program.
Visit startmeatl.org for more information.
###
Additional details on 2020 Start:ME entrepreneurs:
The ventures:
Generated over $933K in annual revenues in 2019
Account for 127 jobs
Occupy 9 brick & mortar locations
86% of the ventures are owned/operated by people of color
74% are owned/operated by women
22% are owned/operated by foreign born entrepreneurs
Learn more about the 2020 cohort graduates here: https://www.startmeatl.org/20-cohort
About Goizueta Business School
Emory University's Goizueta Business School believes that business schools need to do more than simply train the workforce. Goizueta goes beyond class work and research to be of service in the boardroom and on Main Street. Together with our partners, we build ecosystems, small businesses, and communities.
About Start:ME Clarkston
Goizueta Business School works with Friends of Refugees and local partners City of Clarkston, Clarkston Community Center, Georgia Piedmont Technical College, Global Growers, International Rescue Committee, New American Pathways, Refuge Coffee Co., and Refugee Women's Network to support entrepreneurs in Clarkston, GA. The Clarkston program has graduated 115 ventures since 2013.
About Start:ME East Lake
Goizueta Business School works with the East Lake Foundation and local partners Charles R. Drew Charter School, Columbia Residential, East Lake Neighborhood Community Association (ELNCA), Fred Armon Toomer Elementary and Whitefoord Early Learning, Kirkwood Business Owner's Association (KBOA), Kirkwood Neighbors' Organization (KNO), and The Villages of East Lake, to support entrepreneurs in the East Lake and Kirkwood communities of Atlanta. The East Lake program has graduated 93 ventures since 2015.
About Start:ME Southside
Goizueta Business School works with Focused Community Strategies (FCS) and Purpose Built Schools Atlanta along with local partners Atlanta Volunteer Lawyers Foundation, the Capitol View neighborhood, Carver High School, The Villages at Carver, and The Villages at Carver YMCA to support entrepreneurs in the Southside of Atlanta. The Southside program has graduated 49 ventures since 2018.
Contacts:
Gretchen Wright (404) 727-9709, gretchen.wright@emory.edu
Mitch Leff (404) 861-4769, mitch@leffassociates.com
Kim Speece (404) 849-6579, kim@leffassociates.com