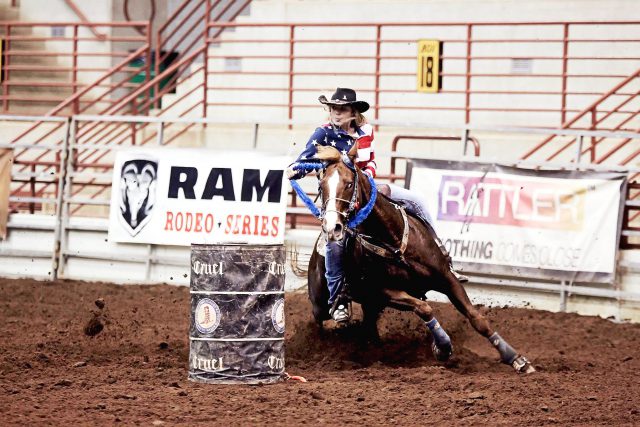 Savannah Standifer 20BBA has been riding horses as long as she can remember. She grew up on a farm in Fayetteville, GA, and was 7 years old when she told her parents she wanted to be a professional rodeo barrel racer. They laughed it off. When she was 10 years old, she told them again. That time, they took her seriously. "They supported me," said Standifer. "It's still the dream."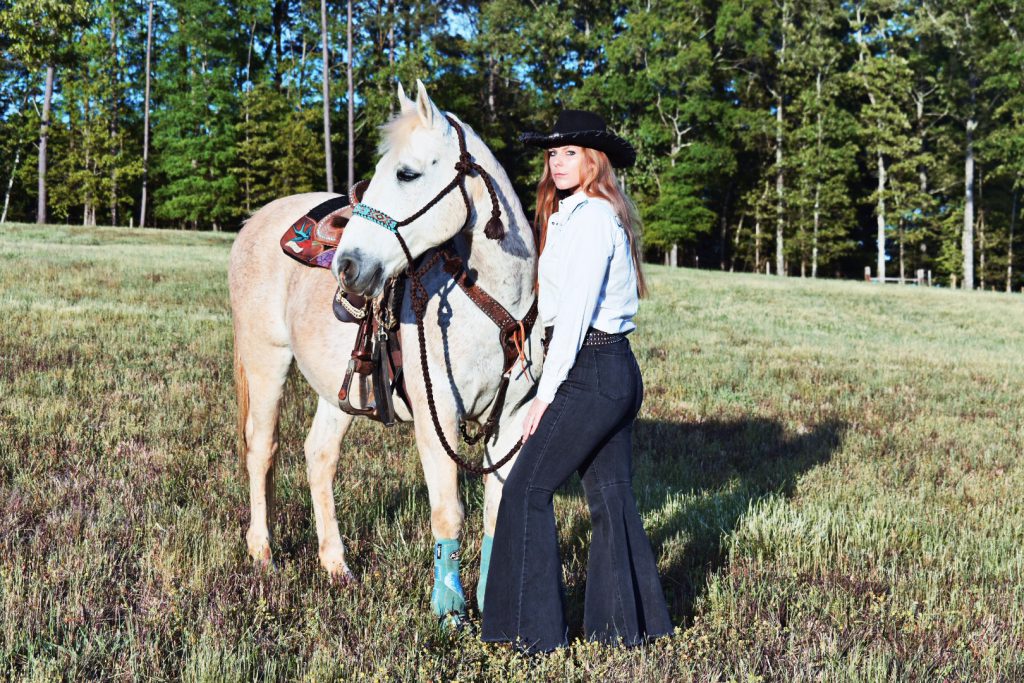 Now that she is at the end of her BBA experience at Emory's Goizueta Business School, Standifer is working to build business relationships that will set her up for success in the world of professional rodeo. She's currently in search of a marketing position in the western apparel industry, hoping to land a job at a company like Ariat (named after the legendary Triple Crown winner, Secretariat), Justin Boot Company, or Wrangler. Western apparel is a niche space, and Standifer thinks that will work to her advantage. Once she finds a job and establishes herself, her next step will be "the professional rodeo route," she said. Her hope is to enlist the company she works for as one of her future sponsors. "In rodeo, that helps a lot," she explained.
When she was in high school, Standifer qualified for state finals in 2015 and 2016 under the Georgia High School Rodeo Association (GHSRA), a state-wide association of high school students who participate in rodeos. Throughout her rodeo career, she racked up belt buckles and horse tack (and even a little money) for her top finishes, and in 2015 and 2016, was also awarded the GHSRA academic award buckle for her continued academic success.
While attending Emory, Standifer wasn't able to compete, but she did manage to ride her horse—Thunder—and keep him exercised. Now that she has graduated, she plans to acquire a few new horses since she'll have more time to work them regularly and get back to speed on her barrel racing skills. When asked what she's learned in business school that she could bring into the ring, she talked about decision-making.
"Being able to focus not only on where you're headed, but on the problems and obstacles ahead of you," she said. "In barrel racing, it's all about trajectory and about not hitting the barrels, about being able to calculate the distances and figuring out how deep the ground is because the horse can run either slower or faster depending on that, so there is a lot of decision making that you need to do."
According to Standifer, there's also a great deal of preparation that goes into riding, much of it not unlike doing research and analysis before making a presentation to clients. "To be well prepared is something I'll take with me for the rest of my life," she added.
Asked what her fellow business school students could learn from horses, Standifer, without missing a beat, answered, "Humbleness."
For years, she's tried her best to communicate with another creature that doesn't understand her language and that may refuse to do what she wants it to do. "You come to a point where you can't come to terms, so to speak, with the horse and you have to learn how to agree to disagree," she explained. "You realize that some of your personal preferences of how something ought to be done aren't going to be the most effective. That realization is something very valuable in the horse industry." It's also a valuable lesson for how to navigate the business world.
As a BBA student, Standifer chose marketing and psychology as her concentrations because she's "really people-oriented," she said. While she was at Emory's Oxford College, Standifer tutored math, a subject she's loved since high school. "I was given the opportunity to tutor individuals who were struggling in statistics and in calculus," she explained. "It was very rewarding to help people."
That love of people sparked her interest in psychology, an interest that stayed with her after she transitioned from Oxford College to Goizueta. "There just wasn't another [business] concentration that I fell in love with like I did marketing," she said, adding, "and a lot of the things I learned in my psychology classes have spilled over." Such as "MKT 346: Consumer Behavior," a class taught by Morgan Ward, assistant professor of marketing. The class links back to one of her favorite psychology classes, "Family and Relationships."
Both classes served as a reminder to Standifer that "relationships are really valuable," she said. "The consumer behavior class has enlightened me further about the value of relationships and how we think differently about our preferences. How we show those preferences through the products we buy."
Standifer admits she wasn't the most tech savvy person entering college, but a senior seminar on Excel as well as deep dives into social media research and analysis have "expanded the skill set I already had," Standifer said. "It will all be really applicable to any kind of marketing position."
The COVID-19 pandemic forced Standifer to spend most of her time at her family's farm in Carrollton, GA, where she took her classes online. She's there with her grandparents, parents, her three younger sisters—one of whom is also going down the rodeo path, Thunder and another horse, Amigo, the family's Australian shepherd, Reba, numerous chickens and rabbits and more than four dozen goats. She was disheartened at not having the opportunity to walk at graduation—she was looking forward to that—and understands that the virus may also affect how and when her career and future professional rodeo plans get underway.
Standifer recognizes that most of her fellow students have never heard of the Pro Rodeo Circuit Association (PRCA)—the rodeo she hopes to be a part of soon. The PRCA may not be mainstream, but it's a big deal. In 2019, more than 700 rodeos were held across the country, with more than $52 million in prize money awarded. According to industry data, the PRCA has a fan base of more than 40 million people, split nearly evenly along gender lines, with only slightly more men than women.
Standifer considers it an "underrepresented sport" and hopes those who've never experienced pro rodeo will give it a chance—on television or at a venue. Perhaps, if things go as planned, in a few years, if they tune in they'll catch Standifer, clad in western apparel, guiding her horse around a barrel course.