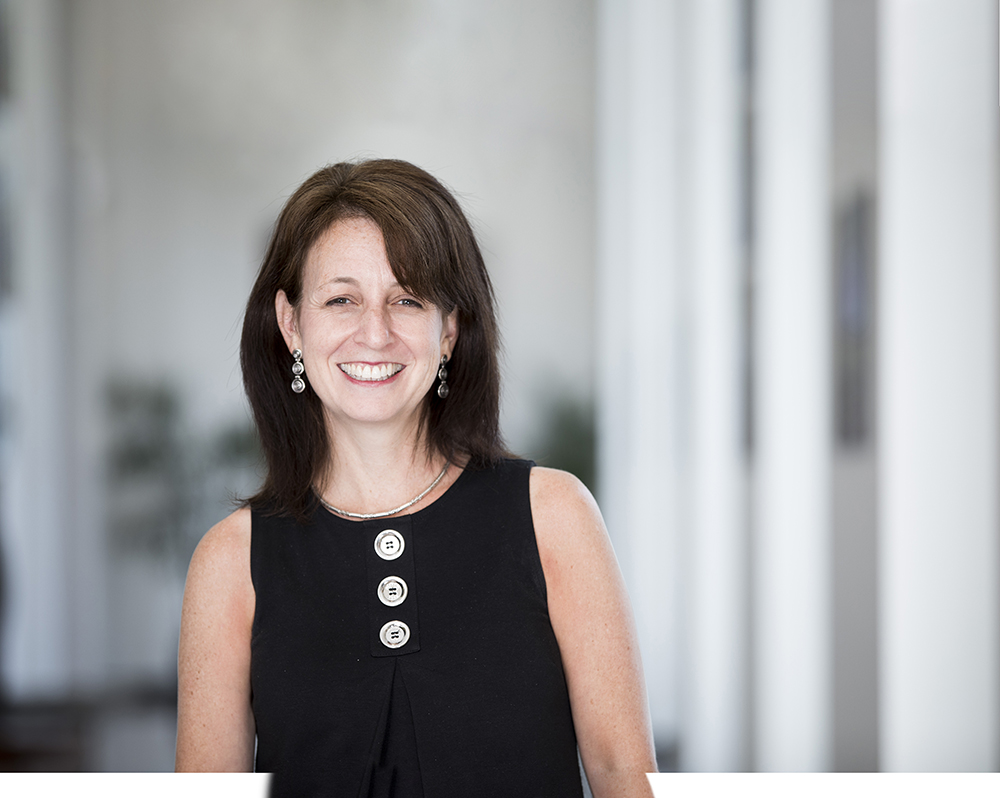 If you haven't yet met Danielle Rubenstein, you should. In short, she's delightful. She's exactly who you hope to meet when you need guidance on big decisions—like your career options. For many years, Rubenstein has sat at the head of alumni career relations, guiding former students through career transitions and helping to facilitate the ever-growing alumni network. She's now taken on an even bigger role as director of career management for alumni and working professional students, which expanded her purview to current students' career planning needs.
In her new role, Rubenstein helps others find their footing and begin to shape—or reshape—their futures. She's just begun the work of bridging those two worlds in ways that will help both groups benefit and connect in meaningful ways.
"My vision for the future is to increase utilization, bringing a greater awareness around our services and expanding our connections," she said. "We aren't a placement service, although we do have career fairs and offer an abundance of resources for people to gain the knowledge they need to plan the next step in their careers. But what we do holistically is teach lifelong career management skills."
So, whether the need comes from working professionals in school or alumni seeking to discover their next fulfilling opportunity, Rubenstein can help. Her team is diverse and offers the type of coaching that helps students and alumni figure out what's next, what's possible and how to get there. Virtual appointments provide the flexibility needed for bustling professionals.
"We help people understand who they are, what they want in their next career step and then how to build a roadmap to get there," Rubenstein said. "We do that through research and exploration, while reminding everyone not to compare themselves to others. Everyone has a different path."
Rubenstein is keenly aware that her own transition to this leadership role involved the same types of questioning and preparation she advises others on. Understanding this correlation, she said, will only make her more effective.
"It was the opportunity for me to merge my love of working with both alumni and students," she said. "There are so many synergies that work together. I saw how I could build a bridge between the two populations—they have a lot of overlap in what they need."
In addition, her own career journey has informed the need for bold moves—something she can now share during her coaching sessions with students and alumni. This job process has "solidified my courage to seize what I want, and I want to help others do the same—to get on the path to their dream job," Rubenstein said. "To be ready to say yes when opportunity comes knocking."
Rubenstein keeps her own life lively by spending time with her husband and two teenage sons. She also has a love for animals and rounds out her family with her faithful companions—her dog and bird. She enjoys hiking and soaking up the restorative powers of nature. Reading is also a favorite pastime, and she likes to attend author speaking engagements. "I was really excited to hear Tara Westover speak about her memoir Educated at Emory last year, because I'd just finished it. It was really a fascinating story." — Jennifer Corbett
Each issue, we select faculty or staff members, current or retired, to "have coffee with" and gather insights and perspective on a topic of interest to alumni and friends of Emory University's Goizueta Business School. If you have a favorite faculty or staff member you would like to "have coffee with," please send your suggestion to GBSmag@emory.edu.