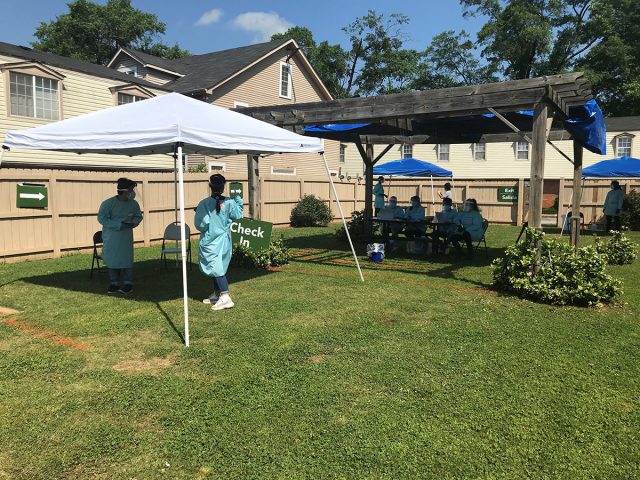 As the critical need for national COVID-19 testing ramped up, Ken Keen, associate dean for leadership at Goizueta and Lieutenant General (Ret.), realized the potential for MBA students to align with the nonprofit Community Organized Relief Effort (CORE). Keen manages schoolwide leadership development for the MBA programs, which includes teaching crisis leadership and developing high performing teams. As a CORE board member, he facilitates connections between potential corporate partners and volunteers.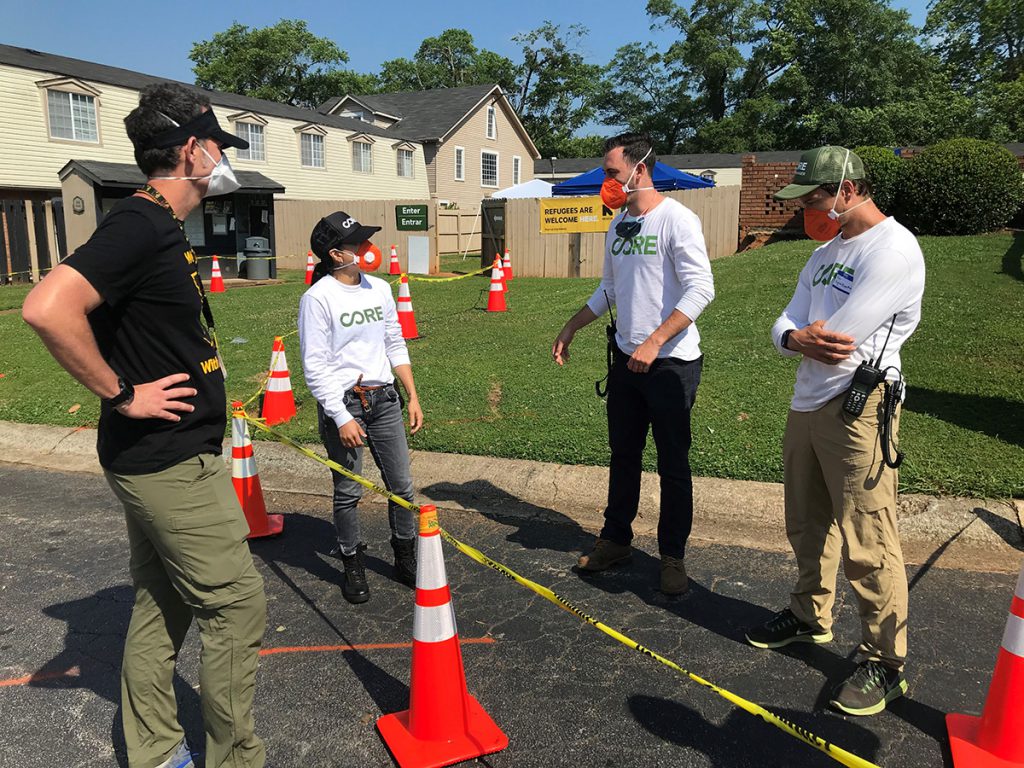 "We initiated the connection with Emory University and Goizueta, and our recent MBA graduates were anxious to serve others and support this effort," he explained.
After successfully implementing testing sites in California in partnership with state and local agencies, "CORE expanded their testing sites and model to other states and cities with a focus on developing public-private partnerships to expand testing for the vulnerable communities," Keen said. CORE had previously instituted disaster response and emergency management programs in the Savannah area. Increasing Georgia operations, CORE created "a partnership with the Arthur M. Blank Family Foundation and the City of Atlanta to establish COVID-19 testing in Atlanta, with the first site being at Mercedes-Benz Stadium with the Project South community."
Roles refined as testing nets results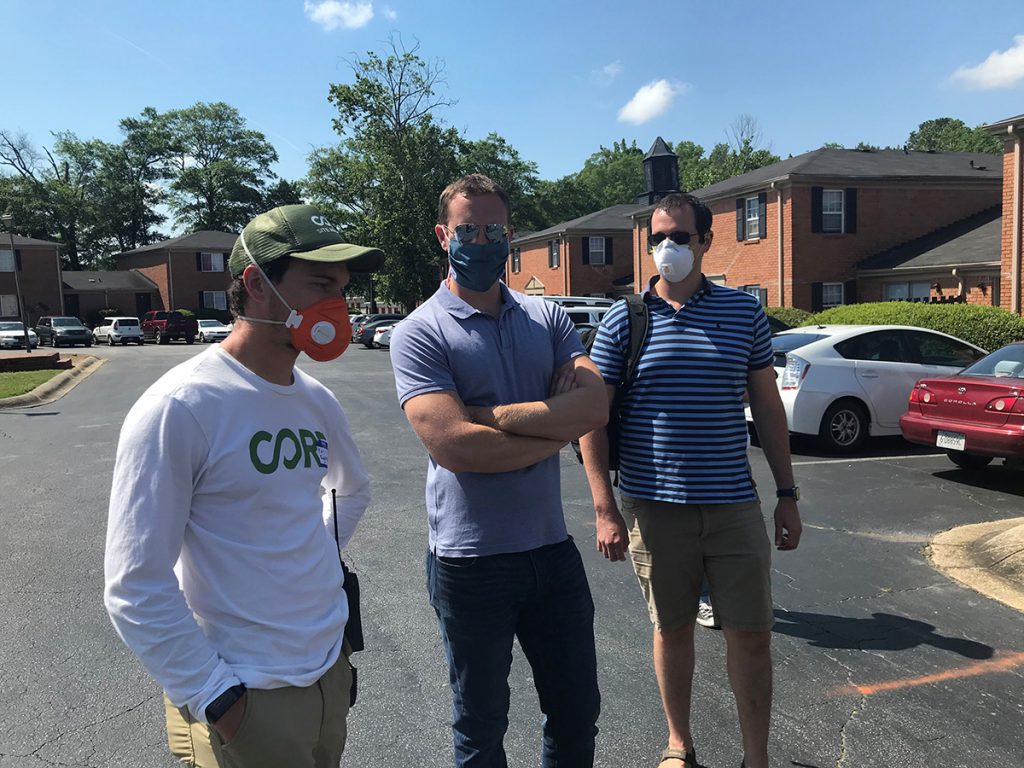 After discussion with Keen, Pedro Garcia 20MBA first introduced CORE's work to his classmates. Over time, many Goizueta students joined the effort in varying roles, including Will Ober 20MBA, Michael Babitsky 20MBA, Ken Tharp 20MBA, Sophie Reiser 20MBA and Sydney Maier 20MBA. Many of the students took on major roles and are compensated for their work with CORE.
"We currently have six mobile sites operating in Fulton County and one stationary site. Ken Tharp is leading the front-end operations, overseeing operations of all the seven test sites," Babitsky said. Babitsky's CORE responsibilities include overseeing logistics and finance in Georgia, rolling out a national inventory management platform, building out Atlanta as a logistics hub for the East Coast and leading special data analytics projects.
Goizueta's Ober now develops strategic partnerships with local public and private organizations, including City of Atlanta, Emory Healthcare and others. He shared, "CORE has testing sites and rapid mobile deployment capability across the United States in Los Angeles, New Orleans, Chicago and more. Our sites in Georgia focus on greater Atlanta, but we are working to expand to other cities across the state."
Reiser is CORE's partner development specialist, reaching out to foundations and other companies to secure resource donations in the form of money and equipment. Maier is CORE's HR manager, focusing on creating processes to improve operational stability and scalability, in addition to traditional HR duties.
In the coming weeks, CORE will focus on expanding testing capacity and developing a contact tracing model in close collaboration with the Fulton County Board of Health and Georgia Department of Health. Long-term efforts may expand to include antibody testing, vaccine administration, educational outreach and more.
More languages = better engagement
The Goizueta team at CORE partnered with the International Rescue Committee (IRC) and established a mobile testing site in Clarkston. "There is a big concern about reaching underserved communities that don't necessarily have access to testing and healthcare resources during the pandemic," said Ober.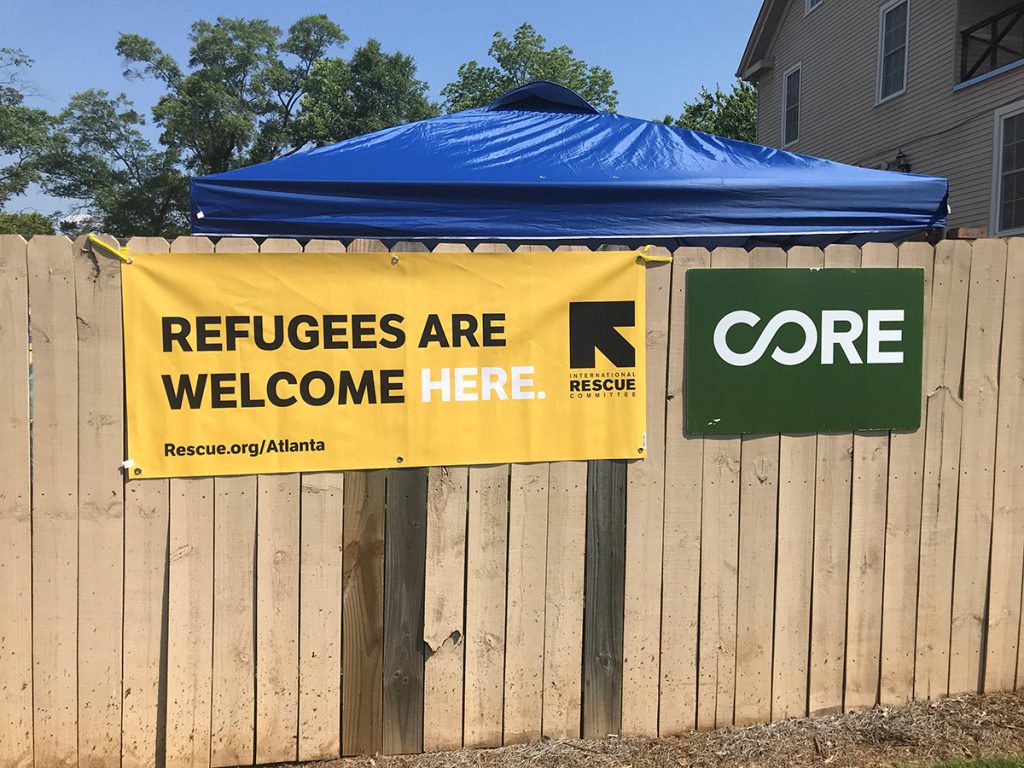 Within refugee communities, "We work directly with local community organizations such as the IRC and the Latino Community Fund to do outreach, hire people in the community and generally increase our overall engagement and trust," Ober explained. For the first site in Clarkston, said Ober, "We brought on hourly paid staff from the IRC and local community. By working so closely with members of the community, we have been able to help people across 14 different languages."
CORE operates on the front end of testing, obtaining test kits from various sources and deploying testing sites in multiple locations. Ober clarified, "We only do the shallow nasal and oral swabs, not the deep nasopharyngeal tests. This is very important as it means we don't need trained medical staff to administer the tests, and people are much more willing to take the test."
At walk-up and drive-through testing sites, "Individuals observe a testing demonstration and are observed administering the test to themselves before depositing it into a receptacle," he said. "We deliver these tests to the lab, which then reports the results ­­­ to the local boards of health and in many cases to a third-party electronic processing company. This company or the boards of health then notify the people of the results via text, email or phone call. Timing depends, but many people can receive results within 24 hours."
Goizueta strong
Ober is proud of how Goizueta students work together to serve CORE and the community. "We saw the need and wanted to leverage our personal strengths and the skills learned at Goizueta to do some good in the world."
For more information on CORE testing operations, testing sites and volunteer opportunities, visit here.