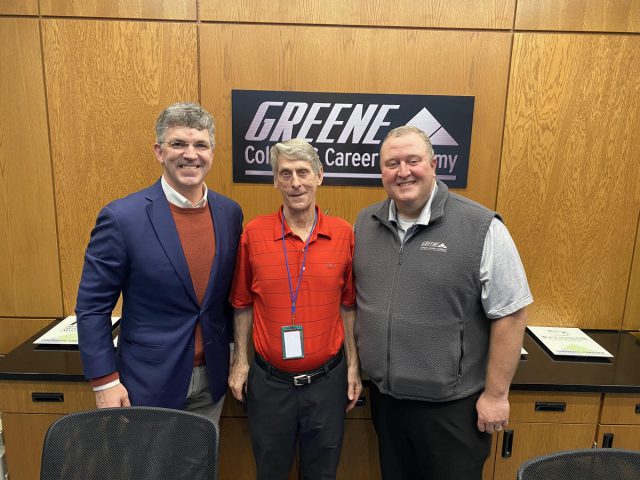 The Goizueta IMPACT program puts theory into practice to build career readiness. In the process, all MBA students are offered the opportunity to affect countless lives by sharing forward-looking expertise and feedback with community organizations, corporations, and nonprofits. To date, this unique MBA experiential learning program has provided action plans for local, national, and international organizations.
About 75 miles east of Goizueta Business School, Dave Thillen began realizing in 2020 that his deeply rooted, effective, volunteer mentoring program could benefit from professional consulting.
For decades he had loved the frontline work of supporting hundreds of rural teenagers to set individualized life goals and begin to achieve them. The students attend the Title 1 Greene County High School with 98% of families reporting low income and 90% of students identifying as minorities, including a seasonal migrant worker population. Thillen matched students with mentors, mostly retirees, living near Lake Oconee. As donors came forward, last year he formed the Thillen Education Foundation, a 501(c)(3) nonprofit, with a board of directors. "A starter kit," he called it.
The need for professional consulting grew quickly with the program. This semester, 82 career coaches are working with 350 students. In the fall, 110 coaches have committed to work for years with 450 students until they graduate. Walmart, GMS, Ernst & Young, and other corporate partners are involved along with local government, schools, and community partners.
As an incentive to learn and participate in personal coaching and mentorship, Thillen gives each graduate a minimum $1,000 "Dave Dollars" earned scholarship, so the foundation needs to function as a trustworthy steward of its donations.
"Student mentoring is like a planting a garden," said Greene College & Career Academy CEO John Ellenberg. "You go ahead and plow because you know it's going to rain. Now it's raining, and we needed the expertise of Goizueta's MBA students to show us how to scale our operations."
How could the foundation work better to help the high school students even more? That question led the Foundation to Goizueta Business School's IMPACT program, which tapped Modular Executive MBA students to come up with concrete answers to sharpen Thillen's work.
MBA Students Flex their Multi-Disciplinary Muscles for Diversity, Equity, and Inclusion
Sandy Duke 21MBA, a student team member from Macon, called the Thillen consulting project a chance to flex "our newfound MBA muscles and skills from all of our disciplines." His team members work in finance, email integration, and academic information systems. He is a former surgeon and is now executive vice president and chief clinical officer for Atrium Health Navicent System.
"The bonus was that Thillen is a nonprofit," Duke said. "At this point in our society, there are so many issues of disparity and equity. At my hospital, I lead vaccine distribution, and we are looking at disparities and inequity in the vaccine and disease processes. This project really showed me that we can't solve for disparities when our basic needs are not being met. Working on this project was the cherry on top of my MBA experience."
The three MBA teams delivered so well that within a couple of weeks, Thillen, 76, has already implemented their recommendations for his foundation, including new roles and responsibilities for his board of directors, establishment of a board of advisors, investment in a new website, and implementation of a new customer relationship management (CRM) system. "In fact, we're delighted to share with the teams that our funding has grown since April by $275,000, in part because of their targeted advice."
The IMPACT process was eye-opening. "It was really cool that so many MBA students from so many backgrounds all brought something to us," Thillen said. "We knew we needed help reshaping our work. They understood what we are about and where we are at. They were a true group of professionals who gave us something completely unique, and so on target with what is happening in the world today."
Every Goizueta MBA student must complete an IMPACT course, in which they solve real-life problems for businesses that have requested consulting assistance. Thillen Foundation was among 20 organizations that Goizueta MBA students consulted with in spring 2021. More than ever, the IMPACT program is addressing issues of diversity, equity, and inclusion.
"Goizueta Business School believes that business and society working collectively can deliver a more equitable and sustainable world, and the IMPACT curriculum provides experiential opportunities for our students to get involved and make a difference," said Lynne Segall 99MBA, senior lecturer in Organization & Management and associate dean of Goizueta IMPACT. "Working with partners like the Thillen Education Foundation, our students grapple with real-world issues, which expands their cultural knowledge and builds their skills."
Connecting Despite Social Distancing
During the discovery phase of the project, the MBA teams mostly worked with the information that Thillen could provide online and virtually. Among Duke's MBA team's recommendations were endowment funding and strategic recruitment of board members for their legal, financial, marketing, and fundraising skills.
Duke, however, arranged a visit that produced more targeted consulting recommendations for Thillen—and profound impact for Duke personally.
"Consulting isn't simply looking in a textbook and you know what to do," Duke said. "It's stepping into a role that balances academic work with the unique needs of the organization that needs consulting. It's looking at the assets that the organization brings, and the limitations imposed on the organization. I didn't feel I could do that easily on Zoom."
On site, he understood better what was at stake for Thillen and the community. The large closet with food, clothing, shoes, and basic hygiene items for students in need hit him the hardest.
"There are pockets in the community that do not have running water," said Duke. "The program needed a roadmap in the near term and long term for lasting impact for generations. Being on site, I appreciated the scope of what they were doing and what the kids needed. I had a better sense of Dave and the spoken and unspoken desires for the organization, especially about making the Thillen Foundation sustainable beyond Dave Thillen's lifetime."
Without the recommendations, "We might have morphed eventually to what we have now, a board with a very purposeful output," Ellenberg said. "Our impetus to change that dynamic came from having a whole bunch of MBA students saying that we need this from the get-go."
"The IMPACT teams helped accelerate our time frame for everything," Thillen said. "This was not just an exercise. Their recommendations were imperative."
The impact was shared: Thillen challenged the Goizueta teams to map out their own goals in a structured, thoughtful, life plan.
Duke took stock. He had served on nonprofit community boards for scouting, health care, and religious organizations, and had selected the Goizueta Modular Executive MBA program for its rigor, reputation, and alumni network. The Thillen project sparked him to consider his own personal legacy.
"Being in his community and talking to Dave Thillen has helped me calibrate what I want to do and the impacts I want to leave long term," Duke said. "I was surprised at what I learned at that intersection of academia and his personal passion project, because what he has done in that community is not little. I'm continuing to contemplate what that means for me."
Ultimately the impact of the MBA teams' work on behalf of Thillen Education Foundation may reach much further than families who are underserved in Greene County. With businesses embracing diversity, equity, and inclusion as part of their core principles, the students could be helping change the face of business.
Through the support of Goizueta students, each day the Thillen Foundation is shaping lives and supporting kids to ignite their full potential. "Our work is a little louder now because of social justice and inclusion," Thillen said. "The whole point of this work is that when we ask who can run major corporations, the answer can be some of our program kids. And that's exactly why we continue to work so hard to make an impact."
Goizueta IMPACT provides an opportunity for students to accelerate career readiness by learning proven, structured problem-solving principles, tools, and frameworks and then applying them to real-life business situations. Clients span a wide range of industries and projects offered vary each year. Overall, projects are focused on an issue of strategic importance to the organization and provide a "messy, ambiguous problem" to be solved. Learn more about this invaluable experiential learning.