Goizueta Business School today announced the winners of its prestigious Roberto C. Goizueta Award for Leadership. Selected for the honor was 2022 graduate Michelle He, an undergraduate finance major with a concentration in entrepreneurship who served as Student Council president and as a Resident Advisor. Also chosen to receive this award was MBA graduate Kegan Baird, co-managing director of the John R. Lewis Racial Justice Case Competition (JLCC) and service as a Leadership Coach Fellow and an IMPACT Coaching Fellow.

The Roberto C. Goizueta Award for Leadership is the highest honor given to a student graduating from Goizueta. Funded by The Goizueta Foundation, it is presented annually to two graduating Goizueta Business School students—one BBA and one MBA—who during their time at school have embodied the values and leadership qualities exhibited by Roberto Goizueta. These values include a love of learning, inspirational leadership, creative thinking, courage and commitment, transparency and trust, and excellence and integrity. Each honoree receives a $25,000 award and identifies the faculty or staff member at Goizueta who had the greatest impact on them during their time as a student. The faculty or staff members selected each receive a $5,000 honorarium. This is the fourth year the award has been given.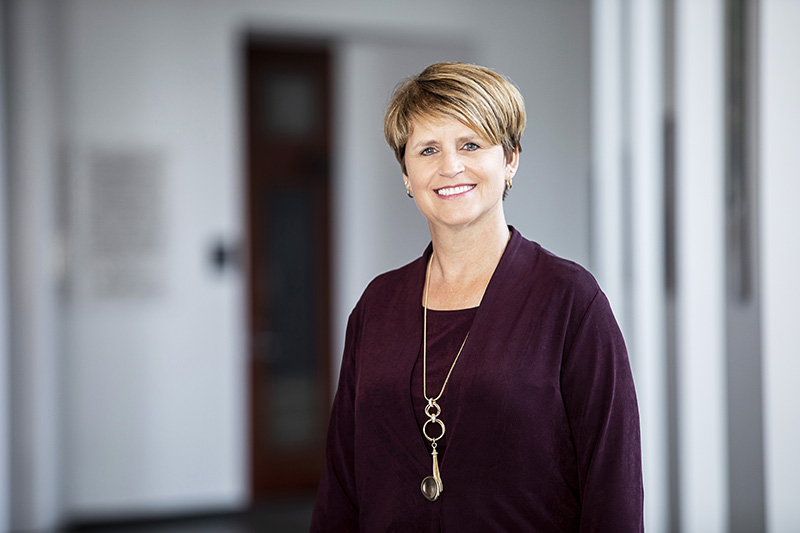 "At Goizueta, we are preparing principled leaders to have a positive influence on business and society," said Karen Sedatole, Interim John H. Harland Dean of the Goizueta Business School. "Students like Michelle and Kegan exemplify our core values in action. We value our partnership with The Goizueta Foundation and their unwavering support of convening the brightest minds to solve the world's biggest problems."
"We are honored to support this important award," said Olga Goizueta Rawls, Board Chair and Chief Executive Officer of The Goizueta Foundation. "I congratulate Michelle and Kegan on receiving the Roberto C. Goizueta Award for Leadership and on their many important contributions to the Goizueta Business School community and their peers. Today more than ever, business schools must graduate students prepared to lead in a complex world. Michelle and Kegan demonstrate such leadership qualities."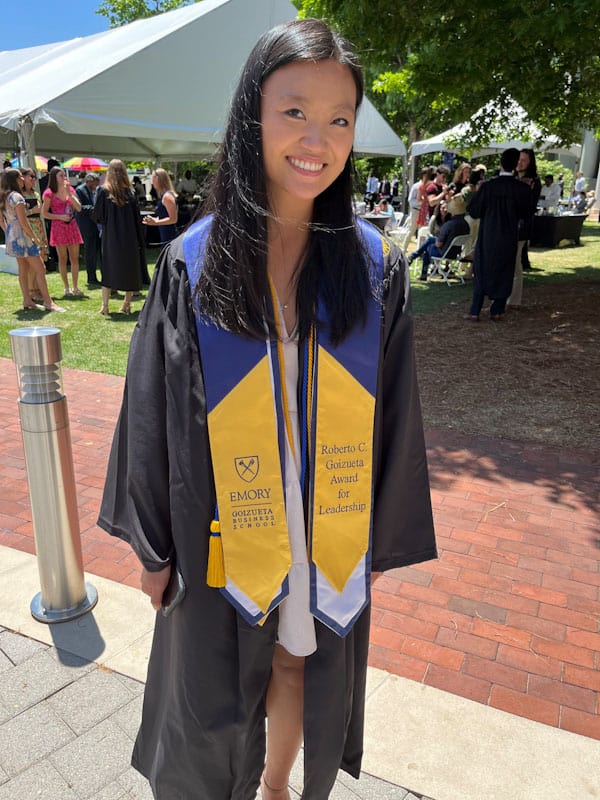 An Inspirational Leader: Michelle He Prioritizes Inclusivity
"Michelle is an exceptional student, and her superb academic record confirms her love of learning," wrote Andrea Hershatter, senior associate dean and BBA program director, on the award nomination. As a principles-driven and mission-inspired leader, in her role as a resident advisor, she rallied students through a pandemic, creating community and engagement opportunities in unique and innovative ways. Serving as BBA Council president, He greatly expanded access to student clubs for all BBAs. "This delicate and crucial endeavor speaks to her values and her ability to work with and through others to achieve positive outcomes. Her leadership in creating a more inclusive community at Goizueta separates us positively from all of our competitors," said Hershatter.
Professionally, He co-founded a VC arm of the Emory Entrepreneurship and Venture Management Club and worked at TechStars sourcing new ventures. Hershatter continued, "The courage with which she stood up to some aggressively passionate BBA leaders in changing our membership policies will leave us with a legacy of inclusiveness that I believe could only have happened on her watch."
"It is a tribute to what others see in her character that she was appointed as the single undergraduate student representative to the Goizueta Business School Dean's Search committee where I was not surprised at all to hear that she was a meaningful and thoughtful contributor," Hershatter added.
In recognition of her faculty mentor, professor, and advisor, He chose to bestow the $5,000 honorarium upon Hershatter. "Andrea is a fearless advocate for all students, and her unwavering dedication to the BBA program is one that I greatly admire and hope to emulate," He shared. "She has inspired me to reimagine norms and push the boundaries of conventionality." Throughout her academic career, He was guided by the wisdom of Hershatter in that "no idea is too grand or unattainable."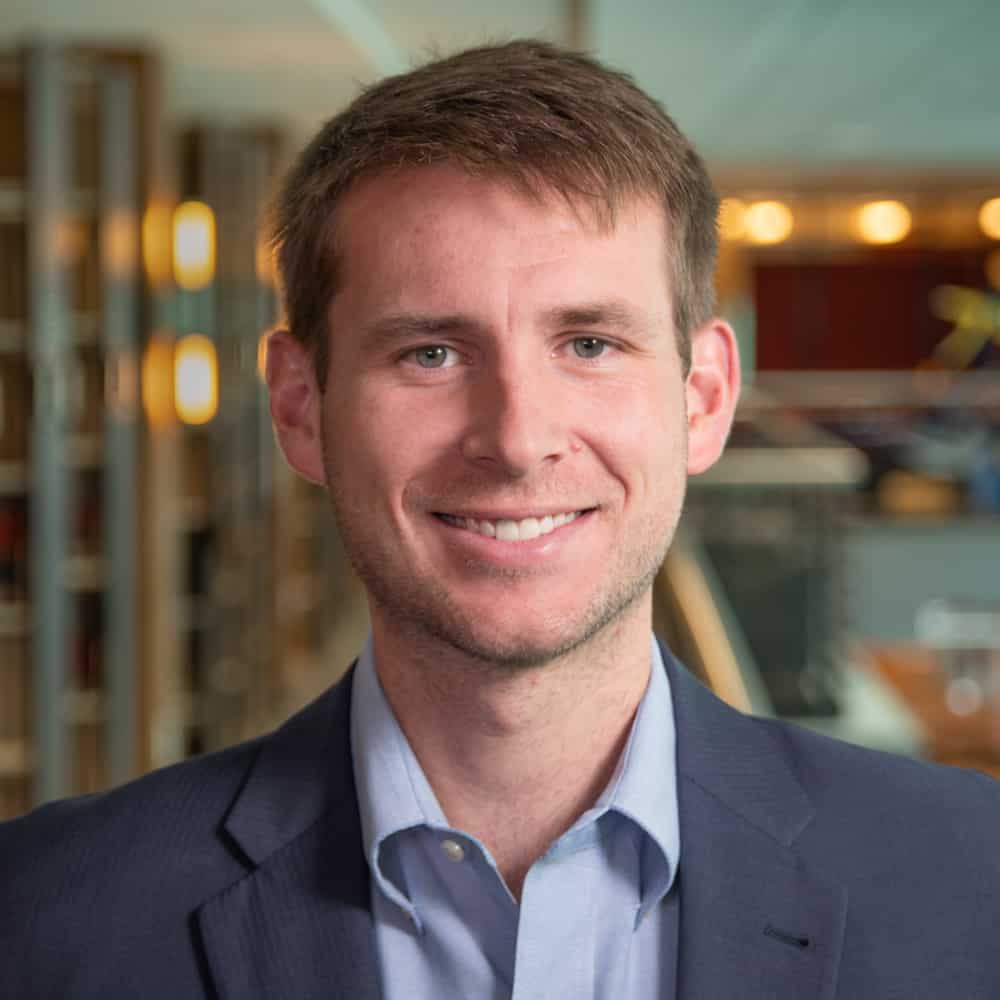 A Steady and Steadfast Leader: Kegan Baird Embodies Empathy and Pushes for Equity
Known as an unstoppable leader, stellar student, and teaching assistant, Kegan Baird, a graduate of the Goizueta full-time MBA program, managed many roles while attending the program. Not only did he serve as co-managing director of the John R. Lewis Racial Justice Case Competition, expanding the program to partner universities, he also was co-president of Goizueta Nonprofit Consulting, vice president of Goizueta Gives, and vice president of community outreach for the Goizueta Business Administration. Strengthening his leadership skills, he served as a Goizueta Advanced Leadership Academy Fellow, an Emory Marketing Analytics Center Fellow, a Delta Leadership Coaching Fellow, and an Impact Coaching Fellow. Notably, Baird also graduated at the top of his class academically.
His nominator, fellow 2022 MBA graduate Ivan Mosqueda-Ramirez noted, "On three occasions he has been awarded one of the Class of 2022 Core Value Awards, for Accountability, Community, and Diversity. Kegan has put these characteristics into action since his very first days at Goizueta." Mosqueda-Ramirez continued, "As a member of the Consortium for Graduate Studies in Management, an organization with the mission of creating opportunities for African American, Hispanic American, and Native American individuals in business, Kegan demonstrated his courage and commitment by putting himself on the front lines of helping others while he, himself, was not part of any of the aforementioned populations. Rather than consider himself an outsider, Kegan leaned in with courage and let his actions speak for his commitment to working in service to humanity."
In selecting the faculty member to honor, Baird chose to present the $5000 honorarium to Lynne Segall a 1999 Goizueta MBA graduate, and associate dean of management practice initiatives and senior lecturer of Organization & Management. "Professor Segall has been instrumental in my development as a leader, presenter, advocate, and individual over the past two years," he wrote of her dedication to nurturing his personal and professional growth. "Through our conversations and interactions, she has helped me develop problem-solving, strategic thinking, communication, management, and countless other skills. When I wasn't sure of my ability to take on the task of running JLCC, it was Lynne, alongside Willie Sullivan who gave me the confidence and support to do the job right and serve the competition. Lynne embodies all seven Goizueta core values and comes to work every day confident, prepared, optimistic, and ready to make a difference."
Learn more about the meaningful work of The Goizueta Foundation.