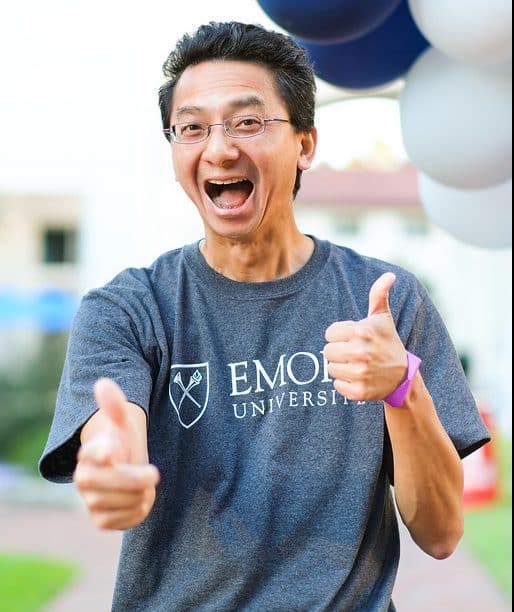 To reconnect and collect business advice from his former Goizueta classmates, Eric Wo 06MBA conducted a 38-day, 19-city tour across the United States and wrote about his Goizueta connections on his blog Emory Alumni Life. Filled with fun photographs, Goizueta memories, and personal and professional updates from his classmates and connections, Emory Alumni Life shares real-time news and stories.
Traveling almost exclusively by train, Eric, who lives in San Mateo, CA, began his trip in late September and finished in early November. Along the way, he caught up with more than three dozen Goizueta alumni and introduced them to his new geo-location app, Swarm Buddy, hoping to glean as much insight as possible about how to fine-tune the app and bring it to market.
The Entrepreneur Envisions Creating a Swarm for Good
Eric envisioned Swarm Buddy after watching Star Trek Beyond (released in 2016) on Netflix. He recalls, "In the movie, a newly discovered evil alien species (the bad guys) wreaked havoc on the United Federation of Planets by attacking as a swarm. Captain Kirk and the U.S.S. Enterprise crew saved the day when they figured out how to disrupt the swarm by playing hard rock music using radio frequencies."
The next day, "A crazy idea popped into my head while brushing my teeth."
What if, I want to be like the bad guys in the movie? What if creating a swarm could be used for good?

Eric Wo 06MBA
As a member of a specific swarm, users would become—temporarily—"swarm buddies." The app would track their locations and share that information with other members of the swarm, allowing them to locate their friends in real-time and message them about meeting for lunch or heading home. When users left the swarm, they'd no longer be tracked. This could be very useful for friends meeting up at Disneyland or Coachella.
Eric is still developing the app—he's set to unveil a "killer feature" in the not-too-distant future—and was happy to sit down with his former classmates and professors to gain valuable feedback. "I'm really amazed at the caliber of talent of my fellow Emory MBA classmates," he says. "They provided me with a ton of great advice and connections to help me with my business."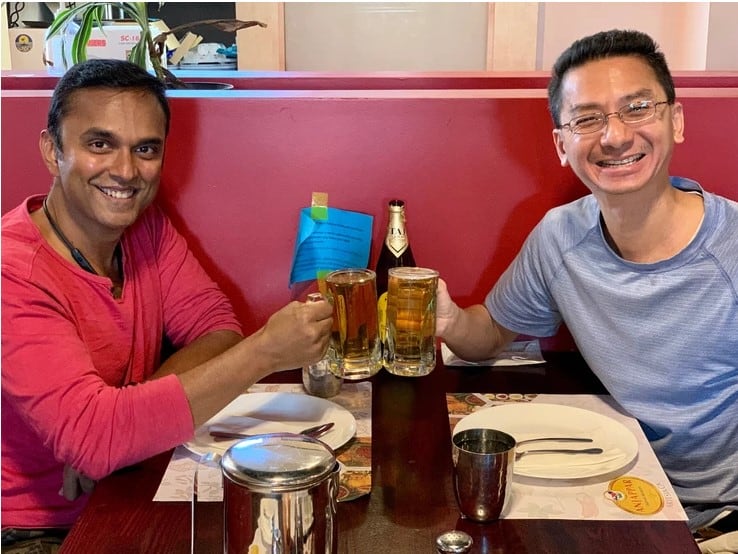 Tapping the Talents of the Swarm for Business Building Advice: Here's What They Shared
In New York, Shama-e Zaheer 06MBA, CEO, Ergo Ventures IT, LLC explained to Eric that technology startups need three skill sets: hackers, hustlers, and designers. Zaheer advised him that if he's missing one of those skill sets, "then find a partner to fill that gap," he shares.
Sean Mahoney 06MBA, CEO, Masten Space Systems, Inc., gave Eric guerilla marketing advice: go to athletic events in a mascot-like costume with a QR code sign around your neck and encourage people to scan the code and download the app.
Jessica Heller Katz 06MBA, an executive career coach and MBA coach at the Wharton School of Business at the University of Pennsylvania, suggested Eric read Robert Cialdini's book, Influence: The Psychology of Persuasion, which he bought and is currently reading.
Alumni also shared their adventures with him, many of which he posted about on his blog Emory Alumni Life.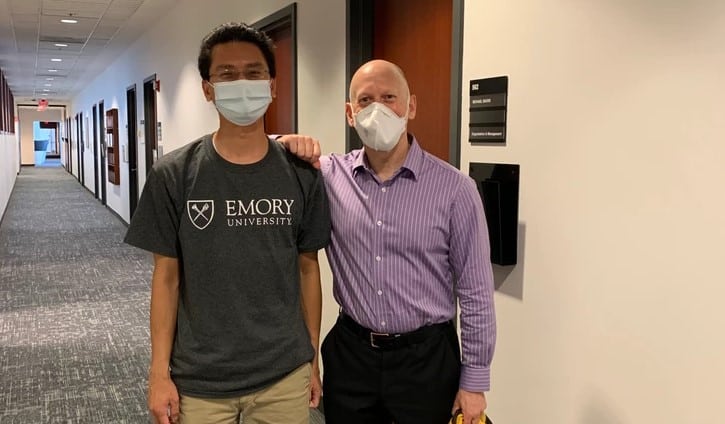 Founding a Startup and Going All In
Swarm Buddy isn't Eric's first start-up. Years ago, along with three partners, he attempted to launch a platform similar to GoFundMe around the same time GoFundMe was started. Though it was a great idea, he and his business partners weren't on the same page. For much of that startup's life, Eric worked full-time at Boost Mobile. When he got laid off, he invested his severance package in the startup. "Unfortunately, it didn't work out. We were too late to market. It failed spectacularly," he recalls.
This time around, Eric is going solo until he is secure about Swarm Buddy's direction. He also believes Swarm Buddy will be the first of several businesses to operate under Jekyll Brain, the umbrella company he established earlier this year. When the time is right, he plans to add employees.

He also doesn't want to build the business as a side project. Eric has gone all in. To slow the burn rate of his savings as he works on the app, Eric drives for the ride-sharing service, Lyft. Driving for Lyft in Silicon Valley does have its perks. Atticus LeBlanc, the CEO of PadSplit, an Atlanta-based company working to tackle the affordable housing crisis, was one of his recent riders. He offered advice on approaching venture capitalists. Eric relays LeBlanc's wisdom: "If you go to a VC for money, you get advice. If you go asking for advice, you get money."
Eric's plan is to take all the "brilliant ideas my classmates gave me," add that killer feature, and then take Swarm Buddy to market. "If Swarm Buddy succeeds," he says, "I know a huge part of its success will be because of the support and generosity of so many wonderful Goizueta MBA classmates, professors, and the greater Emory Alumni community."
Eric continues to share "the amazing life stories of the classmates and professors I visited" on his blog Emory Alumni Life. "The stories are a gift that I would love to share with the Emory Business alumni community." Read their stories here.
Learn more about the wealth of resources and events for entrepreneurs like Eric Wo at The Roberto C. Goizueta Center for Entrepreneurship & Innovation.