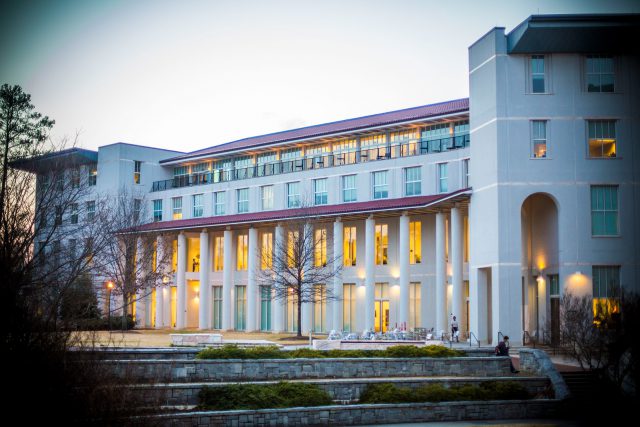 Goizueta 2021 BBA graduates celebrated notably high employment rates this year, bringing their business acumen, skills, and expertise into myriad global industries and markets. "Goizueta BBA students are highly regarded by companies for their exceptional academic knowledge, leadership presence, and communication skills," says Jane Hershman, assistant dean and executive director, BBA Career Management Center. "In my role, I see our students' tremendous work ethic and drive firsthand. The BBA team is proud to know our students graduate prepared to contribute to their organizations with the expressed intent of making a difference."
With principled leadership in the forefront, Goizueta is proud to report that 97 percent of 2021 BBA graduates received, and 96 percent accepted employment offers within three months of graduating.
In addition to unprecedented full-time employment rates, Goizueta BBA graduates noted some of the highest salaries in the school's history. Graduates reported an average mean base salary of $71,101.
BBA Graduates Lead in Financial Services, Consulting, and Technology 
Representing the largest industry, 35 percent of 2021 graduates entered financial services. Mean base salary for graduates entering this industry sector was $77,839 with a mean signing bonus of $10,199.
Consulting ranked second with 24 percent of graduates targeting this industry —a 3 percent bump over the previous year and 1 percent higher than in 2019.
Tapping into the strength of technology and science, 7 percent of BBA graduates accepted careers in these industries with offers up 2 percent from 2020.
BBA Graduates Strengthen Top Global Companies in Higher Numbers in the South and Northeast 
Goizueta BBA graduates joined the workforce with top global companies including Amazon, Bain & Company, Bank of America, Deloitte, Delta Air Lines, Facebook, Goldman Sachs, J.P. Morgan, LinkedIn, McKinsey & Company, Microsoft, Procter & Gamble, Sony Music Entertainment, UPS, and many more.
With 75 percent of Fortune 1000 firms having a presence in Atlanta paired with its low cost of living, most Goizueta graduates continue to choose the South (36 percent) over other regions, taking advantage of its thriving entrepreneurial landscape and hot tech industry. However, Goizueta continues to see growth in other regions as well with a combined 42 percent of graduates accepting jobs in the Northeast and Mid-Atlantic.