In February 2020, Jason Chaliff 18EvMBA launched his own commercial real estate company, Rise Property Group, a real estate brokerage specializing in commercial sales and leasing across the Southeast. Chaliff grew up in a real estate family (his mother is a commercial real estate developer) and at Goizueta, Chaliff honed his ability to underwrite assets. He'd worked at big firms like Wells Fargo and BB&T as well as a boutique real estate investment firm. He'd learned a lot from these companies—including things he didn't want to do when he ran his own business.
In real estate, we're selling a commodity. It's a relationship business. Commercial real estate doesn't always rank high on the trust scale.

Jason Chaliff 18EvMBA
Shifting Workspace Needs Demand Innovative Solutions and a Unique Business Model
Rise pursues sales and leasing opportunities across multiple real estate asset classes—including industrial, medical, multi-family, and retail. Chaliff's other endeavor, Denali Investment Group, repurposes commercial properties to create affordably priced workspaces for small businesses.
With an investor base of approximately 125 investors who invest anywhere from $25,000 to $300,000, Denali, a 50/50 partnership with Michael Godin, is on the hunt for properties in the $2 million to $10 million range in thriving suburban areas.
Affordable equity capital allows us to act very quickly. We've done very well by building relationships with everybody from large owners to small business owners. We're able to find opportunities where the big shops wouldn't spend their focus. We create positive results and get a lot of repeat business.

Jason Chaliff 18EvMBA
In late 2021, Denali Investment Group purchased an 83,000 square foot former pipe manufacturing plant in Forsyth County for $6.14 million.
"The best way to maximize the value of the building is to divide it up and make it attractive to smaller tenants who will pay a much higher rent rate," Chaliff says. "We're able to generate what we believe is going to be a substantial return in a relatively short amount of time." Denali also has properties in Cumming, Lawrenceville, and Smyrna.
Goizueta Mentors Spark a Love of Real Estate Development and Negotiation
As a teaching assistant and fellow for the Center for Alternative Investments, Chaliff established relationships with several of his professors, including senior research fellow and adjunct professor Mark Bell, partner and head of family office services and private capital at Balentine, and adjunct professor Marvin Banks, president, M. Banks Realty Partners.
Both Bell and Banks have invested in Denali projects. Banks also encouraged Chaliff to invest in rental homes in Atlanta, which Chaliff did. He used a home equity line of credit to purchase a dozen homes that he subsequently rented to tenants. To finance the launch of Rise, Chaliff sold a few of those properties. "The professors, the network, the curriculum of the Goizueta MBA program were integral in preparation for the challenges of being an entrepreneur," says Chaliff.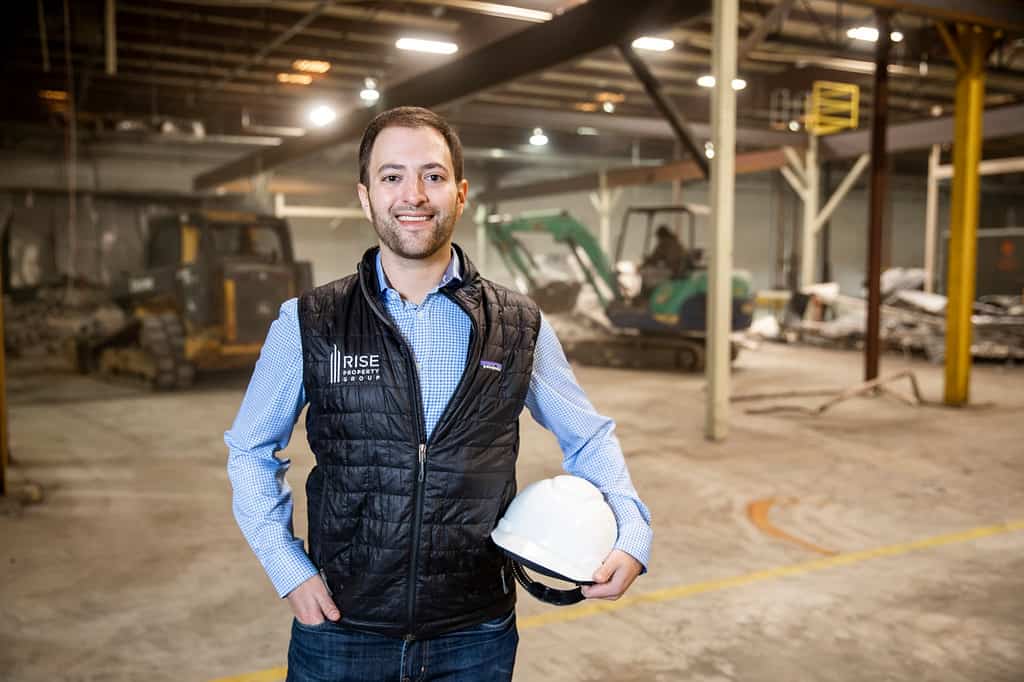 Emory was very impactful in my life and in my career. There is a great network of Goizueta alums in the real estate community. They've all been tremendously helpful along the way.
Learn more about the Goizueta Real Estate Group. On April 14, Goizueta will launch the inaugural Real Estate Conference, designed to be Atlanta's premier university-sponsored real estate event. Register today and read more about this interactive and informative networking opportunity for realtors, developers, investors, and experts in the field.