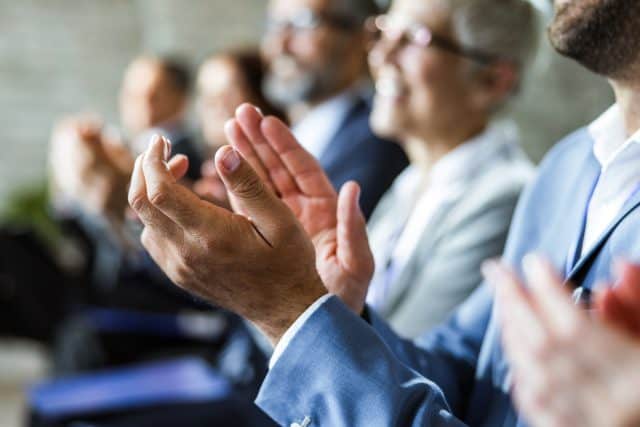 To honor and recognize Goizueta alumni for their profound contributions to both the business school and to society, Goizueta annually selects honorees to receive awards that showcase extraordinary members of the Goizueta family.
Goizueta Alumni Board member Ted Kim 97BBA led the May 10 celebration ceremony for Goizueta to recognize the 2022 alumni award recipients. Interim John H. Harland Dean Karen Sedatole noted during the event, "It has been a highlight of my career and honor of a lifetime serving as interim dean for the past two years. One of the best parts of my job has been meeting and working with our outstanding alumni."
Nominators shared videotaped messages during the awards presentation, and recipients addressed the audience.
You each are an inspiration. It makes me very proud to be an alum of this great school. We received dozens of nominations for these awards, and you all rose to the top representing the very best of our alumni. We are very pleased to be able to recognize you tonight.

Ted Kim 97BBA to the award recipients
Distinguished Alumnus Award goes to Global Leader Colleen Pritchett 02MBA
Beginning in 1984, this award provides recognition to an alumnus/a or friend of the school for lifetime achievement in business and ongoing commitment and service to Goizueta and the community.
Colleen Pritchett 02MBA is a customer-focused growth and innovation leader who motivates teams to deliver significant results. She has led $1.5 billion global businesses and served as strategic planning manager supporting the CEO and Board for a $25 billion chemical and specialty materials firm. She is also a noted speaker at international industrial forums.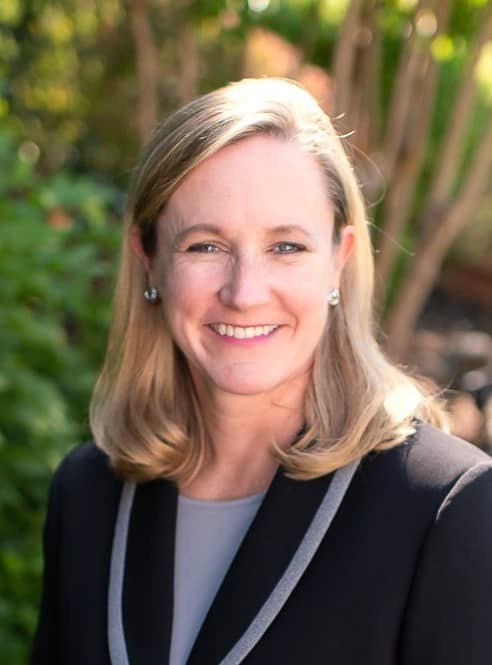 Starting in 2018, Pritchett served as Hexcel's president of Americas Aerospace and has been instrumental in leading efforts to increase customer intimacy and technological collaborations with key customers. Prior to Hexcel, she worked at E.I. du Pont de Nemours and Company for 22 years in the aerospace, automotive, electronics, packaging, and printing industries. From 2016-2018, she served as vice president of the company's Electronics & Imaging Advanced Printing business. She improved profitability in the first year, turned around declining revenues, and launched a market disrupter platform of products leading to record growth, earning her team the 2017 Electronics & Imaging Excellence Award. Prior to 2016, she led multiple business units and took international assignments in Shanghai, China, and Taipei, Taiwan.
Pritchett earned an MBA from Goizueta and a Bachelor of Science in Chemical Engineering from Penn State University. She also completed a Harvard Business School Leadership Program and a Women in Governance Program at UCLA. She recently received the 2022 Outstanding Engineering Alumni Award from the Penn State College of Engineering.
She served as the president of Graduate Business Association at Goizueta and vice president of the American Institute of Chemical Engineers at Penn State as well as chair of the Penn State Chemical Engineering Industrial and Professional Advisory Board.
She is a member of the AIA Civil Aviation Leadership Council, as well as former chair of the board for ARC Technologies LLC, a Hexcel company, and former director for Aerospace Composites Malaysia Sdn Bhd. She also served as board chair for DuPont's Xinda Filaments Company Ltd.
Pritchett lives in the San Francisco Bay area with her husband, Len Pritchett 08EMBA, and their two daughters.
Bilt Technologies' Senior Director of Finance and Goizueta Alumni Board Member Aaron Weiner 15BBA Named Outstanding Recent Alumnus
Beginning in 1999, this award provides recognition to an alumnus/a who has recently graduated and has demonstrated outstanding service to Goizueta and/or Emory University or success in business or community service.
Aaron Weiner 15BBA is the senior director of finance at Bilt Technologies, a fintech company in New York focused on creating smart financial products for renters on their path toward homeownership. Weiner started his career in investment banking at Centerview Partners, an M&A and strategic advisory firm in New York, where he spent five years.
Weiner came to Emory as a Goizueta Scholar and graduated from the BBA program with highest distinction in 2015. Passionate about the extra-curricular experience, he served as president of the undergraduate student-managed investment fund and was founder and chair of the Goizueta Finance Group. He led an effort to revamp Goizueta's finance extra-curricular programming, launching new programs to meet unmet interests–including the Goizueta Academies, a peer-to-peer mentorship and internship prep program that has helped create a virtuous cycle for Goizueta BBAs in recruitment for top finance opportunities. Weiner received the John Robson Outstanding Achievement Award and Partnership Award in Finance. He was also named to Emory's 100 Senior Honorary and Who's Who Among American Universities and Colleges. Despite his commitments, Weiner still found time to play for Emory's varsity golf team. 
Weiner was named to the Goizueta Alumni Board in June 2021 and co-chairs the board's Student-Alumni Mentor Program. He serves on the Alumni Advisory Board of the undergraduate student-managed investment fund. Beyond his formal involvement, he has mentored and recruited dozens of Goizueta BBAs.
Weiner lives in the New York area with his wife Ali Weiner 16BBA, whom he met at Goizueta in 2013.
City of Atlanta's Chief Equity Officer and Executive Director Qaadirah Abdur-Rahim 11EMBA Receives Alumni Service Award
Beginning in 1995, this award provides recognition to an alumnus/a who has demonstrated significant service to Goizueta and/or Emory University.
Qaadirah Abdur-Rahim 11EMBA led the legislative process to establish the City of Atlanta's first Office of Equity, Diversity, and Inclusion. In her role as chief equity officer, a senior level-cabinet position, she works with city leadership to develop social justice policies and programs that confront equity, diversity, and inclusion issues, particularly around the areas of workforce mobility, housing affordability, health, education, youth engagement, and LGBTQ affairs.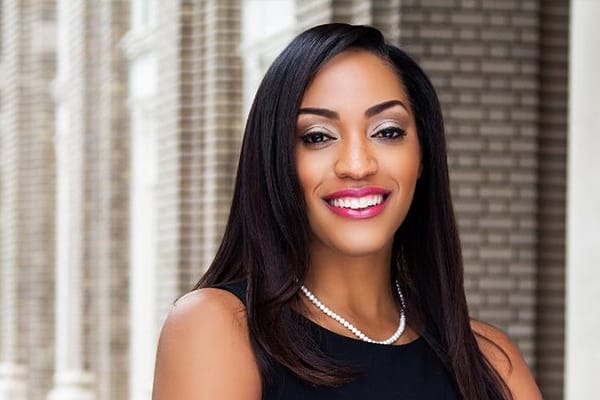 Always a trailblazer, she was the first person in her family to graduate college, earning degrees from the University of California at Berkeley, and Goizueta. Abdur-Rahim advises the Goizueta @ Work program and is a frequent guest lecturer in graduate classes. She is also a member of the Goizueta Alumni Board, having joined in the summer of 2021.
A former U.S. Air Force Reservist, she spent 17 years working at the Future Foundation, a nonprofit devoted to disrupting the cycle of poverty by helping students at underinvested-in public schools thrive and pursue higher education. When she left she was CEO, had increased the organization's revenue by 432 percent, and ensured a 100 percent high school graduation rate among afterschool participants.
As a Black woman in a new leadership role, she remains devoted to her personal mission of dismantling systems of injustice that marginalize people and communities with her lived experience. She believes everyone has a role to play in empowering voices that go unheard, leading with dignity, and uniting with each other to chart the path to a better tomorrow.
Campus Talent Acquisition Leader for American Airlines Grace Hwang 14MBA Earns Alumni Service Award
Beginning in 1995, this award provides recognition to an alumnus/a who has demonstrated significant service to Goizueta and/or Emory University.
Grace Hwang 14MBA leads campus recruiting and recruitment marketing at American Airlines. Currently residing in Dallas, Texas, she has been with American Airlines for nearly six years. Before transitioning into human resources last summer, she worked in loyalty, network planning, internal consulting, and leisure sales.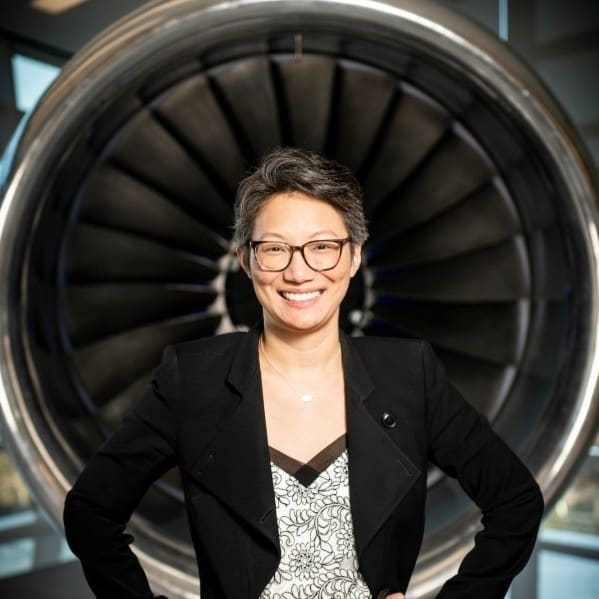 She received her undergraduate business degree from the Wharton School of Business at the University of Pennsylvania, as well as her MBA from Goizueta. While at Goizueta, she was a Woodruff Scholar, Consortium Fellow, Marketing Analytics Fellow, on the Dean's List, and the president of the Goizueta Pride Alliance.
Her nominator, Associate Dean of the Full-Time MBA Program Brian Mitchell 00EvMBA 00MPH notes, "Grace has been a highly engaged alum and recently convinced American Airlines to allow her to recruit and hire Goizueta MBAs. Grace has really gone to bat for us in recent years and has personally spent significant time at Goizueta coaching and recruiting our students."
Growth Strategist and Consultant Aditya Rao 08MBA Receives Alumni Service Award
Beginning in 1995, this award provides recognition to an alumnus/a who has demonstrated significant service to Goizueta and/or Emory University.
Aditya Rao 08MBA is an entrepreneur and consultant. He is the founder and CEO of Smart Studio, a technology startup in the boutique fitness space. He has more than 20 years of experience managing large cross-functional and international programs in growth strategy, M&A, and operational improvement. He has experience in multiple industries including consumer packaged goods, sporting goods and fitness, healthcare, pharma, biotech, banking, news and media, and industrial equipment and materials.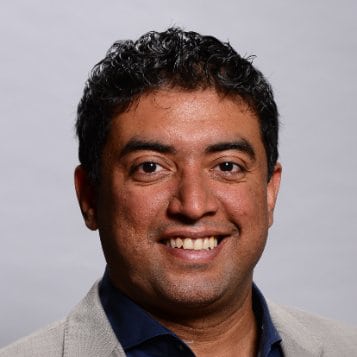 Rao was a member of the Goizueta Alumni Board for nearly 10 years, serving as president for two of those years. Nominator Julie Barefoot describes Aditya as "an incredible champion of Goizueta and always willing to volunteer." Rao has been a consistent supporter of a wide variety of school activities including providing entrepreneurial outreach, serving as a mentor to our students, and judging IMPACT presentations. He also serves as a mentor for the START:ME Accelerator at Goizueta, committing significant time, energy, enthusiasm, and business insight into supporting microbusiness owners around Atlanta.
Rao resides in Atlanta with his wife, Anne Marie, and holds an MBA from Goizueta and a Bachelor of Engineering in Electronics degree from the University of Bombay.
Tapping into the Resources of a Global Alumni Network
"Our global alumni network of more than 23,000 individuals is a powerful resource that makes us very proud," says Lindsay Topping, senior managing director of alumni engagement at Goizueta.
"Our alumni come back to Goizueta and share their time and talents with our students, alumni, academic leaders, and campus partners," Topping said. "They regularly tap into the power of their network to stay personally connected and build meaningful collaborations long after leaving campus. We are honored to recognize the contributions these outstanding individuals have made to both Goizueta and to society."
Goizueta Business School alumni are business and community leaders who live and work in 104 countries around the world. Learn about how you can remain connected with your 23,000-strong Goizueta network.