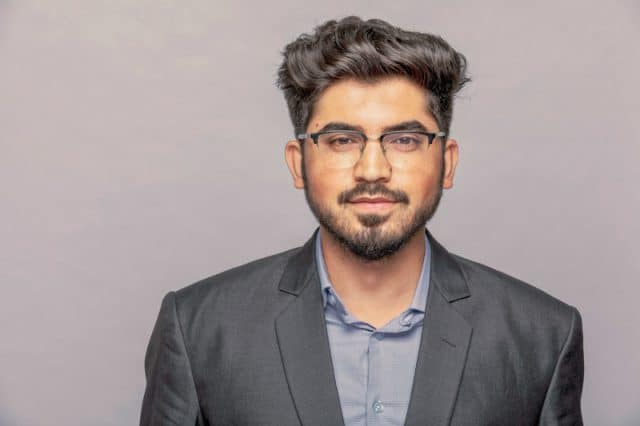 Orientation for the MS in Business Analytics program was Faarid Sanaan's 23MSBA first time in America. In fact, the move to Atlanta for graduate school is the first time Sanaan has lived outside of Pakistan.
"I could have gone anywhere, but the U.S. is at the forefront of the data analytics and data science revolution," says the Fulbright Scholar. Enter the MSBA program at Goizueta. "I needed graduate school to build upon my basic knowledge. I felt like there was a missing piece that I needed to feel more confident and call myself an expert."
Even after working for a year as a data analyst before beginning his master's degree, Sanaan still expresses wonder and excitement at the prospect of what's to come in the field of data science and all that the industry has to offer him, particularly the ability to work in a variety of sectors, such as healthcare or sports marketing.
"This field is tailor-made for me. I love how simple numbers can tell a story and inform us about the future by making predictions based on the past. But the most amazing thing is that this work is meaningful. I can see actual results being generated by using something as ordinary as numbers."
Why the Goizueta MSBA at Emory?
Accelerated degree timeline: "The MSBA program is fast-paced and develops all the skill sets and areas where I'm looking to build my expertise in a shorter amount of time than other schools."
Located in Atlanta, one of the "most tech-oriented cities in the world."
Emphasis on professional development, which is a unique characteristic for a STEM-related degree.
Diversity, equity, and inclusion: "Diversity is always a strength. I want to learn as much as possible from as many people as possible," says Sanaan, who grew up in a region with seven spoken languages. "Emory's strategic initiative of DEI really attracted me."
Goizueta's Master's in Business Analytics program hosts events each month for prospective students, including opportunities to hear from MSBA students. Browse upcoming events and register for one today.