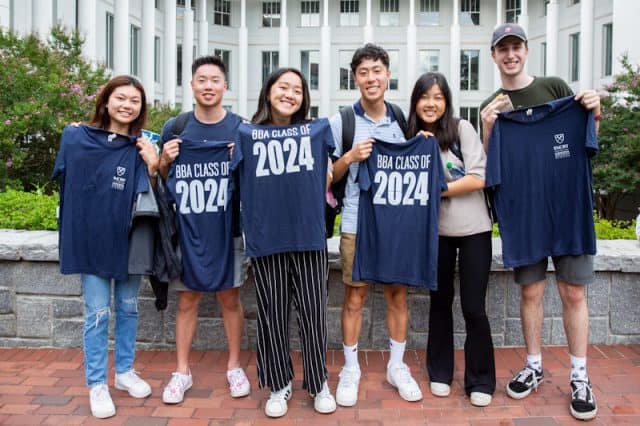 After a five-year process of extensive review, a newly imagined Goizueta undergraduate curriculum will begin to roll out in January 2023.
The revised curriculum enhances our ability to equip our BBA students for an increasingly data-driven world in which the outcomes of business decisions are multifaceted and far-reaching. It simultaneously helps us build our student competencies and address their desire to create individualized and customized academic experiences.

Andrea Hershatter, senior associate dean of undergraduate education and senior lecturer of Organization & Management
The curriculum was developed by a faculty task force utilizing a design thinking process. In fact, both Hershatter and Jan Barton, associate professor of Accounting and a member of the curricular task force, previously attended a faculty bootcamp at Stanford University to learn more about the design thinking process, which is an empathetic, constituent-based approach to innovation focused on the needs of the end user.
While the process was faculty led, the curricular review tapped into the best resources for this information: current and former BBA students. They also spoke with corporate recruiters. The planning process, which began with a review of the existing program and ended with implementation this January, spanned five years from conception through anticipated implementation.
"Working on these updates was the best experience I've had at Goizueta in my 25 years here," says Barton. "As a committee, we worked very well together, partly because we trusted the process we were using. Design thinking is very effective in assuring an outcome that meets the needs of those you're designing for—in our case, our students, of course, but also their employers, our faculty, and our staff. Our new BBA program draws on all of our resources to ensure that we educate our students for lifelong learning."
The faculty committee consisted of co-chairs Jesse Bockstedt, professor of Information Systems & Operations Management, and Hershatter, along with a faculty representative from each of Goizueta's five academic areas and Marvell Nesmith, director of academic affairs and instructional design.
The overall approach and the individual components were all guided by the BBA mission statement: "To help our students grow, intellectually, personally, and professionally so that they feel enabled, empowered, and motivated to make significant positive contributions to the organizations they serve and to society as a whole."
A Greater Emphasis on Flexibility, Customization, and Technology
Curricular updates strengthen analytics, provide more flexibility for building integrated interdisciplinary expertise, augment community engagement, and ensure that Goizueta BBA graduates are prepared for their initial job—as well as their subsequent careers.
With a new entry point that allows for enrollment as early as the beginning of sophomore year, students can balance their Goizueta courses with their Emory College electives, explains Bockstedt.
"It used to be more of a separate experience between Emory College and Goizueta Business School, and although we're not changing the number of required credits, students will have the opportunity to take more of their college classes as a business student. The idea is that hopefully what they take can support their business learning and vice versa," says Bockstedt.
The new curriculum also provides students with a strong foundation in data analytics; mini bootcamps to gain specific technology skills; an immersive, experiential capstone; and new interdisciplinary options in choosing areas in which to concentrate.
"I'm particularly excited about the new personal development seminar that includes pathway explorations. This will give students more exposure to different career options. They will get to hear from recent graduates about what their lives are like and what they wish they had known when they were undergraduates," says Emily Bianchi, committee member and Goizueta Foundation Term Associate Professor of Organization & Management. "I'm also really excited that the new curriculum gives students the flexibility to build an academic experience that best meets their needs while still ensuring that they have the foundation necessary to succeed in any career."
Students will move through a series of touchstone modules, including personal and professional development and a new BBA Boardroom experience. (Think Goizueta-equivalent of the classic high school homerooms.)
We're being pretty innovative. The boardrooms are going to be a great way to build community, relationships, and network. They will really encourage cross-age mentoring.

Jesse Bockstedt
As part of the curriculum adjustments, the core requirements for students have changed. The academic core will consist of one course from each functional area of business, several of which have been completely revised. Students will then select two out of five flex core courses based on their specific interests.
In conjunction with the timing of the BBA rollout, Goizueta will offer a business minor to Emory College students who are passionate about the liberal arts. The minor will be comprised of the foundations core and will provide introductory knowledge in each of the five functional fields of business.
"Goizueta offers an exceptional undergraduate experience with extraordinary outcomes for our students. Our goal is to make the best of Emory accessible to all of Emory," says Ravi V. Bellamkonda, provost and executive vice president for academic affairs. "I also applaud Goizueta's laying out transparent criteria for entering its BBA program, so all students and families have a clear understanding of how to access the school's outstanding offerings."
Goizueta undergraduate students are prepared, motivated, and empowered to make meaningful contributions to the organizations they serve—and to society. Learn more about our top-ranked BBA program.