Now in its third year, the groundbreaking John R. Lewis Racial Justice Case Competition (JLCC) focuses on the intersection of business and racial inequity by bringing together current business leaders and top student teams from across the country to provide actionable solutions to real-world issues. "Students and businesses will come together in February for the first ever in-person finals for the inaugural Making the Case for Change conference," says Stephanie Faucher 23MBA, marketing chair of this year's competition.
Managing Director Brandan Gillespie 23MBA shares that in hosting an in-person component, "The goal is to create an experience that validates participants' drive to find solutions around racial injustice in the workplace. We aim to give participants greater exposure to company leaders and industry experts to reinforce their passion for making a change. The Making the Case for Change conference allows students to do just that: make a case to business leaders using energy, vigor, and passion to come together in finding solutions to such a massive issue."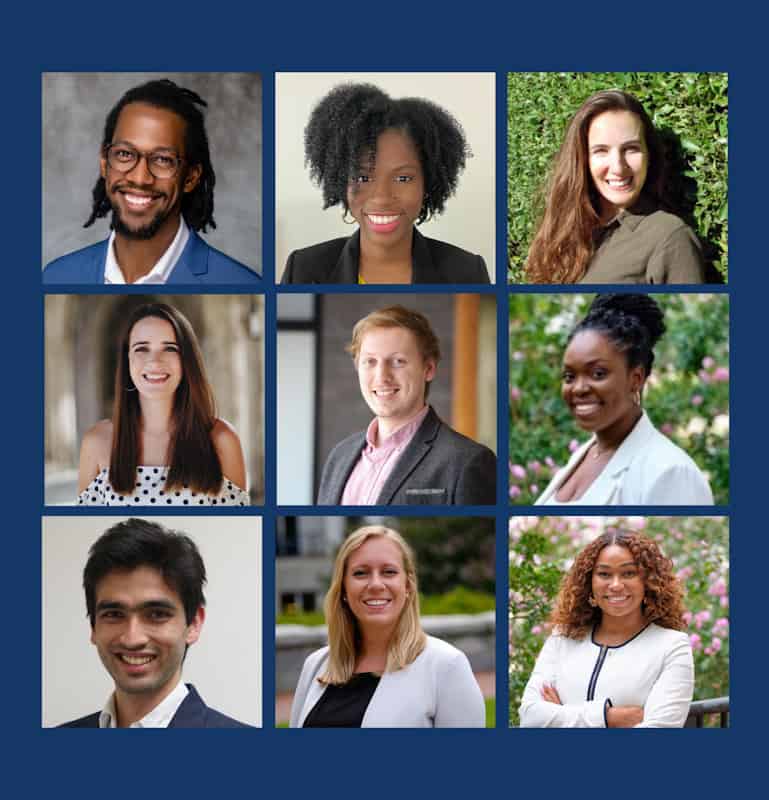 This year's corporate partners will be announced on November 22. Previous partners have included powerhouses such as HP, Accenture, IBM/Call for Code for Racial Justice, Moderna, Taco Bell, Momentive.ai, Yahoo Finance, UPS, Walmart, Johnson & Johnson, Salesforce, Southern Company, SurveyMonkey, Truist, and Poets & Quants.
Team applications are now open and will close November 18, 2022. All undergraduate and graduate students are invited to apply, regardless of major or concentration. The final rounds will take place in person in Atlanta during the February 16-19 Making the Case for Change experiential weekend.
Real and meaningful change has come about because of previous competition entries. Moving forward, "JLCC continues to provide student leaders and sponsoring organizations with a unique opportunity to engage together to address issues of racial inequality. The student teams are not constrained by organizational realities, allowing them to develop bold, innovative ideas and bring fresh perspectives to the sponsors," says Lynne Segall, associate dean of management practice initiatives and senior lecturer of Organization & Management.
The JLCC Evolves from Concept to International Impact
In response to the national reckoning in 2020 over racial inequities and deaths of George Floyd and others, competition founder Willie Sullivan 21MBA was inspired by a Harvard Business School case note on racial inequalities in American history. Sullivan rallied his classmates to act on a meaningful scale by posing the question, "How could we take a business case note and have students come up with strategic frameworks for a major corporation to do something about large societal issues?"
Honoring the late John R. Lewis (1940-2020), the civil rights icon and U.S. Representative from Georgia's 5th district, the prestigious competition has continued to evolve.
Jason Wild 99MBA, then senior vice president of transformation and innovation at Salesforce, shared that JLCC was "a truly world-class event, one many of us will look back on one day as a catalyst."
The student teams assigned to us were full of passion and inquisitiveness. They challenged us. They probed and asked for data. Then, they went to work. The results were amazing in each case.

Shelina Ramnarine, product director for Payer Marketing Cardiovascular & Metabolism at Johnson & Johnson, agrees with Wild.
The first JLCC saw 105 applicant teams from more than 52 universities competing for more than $76,000 in prizes and grants. Twenty-four corporate racial justice action plans were created, and more than 1,300 audience members virtually attended the final presentations.
Finishing in second place was Emory's Bonnie Schipper 23JD/MBA, Bryan Shepherd 22MBA, Simone Trotman 22MBA, and Rutendo Chikuku 22MBA. Their teamproposed a dynamic discounting program that pays HP suppliers quicker and at a lower discount rate. HP Global Supplier Diversity Program Manager Terrell Smith said his company is measuring how many of its current minority suppliers opt into the new discount payment system and tracking the growth of diverse suppliers who are attracted to HP because of the discounting. The students' "phenomenal" work, Smith said, persuaded HP that "liquidity and long payment terms are a major barrier of entry that turns diverse suppliers off from engaging with larger companies and corporations."
The second JLCC drew 77 applicant teams from more than 40 universities. Students from the Yale University School of Management took first place, the University of Southern California Marshall School of Business team took second place, and the Georgetown University McDonough School of Business team took home the Audience Award.
Driven by their personal experiences with racial gaps in health care, Goizueta Business School students Shanae Smith 23MBA, Katie Hoole 23MBA, Michael Laguna 23MBA, and Aliya White 23MBA presented a plan for the consulting giant Accenture to "make a huge dent" in attracting and helping people of all races to receive the health care they deserve. Their technology-driven strategy catapulted them to the finals as Emory's highest finishing team.

"Our vision for the John R. Lewis Racial Justice Case Competition is that it continues to grow as a catalyst for action among participating organizations to invest in their local communities, creating a more just society where everyone can prosper," shares Brian Mitchell, associate dean of Full-Time MBA programs and Goizueta global strategy and initiatives.
It is not enough to have good intentions when it comes to racial justice. It takes the passion and creativity that we have seen from the student teams, and it takes the financial commitments that the students have secured through the competition.
Learn more about how to enter the John R Lewis Racial Justice Case Competition. Follow along on social media with #JLCC23.