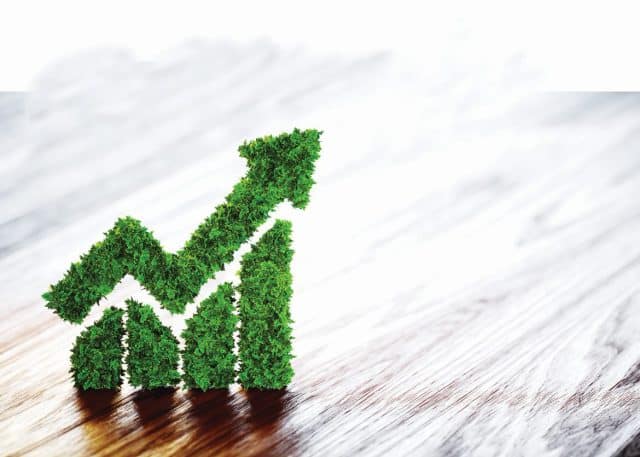 When three entrepreneurs from Atlanta envisioned their brewery, they wanted to bake in sustainable, humane business practices. Just as superior beer requires careful fermentation, Khonso Brewing's success would rise from values permeating their company from the get-go.
Proof of their commitment: the circled capital "B" belonging to companies that are Certified B Corps, more than 5,300 now and rising globally. The designation means that a company values people and the planet alongside profits, and B Corps range from solopreneurs to familiar brands such as Patagonia, Method, and Ben & Jerry's. Similar to LEED certification for a building, B Corp status must be earned through a rigorous third-party certification process overseen by B Lab. For Khonso, that was a huge endeavor.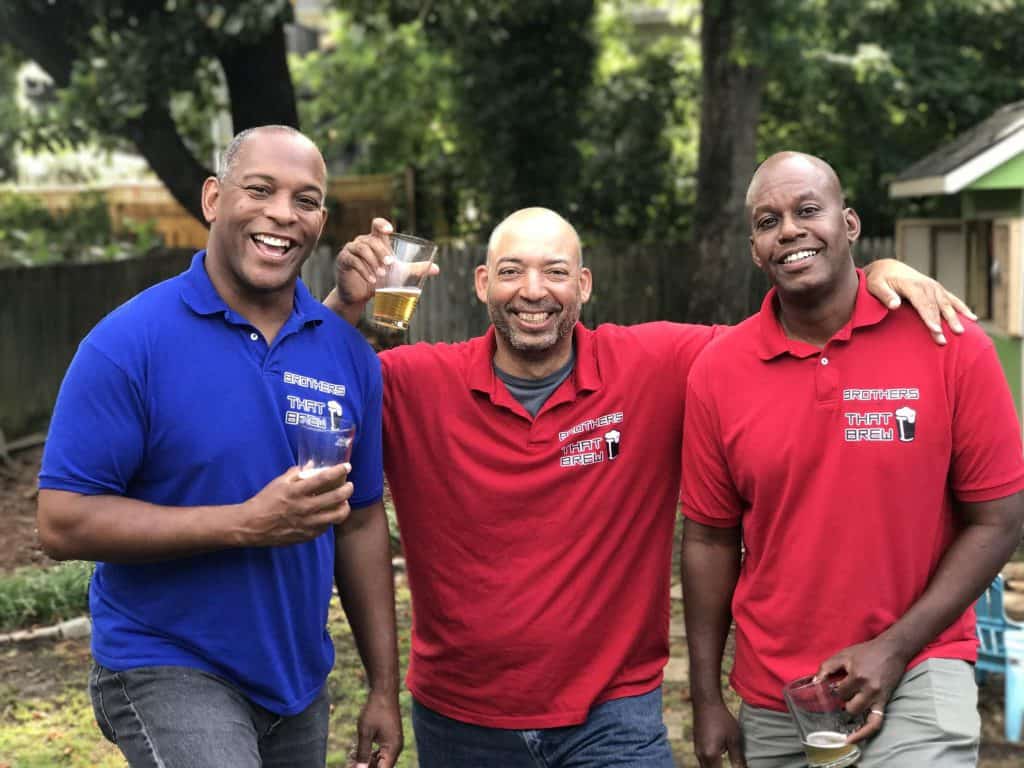 Enter Goizueta Business School students, who authored Khonso's employee handbook and drew up a road map to assess and measure data points and policy across five areas: community, customers, environment, governance, and workers. "We are committed to quality, community, inclusivity, and sustainability, which includes fair wages, sustainable energy and water investments, and buying products from businesses with sustainable practices," says Khonso Chief Marketing Officer William Teasley.
Because of the students at Goizueta, we're not going to 'get back to it in a couple of years.' We're doing something about it now.

William Teasley
The timely partnership unfolded through B Corp Learning Lab, a directed study elective through Goizueta's Business & Society Institute for undergraduates, MBAs, and students across Emory. "We are educating students about B Corps by taking part in the movement," says B Corp Learning Lab instructor Brian Goebel 09MBA, managing director of the Business & Society Institute. "It's a win-win all around."
Through B Lab, Khonso and other local businesses connected with MBA and BBA students and others from Emory Law and Emory Master's in Development Practice (MDP). The campus-wide interest doesn't surprise Wes Longhofer, executive academic director of the Business & Society Institute, because students are clamoring for any chance to learn about issues related to environmental, social, and corporate governance (ESG).
"But the market is also changing quickly," Longhofer adds. "Companies are looking to develop capabilities in this space as they respond to growing pressure from investors, consumers, and their own employees."
The B Corp certification is a powerful and transparent way for companies to verify their social and environmental commitments. And because the assessment process is so tangible, students get hands-on experience on how companies can both measure their impact and set meaningful targets and goals. It also fits the educational mission of our Institute of putting theory into practice.

Wes Longhofer
Basis for a Better Business
The B Corp Learning Lab and a growing number of other social and environmental impact activities (such as the Start:ME accelerator program, Net Impact Club, Peachtree Minority Venture Fund, and Grounds for Empowerment) demonstrate Goizueta's strategic belief that business and society together can deliver a more equitable and sustainable world. When businesses and business education shift, other stakeholders benefit, too.
In the investment community, "We see a greater awareness in society and financial markets of the dangers of too much focus on short-term shareholder value. Further, there exists too much of a bias by many that B Corps do not seek profitability," says Professor in the Practice of Finance JB Kurish, who teaches social entrepreneurship and impact investing. "They do seek profitability. In fact, by focusing on stakeholders that include shareholders, customers, employees, and communities, it well could be that B Corps are doing a better job at long-term profitability. This, in turn, results in better long-term returns for shareholders."
With a rapidly changing employment landscape, "In a moment that is so difficult to attract and keep talent, we have not had that problem," says Maggie Kulyk 96MDiv, founder of Chicory Wealth, a B Corp financial services firm. "I want my company to be 100 percent employee-owned by the time I retire, and the B Corps movement inspired me to think about legacy, equity, justice, and engagement."
It's the right thing to do and incredibly good for attracting young, talented people who want to work in a situation that has meaning. The B Corps demonstrates that altruism can be beneficial for you, too.

Maggie Kulyk
Clout, Credibility, and Collaboration
Operating as Team Khonso, the students in the B Corp Learning Lab assigned to the brewery learned that B Corps are more likely to collaborate, even with competitors. Team Khonso turned to Creature Comforts, a B Corp brewery in Athens cofounded by Adam Beauchamp, a former Emory graduate student in genetics and molecular biology. Creature Comforts' Community Impact Manager Ally Hellenga eagerly assisted the team.
"As an industry, craft breweries are community-centric, sustainable, and conscious businesses in our respective communities," she says. "B Corp certification is our best tool to measure progress and put us all on a path to be even better for our people, our communities, and our planet. I was impressed by [Team Khonso's] professionalism and mastery of the B Impact Assessment–especially in such a short amount of time."
In the B Corp Learning Lab, Goizueta students became part of a growing academic community in Georgia providing brainpower to organizations large and small. B Corp Learning Lab students learned from guest lecturers Kelly Carter, an Atlanta business analyst who worked with B Lab and who now works with a sustainability-focused organization, and Nathan A. Stuck, co-founder and chair of B Local Georgia, an organization aimed at growing the B Corps movement.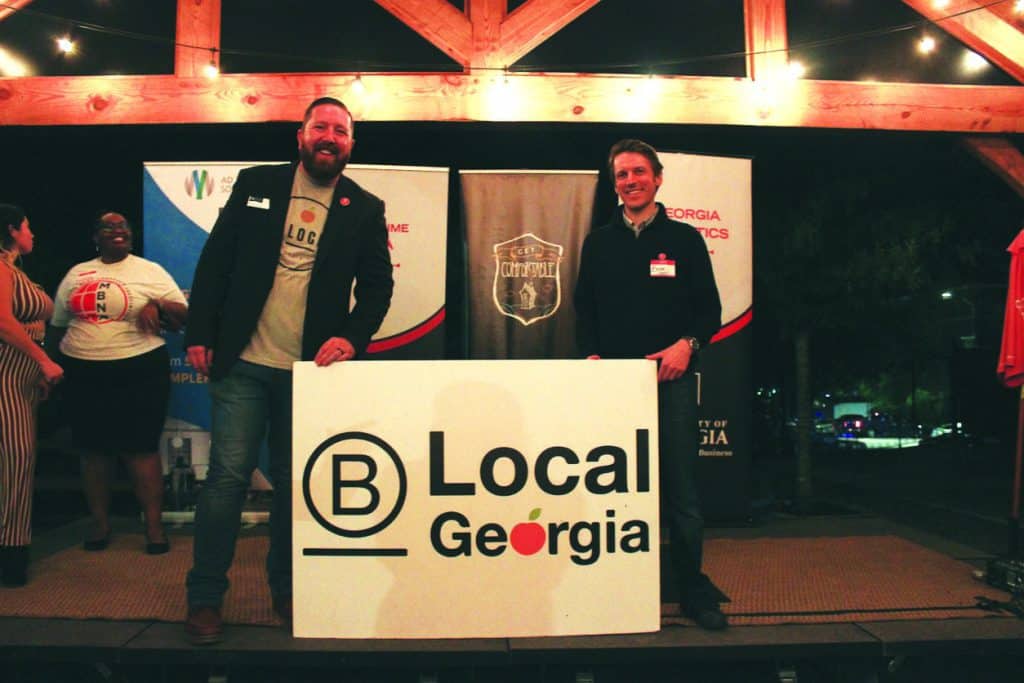 "The B Corp Learning Lab brought a lot of really passionate people together, and I'm hoping that they'll be able to take what they learned from the experience and apply it wherever they end up working or with their own startups," Carter says. "The B Corp Learning Lab helps the students understand how social and environmental impact can be created through business operations and the business model."
"Emory brings the Atlanta clout to B Corps," Stuck says. "It helps give the B Corps movement more credibility."
Goizueta students traveled to Athens for a Creature Comforts event in Fall 2021 to rally support for local B Corps.
"It is important to get our students off campus to see that this is part of a bigger movement of folks doing the work, to show that a more equitable and sustainable form of capitalism is possible," Longhofer notes. "The event was held at one of the best breweries in the country that has decided to pair their excellence in craft beer with a commitment to people and planet. What could be more fun than that?"
Real-World Experience for Students
Another satisfied B Corp Learning Lab company was Roots Down Georgia, a sustainable landscaping enterprise. "The students delivered an easy-to-follow package of what Roots Down needs to do to get certified in 2023," says Chief Marketing Officer Tres Crow. "It was one of the best consulting experiences I've had."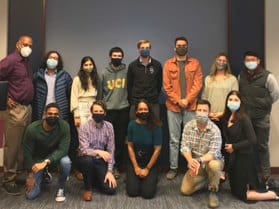 Crow's point of contact was Eric Rusiecki 10OX 13C 22EvMBA, who sought MBA training to transition to a purpose-driven company "doing more than selling widgets." His target soon became B Corps, and Roots Down taught him "to connect the dots of leadership, profit, and efficiency with tough questions to help guide leaders on their journey in the workforce. B Lab gives a roadmap of how to be profitable and successful while still focusing on how to treat your employees, community, and environment well. These learnings will continue on the forefront of my mind in all my decisions in the workplace."
Jasmine Burton 22MBA enrolled in B Corp Learning Lab as part of a larger goal to gain business acumen and lead more effectively in global, nonprofit sanitation efforts.
Her takeaway from the class: "Businesses can be held accountable to triple bottom line outcomes in a way that is rigorously validated and continuously monitored every three years. It is a movement away from virtue signaling and greenwashing and into large scale change."
In a world that seems to be increasingly prioritizing stakeholder capitalism, the value proposition of certified B Corps is credible and clear on a global scale. I seek to use these learnings to join and grow truly values-based organizations.

Jasmine Burton 22MBA
Through B Corp Learning Lab, Jakob Perryman 17C 22MBA found an exciting career niche that aligns with his value in creating a more sustainable earth. Perryman sought his Goizueta MBA after working as an environmental consultant for companies that generally wanted the least expensive, minimal solutions to meet environmental regulations. He is joining PwC as a senior consultant in mergers and acquisitions, to help B Corps weather ownership changes.
"When a B Corps gets acquired, the bigger company might not care about the B Corps status or know how to navigate the recertification every three years, so a lot of B Corps lose status," Perryman explains. "There's a lot more I need to learn, but the B Corp Learning Lab class was a great introduction."
B-ing Proactive in a Global Economy
What does it take to become a certified B Corp? The first step is to understand a few more of the Bs.
B Corp: A B Lab-certified and verified company that demonstrates high social and environmental performance, legally commits to changing corporate governance to benefit all stakeholders and exhibits performance transparency against B Lab standards.
B Corp Certification: With a B Impact Assessment score of 80 or higher and a stated focus on maintaining certain standards and visibility, a company may attain certification.
B Impact Assessment: A digital tool used by companies to achieve certification by measuring, managing, and improving positive impact performance for the environment and stakeholders. The assessment allows companies to evaluate their current status, compare their impact, and enable improvements.
B Interdependent: A standalone resource produced by B Lab for companies responding to the COVID-19 pandemic and the global uprising against racism.
B Lab: The international nonprofit network that developed a stakeholder-driven model that "creates standards, policies, tools, and programs that shift behavior, culture, and structural underpinnings of capitalism," they write on their website. Their goal? To "support our collective vision of an inclusive, equitable, and regenerative economy."
As Former U.S. Secretary of State Madeline Albright said, "I often wonder to what extent business can help society in its goals and alleviate poverty, preserve ecosystems, and build strong communities and institutions. B Lab has proven that there is a way." For more information on B Corps, visit bcorporation.net
Goizueta's Business and Society Institute pursues academic discovery and action to build a more equitable, prosperous, and sustainable world. Learn more about their programs, research, and events.