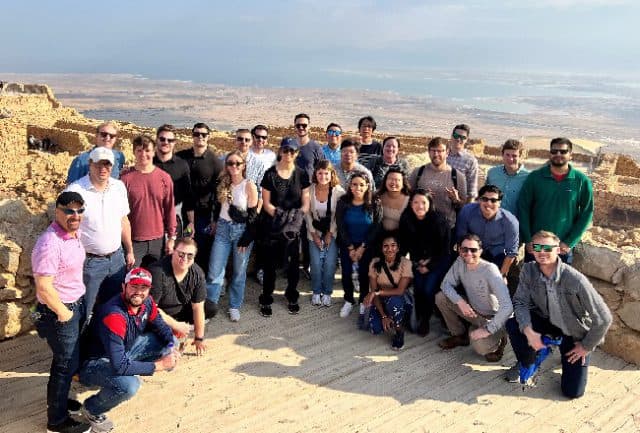 For 70 students of Goizueta's Full Time MBA and Evening MBA programs, ringing in the New Year offered a unique opportunity to sharpen their global business perspective as they embarked on a journey to Israel. Organized by Goizueta Global Strategy and Initiatives, the first stops included: Jerusalem, Bethlehem, and the Dead Sea for cultural immersion in the dichotomy of a civilization steeped in biblical and ethnic history, yet brimming with global commerce and politics.
At the award-winning Sorek Desalination facility near Tel Aviv—the largest in the world─students met Semion Brover, CEO, to understand more about the technical and economic components of the process of seawater reverse osmosis. Participants also gained insight into the daily operations of the $400 million operation that is part of the Israeli desalination master plan.
The main idea is to be self-sufficient. We do not want to be dependent on natural resources, because there's drought and desertification.

Charlie Goetz, senior lecturer of Organization & Management
At the next stop on their global business immersive, Shay Blalek, director of global sustainability and ethics for Strauss Group, invited students to learn about the organization, an international food and beverages corporation with a portfolio of five companies. With products including coffees, teas, complementary products, fresh dips and spreads, and chocolate bars, Strauss Group also focuses on developing, producing, and marketing environmentally friendly drinking and cooling WaterBars for in-home and business use.
Blalek leads the corporation's global philanthropic efforts with emphasis on social impact. She introduced students to the StraussOne plan, which concentrates investment on Israel, Brazil, the United States, and China while maintaining continuity in the other locales in which it operates.
Female Founders and Entrepreneurs Speak About the Israeli Innovation Ecosystem
The discussion featured female leader Or Harel, chief marketing officer and co-founder of Elvy.AI, an award-winning sleeptech company that balances tech habits and health, who was joined by Merav Oren, founder of WMN, a vibrant community for female founders, and CEO of Foodish, a new Jewish food digital magazine and platform.
The open dialogue moderated by Charlie Goetz, senior lecturer of Organization & Management, included discussion about the Israeli innovation ecosystem and its impact on female founders and entrepreneurs. Topics included the gender gap in the tech and STEM startup scene, enterprise and value chains, social impact investment, the sustainable development goals of the United Nations, as well as the impact of culture on leadership strategies around diversity, equity, and inclusion.
I am so glad that my students got to see how some of the very best entrepreneurs in Israel are women and hear for themselves that women entrepreneurs are creating some very exciting opportunities. Women entrepreneurship is alive and well in The Startup Nation.

Goetz
Megha Madan of Goizueta Global Strategy and Initiatives shares, "Goizueta Global is excited to offer Global Experiential Modules (GEMS) for May 2023 to South Korea, South Africa, and a combined trip to Germany and Austria where students will have the opportunity to learn about strategy, manufacturing, technology, diversity, equity, and inclusion, and entrepreneurship and innovation."
Learn more about how you can take part in and support the global program for Goizueta students.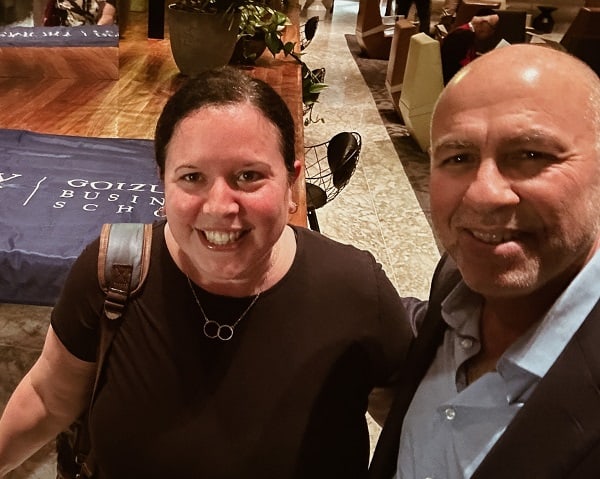 Program participants were invited to a gathering hosted by the Israeli Alumni Group. "With the help of Katie Busch, executive director of international advancement & alumni engagement, the MBA students attended an alumni reception in Tel Aviv as a part of the GEM experience," says Lindsay Topping, Goizueta senior director of alumni engagement.
"Alumni from all of Emory's schools were invited to meet the students, and it was an opportunity for the students to network with some of our amazing international alumni who have a great passion for Emory. I especially had the pleasure of meeting Gadi Netzer 98MBA who said he was the first Israeli to receive his MBA from Goizueta." Pictured here are Lindsay Topping and Gadi Netzer.