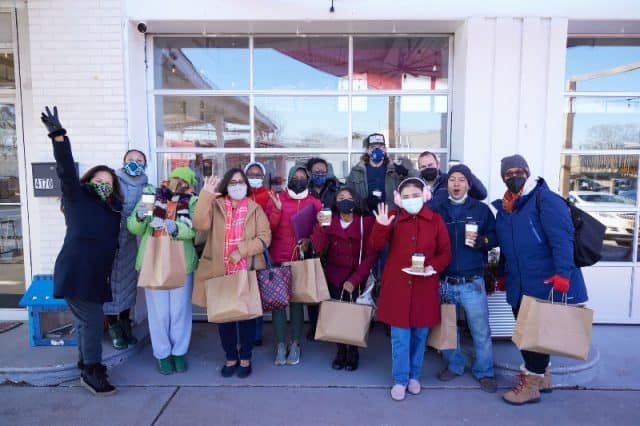 From mom-and-pop shops to in-home ventures, microbusinesses are individually quite small but collectively create a big impact. According to The Association for Enterprise Opportunity (AEO), microbusinesses account for 92 percent of all US businesses and create 41.3 million jobs. When they thrive—generating income, creating jobs, occupying spaces, providing role models—their neighborhoods do too. 
Start:ME is a free 14-week accelerator training program for micro-entrepreneurs delivered by Goizueta's Business & Society Institute. Program Director Erin Igleheart says Start:ME works to support the economic and social vibrancy of underserved communities in Metro Atlanta by empowering the entrepreneurs within them to start and grow thriving businesses. 
These microbusinesses serve the needs of people who live and work in that community, and the entrepreneurs are generally community members who have strong ties. Collectively, they create a lot of local jobs, occupy a lot of local spaces, and directly feed into the economic and social vitality of that place.

Erin Igleheart, Start:ME program director
Empowering Entrepreneurs & Driving Community Vitality
The program operates in three communities where there is a pronounced micro-business gap. Within each area, Start:ME partners with local nonprofits to help build and tailor a program to the community.
The Clarkston program is delivered in partnership with Friends of Refugees, the East Lake program with the East Lake Foundation, and the Southside Atlanta program with both Focused Community Strategies and Purpose Built Schools Atlanta.
The program has served 351 businesses in the past 10 years, and this year, they are announcing a new cohort adding 54 more businesses to the roster.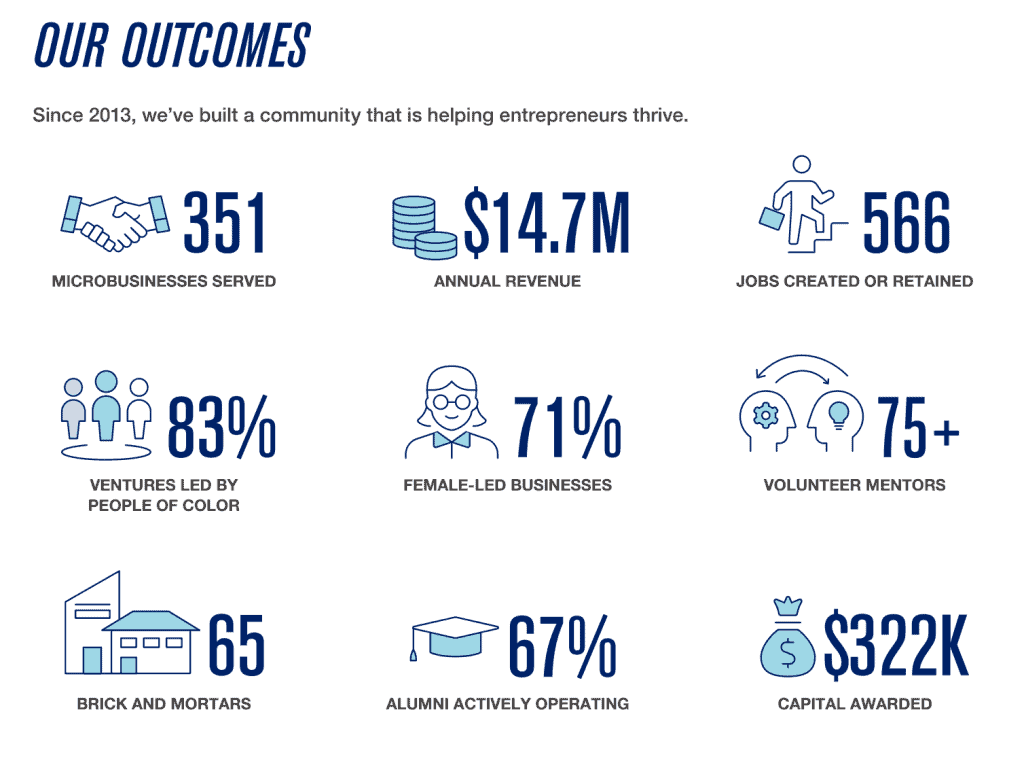 Igleheart says they receive about 250 applications each year, which they narrow down to 15-18—or sometimes 19-20 because it's just too hard to choose—per community.
When selecting businesses, Igleheart says it is important that the cohort be reflective of the communities they belong to. For this year's cohort, 80% of the ventures are female-led and 87% of the entrepreneurs are people of color.
Making Business Training More Accessible
Clarkston Program Coordinator Sushma Barakoti is involved in the selection process—something she knows well, having been on the other side of it just a few years ago. She also helps with marketing and supporting the entrepreneurs.
The Nepal-native was a participant in the 2014 Start:ME cohort, where she developed her business SunavWorld, LLC., an Atlanta-based social enterprise with the mission to promote sustainable, fairly-traded products for the socioeconomic empowerment of artisans, both locally and internationally.
For Barakoti, the training offered by Start:ME propelled her business to another level.
Entering the program, I had no idea how to do business. After finishing Start:ME, I finally felt comfortable calling myself a business woman.

Sushma Barakoti, Clarkston program coordinator
Through the program, Barakoti says, each entrepreneur gains an understanding of their business, their finances, who they serve and how to connect with their community. They also develop comfort with telling their business story.
As coordinator, she has dedicated her work to offering support, insight and encouragement to entrepreneurs. She holds making formal business training more accessible for small businesses close to her heart.
As part of Barakoti's role, she recruits local small business owners who she believes would benefit from the program, participates in session delivery, connects participants with Start:ME's mentors and alumni network, and gathers feedback on points of improvement.
I still benefit from Start:ME now as a coordinator. Every year, I go through the selection process, and the entrepreneurs just give me renewed enthusiasm for running my own business.
Start:ME focuses on three pillars: business training, by the Goizueta Business School; mentorship, provided by skilled volunteers, including a number of program and Emory alumni; and capital, taking the form of $15,000 grants per cohort and a few awards.
Mentorship Matters
Igleheart says mentorship is a critical component of programming. Volunteer business mentors play a hands-on coaching role at each session, pairing up with entrepreneurs based on skill sets, experience, and compatibility.
We find that a lot of those relationships extend beyond the 14-week program. We want entrepreneurs to have a solid, supportive, constructive network of mentors and peer entrepreneurs to draw upon as they continue to operate their business.

Igleheart
One of those mentors is Christopher Wedge, founder of Sons of Pitches FC, an adult soccer club that offers leagues and pickup games year-round for all skill levels.
Wedge says the most important development he's undergone as an entrepreneur is social emotional learning, which he believes to be the biggest hurdle for most entrepreneurs.
He says at the end of his cohort, he broke down in tears—he had reached a place where he was comfortable acknowledging his strengths and weaknesses and accepting criticism, saw significant growth in himself and his business and felt validated by other entrepreneurs to the point where he finally considered himself one.
Wedge says he understands the intricacies, fears and hesitations that come with running a business. He felt it was important to give back to Start:ME and help teach the lessons that were difficult but crucial for him to learn.
He says his focus as a mentor is providing social emotional support and creating a sense of community, as each entrepreneur works towards bettering their own.
Sons of Pitches FC has always been community-driven. Community empowers us and it helps us be successful. My ongoing participation with Start:ME has reinforced the idea that building something slow with strong roots in the community is building something for the future that will be successful.

Christopher Wedge, founder, Sons of Pitches FC
As an institution invested in Atlanta, Igleheart says Emory can have a significant impact by sourcing, hiring, and engaging thoughtfully with the local area.
"It is important for Emory to recognize that outside of the core operations of supporting students and doing research, it's critical that we use our knowledge to be a constructive and supportive member of the Atlanta community," Igleheart says. "It's a privilege for us to get to be welcomed into these spaces and work with the entrepreneurs who live in the community."
Start:ME is made possible by the gracious support of the Truist Foundation, Bank of America, Delta Community Credit Union, Emory University Goizueta Business School, PNC Bank, Regions Foundation, and Target Corporation.  
Find out how you can support Start: ME and build stronger communities by supporting local entrepreneurs.