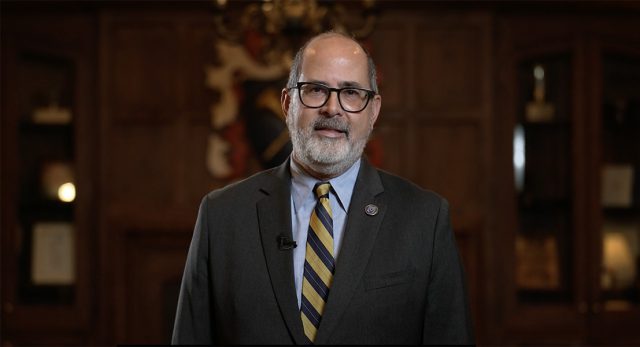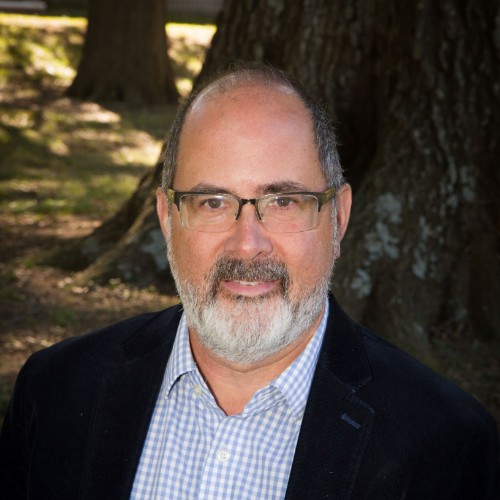 Dirk Brown 90MBA was honored March 18 with the 2021 J. Pollard Turman Alumni Service Award for exemplary volunteer leadership to the university. "It has been a 35-year journey from docent volunteer in 1986 to board co-chair today at the Michael C. Carlos Museum. I have served on and chaired boards for the Emory University – Goizueta Business School, the Emory Alumni Association, Emory College, Campus Life, and the Oxford College of Emory University," he said about this honor. "Thank you for giving me the opportunity to use my gifts in your service."
Goizueta John H. Harland Interim Dean Karen Sedatole noted, "It is an honor to recognize Dirk Brown 90MBA as a recipient of the 2021 J. Pollard Turman Alumni Service Award. For three decades, Dirk has generously given his many talents to the benefit of Emory University. Dirk, we are so grateful for your service, passion and love for the Emory community!"
The J. Pollard Turman Alumni Service Award was established to recognize a nominated Emory individual whose leadership through the Office of Alumni Engagement develops and enhances programming and alumni activities, and whose volunteering shares both time and expertise on behalf of Emory.
The Tull Charitable Foundation will make a gift of $25,000 to Emory in honor of each Turman award recipient. This designation can be directed to any Emory program, school, division, or any combination of the above, of the recipient's choosing. The direction of the gift shall be made in consultation with a designated staff member from the Office of Advancement and Alumni Engagement and appropriate deans and directors. The gift may be made to either academic or nonacademic programs. Social fraternities or sororities, student organizations without a permanent staff adviser, club sports organizations, and individual students, faculty, or staff members may not be designated recipients of the monetary award.
"I remember the service of Mr. Pollard Turman by whose life I am honored," Brown said. "The Tull Charitable Foundation continues to celebrate his legacy through this award. I have worked with Oxford College, who will receive their generous gift on my behalf."
An innovative housing advocate, Brown has designated his $25,000 gift be used by Oxford College. "The project we have planned combines my two loves: Emory and tiny housing," he explained. "There is an 1840s kitchen building on the property of the Dean's residence. The building has not been renovated and either needs to be demolished or restored." Through Brown's generous gift and guidance, the building will be transformed into a visitors' guest house with living, kitchenette, bedroom, and bathroom.
The Story of the Bell Cow – and a Chuckle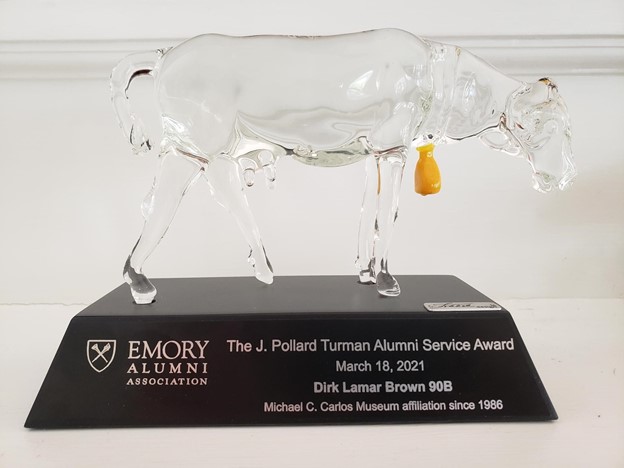 As is custom, during the traditional in-person ceremony the presiding Emory Alumni Board president presents the newest recipient of the award with the engraved crystal statue. But one year, the cherished bell cow slipped from the grasp of the then president, none other than Brown himself. Now, with a bit of fond levity, Brown laughs about the infamous moment – a time that still makes people chuckle.
"The distinctive award, created by Emory friend Hans Frabel, represents the bell cow. The bell cow, the lead cow of the herd, wears a bell around its neck that the rest of the herd can easily locate and follow," Brown said. "I am honored to join the other deserving men and women who have received this award."
Nominate a deserving Emory alumnus/a today for one of the many Office of Alumni Engagement awards, including the J. Pollard Turman Alumni Service Award, Jake's Golden Heart Award, the Community Impact Award, and The Emory Medal. Learn more about student and alumni awards.