As part of the third annual John R. Lewis Racial Justice Case Competition (JLCC), students from across the country gathered at Emory University's Goizueta Business School on February 16 – 18 to deliver bold, innovative, and actionable recommendations around racial justice for leading companies Delta Air Lines and Taco Bell. The first of its kind student-run case competition, launched in 2021, connects leading students and corporations actively looking to address issues of racial inequality and create lasting value-driving change.
More than 30 student teams from 20 leading universities across the country participated in the competition this year. An esteemed panel of judges reviewed each finalist presentation to determine the overall champion. Jerrick Lewis, nephew of John R. Lewis and executive director of the John R. Lewis Legacy Institute, presented the competition awards.
Team "Café con Leche" from Indiana University's Kelley School of Business earned the top prize this year for their "Ringing the Bell" strategy, a three-pronged plan designed to help sponsor organization Taco Bell achieve a more diverse supplier base with a goal of 10 percent disadvantaged business enterprise (DBE) spend. The team will split their $20,000 prize down the middle with chosen charity Urban Canopy, an organization pioneering the local food cycle to create a more sustainable and equitable food system on the south side of Chicago. The team also received the Audience award, accompanied by an additional $3,000 prize.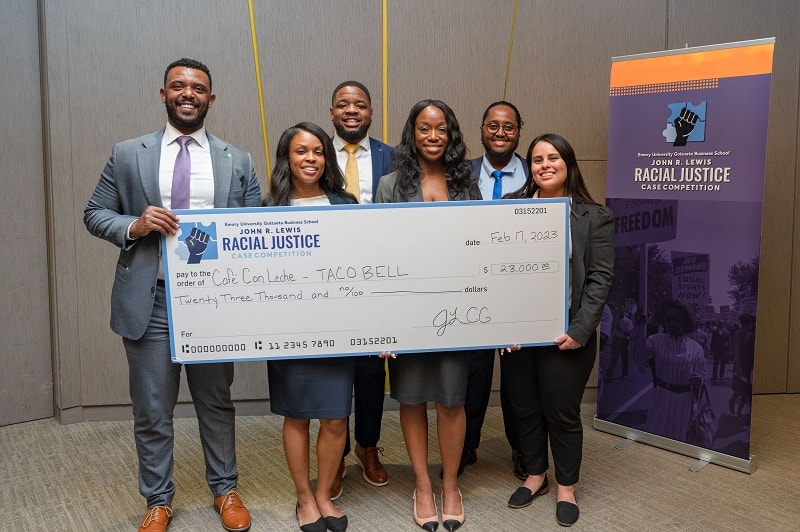 Team "I am Ready" from University of California Berkeley's Haas School of Business secured runner up for their four-tiered approach to help Taco Bell expand opportunities for diverse supplies. The team will split their $10,000 prize with chosen charity, GirlTrek, a health and self-care movement dedicated to healing and health justice for Black women.
Making the Case for Change
Student teams across the country started their journey last fall when they submitted their preliminary applications in November. Twelve teams advanced to the semi-finals. On January 20, the pool narrowed to four finalist teams who were invited to Goizueta Business School's campus for the inaugural in-person Making the Case for Change weekend. The immersive experience offered meaningful engagement with Delta Air Lines and Taco Bell on the necessary work their companies can do to address racial inequality.
Racial justice issues are prevalent in most companies. Working with sponsors that are not only actively engaging on these issues, but also looking to the next generation of leaders to do so is a unique opportunity for both groups to learn from one another.

Stephanie Faucher 23MBA
This year's competition posed two questions for student teams to address. Delta Air Lines asked, "How can Delta help marginalized communities get 'unstuck' in the pursuit of employment?" Finalist teams "Energy Everywhere, All at Once" from Georgia Tech College of Engineering, and "Leaders of Equity" from University of Rochester's Simon Graduate School of Business addressed this issue. Taco Bell questioned, "How can the brand significantly elevate its sourcing, attraction, partnerships, and hiring of underrepresented vendors and suppliers across all functions within the organization?" Responding to this issue were finalist teams "Café con Leche" from Indiana University's Kelley School of Business and "I am Ready" from University of California Berkeley's Haas School of Business.
Participants were invited to attend the "Good Trouble, Good Business" welcome reception in Delta Air Lines' 747 exhibit at the Delta Flight Museum. After a self-guided tour of the National Center for Civil and Human Rights, all shared in dinner and table chats on inclusion and racial inequity, facilitated by Goizueta's Business & Society Institute and collaboration partner Inclusivv.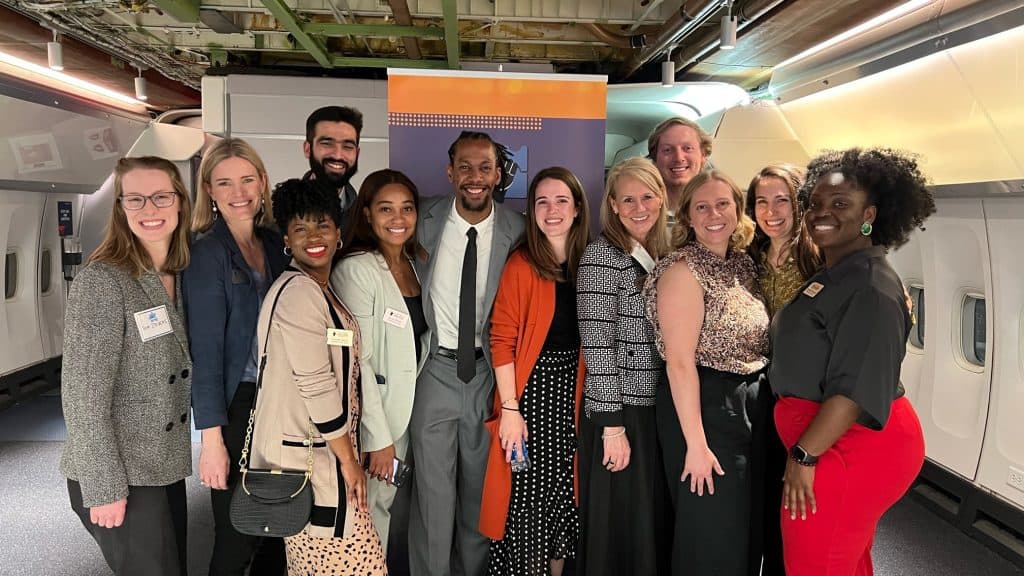 "With a full lineup of guest speakers, the conference offered different perspectives from government, business, and academia to learn, explore ideas, and brainstorm solutions," says Brandan Gillespie 23MBA, the competition's managing director.
This competition is the reason I enrolled at Goizueta. It was really important for me to see that there was a space for individuals like me who were inclined to social justice and racial equity. It's been so meaningful to give back by serving as the managing director this year!

Brandan Gillespie 23MBA
"Over the course of the competition, the sponsors connect with students who are passionate and innovative," Faucher says. "This provides them with new ways of thinking about the opportunities in the racial justice space."
Participants learned from keynote guest speaker Congresswoman Nikema Williams of the 5th Congressional District, U.S. House of Representatives, in conversation with international economist Jeffrey Rosensweig, associate professor of finance and director of Goizueta's Robson Program for Business, Public Policy, and Government. Williams is known as a fierce advocate for social justice, women, and families.
Omar Rodriguez-Vilà, Goizueta professor of marketing practice, provided an overview of his current research on the nature of diversity, equity, and inclusion in the marketplace including a synopsis of practices and outcomes associated with inclusive brands. Erika V. Hall, associate professor of organization and management, introduced "The Path to Diversity & Inclusion: Problems and Solutions."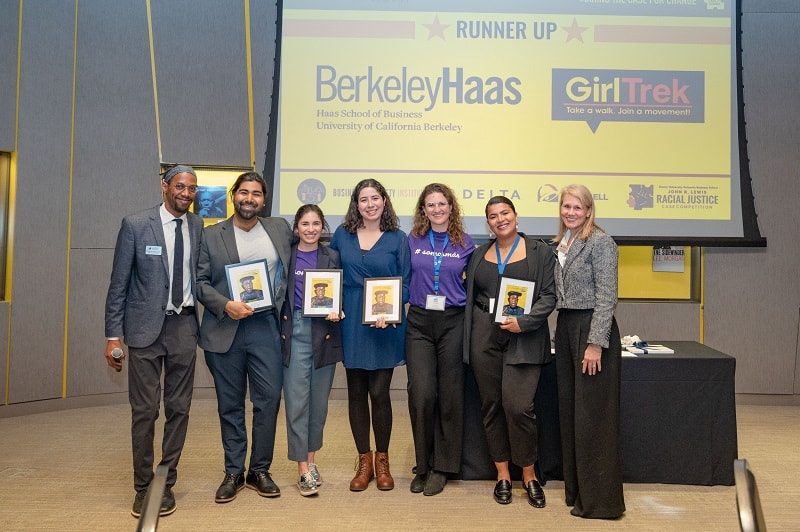 The weekend concluded with a talent pipeline collaboration on Goizueta's campus with sponsor leaders. To encourage continued growth and introduce successful formulas for activism, environmental youth activist Charitie Ropati guided the final session for individuals to follow Congressman John R. Lewis' call to get into "good, necessary trouble."
"We have seen past sponsors implement recommendations from JLCC teams. Moving forward, JLCC continues to provide student leaders and sponsoring organizations with a unique opportunity to engage together to address issues of racial inequality. The student teams are not constrained by organizational realities, allowing them to develop bold, innovative ideas and bring fresh perspectives to the sponsors," says Lynne Segall, associate professor in the practice of organization and management and faculty advisor for JLCC at Goizueta.
Roots in Justice, Strength in Opportunity and Equality
The first of its kind in the country, the student led JLCC was co-founded in 2020 by student Willie Sullivan 21MBA in response to the national reckoning in 2020 over racial inequities and deaths of George Floyd and others. Sullivan called upon his fellow students to act, raise social justice awareness, and empower businesses to do better.
"Our students recognized an opportunity to connect future business leaders with current leaders to take bold action in addressing racial inequality," says Goizueta's John H. Harland Dean Gareth James. "This competition celebrates the power of our students' voices and underscores the unbreakable intersection between business and the broader world."
Learn more about how you can get involved in the John R. Lewis Racial Justice Case Competition.
Sign up to host or attend a "Good Trouble, Good Business" Civic Dinner, presented by Goizueta's Business & Society Institute, and take part in a conversation on inclusion and racial inequity.