This April, Emory University and Goizueta Business School celebrated the announcement of $89,500 in grants to 19 local nonprofit organizations addressing inequity in Atlanta during the 2023 Philanthropy Lab Giving Ceremony.
Goizueta Business School teaches the Philanthropy Lab course in partnership with The Philanthropy Lab program, based in Fort Worth, Texas, which aims to encourage student interest and participation in philanthropy. Since its establishment at Emory in 2020, students in the Philanthropy Lab course have dispersed more than $300,000 in grants to nonprofits across the Atlanta metro area.
Experiential Learning: Philanthropy in Action
The Lab is a unique experiential learning course at Goizueta Business School—one of many such social impact courses students can participate in as part of Goizueta's Business & Society Institute. This year, 31 BBA students and four graduate students, enrolled in the course, during which they formed "mini-foundations," faced with the challenge of identifying and issuing grants to local community organizations. The class partnered with the Center for Civic Innovation, which helps recruit and seek applications from local nonprofits in their network including alumni of the Civic Innovation Fellowship program.
Brian Goebel, managing director of the Business & Society Institute, and Tene Traylor, vice president and senior fellow of The Urban Institute, co-teach the Philanthropy Lab course, now in its fourth year.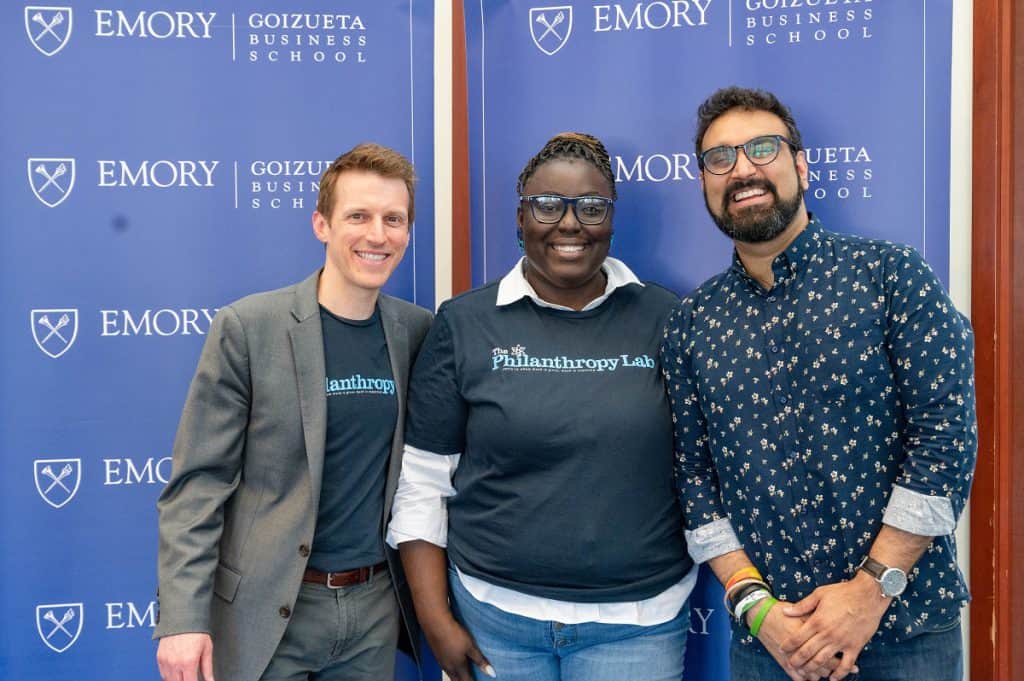 "It's really about exposing this next generation of business leaders to philanthropy early in their lives, and we believe that is best done through learning by doing," Goebel says.
Emory is proud to be part of Atlanta. As a university, we've made a commitment to not just the academic mission we have, but a deep commitment to creating a prosperous Atlanta for all. The Lab lives up to that mission by connecting and exposing our students to the city in terms of its opportunities and strengths, but also allows them to get involved and engaged to tackle issues locally.

Brian Goebel, managing director, Business & Society Institute
This was the first time in course history students conducted in-person interviews within Atlanta at community sites in Sweet Auburn and Historic South Atlanta. Goebel says this made for a powerful experience because students got to know nonprofit leaders and their missions face-to-face.
The class also offered a field trip experience to visit the Equal Justice Initiative's (EJI) Legacy Museum and the National Memorial for Peace and Justice in Montgomery, Alabama. The trip exposed students to the expanded role that nonprofits such as EJI play in society to address racial inequality.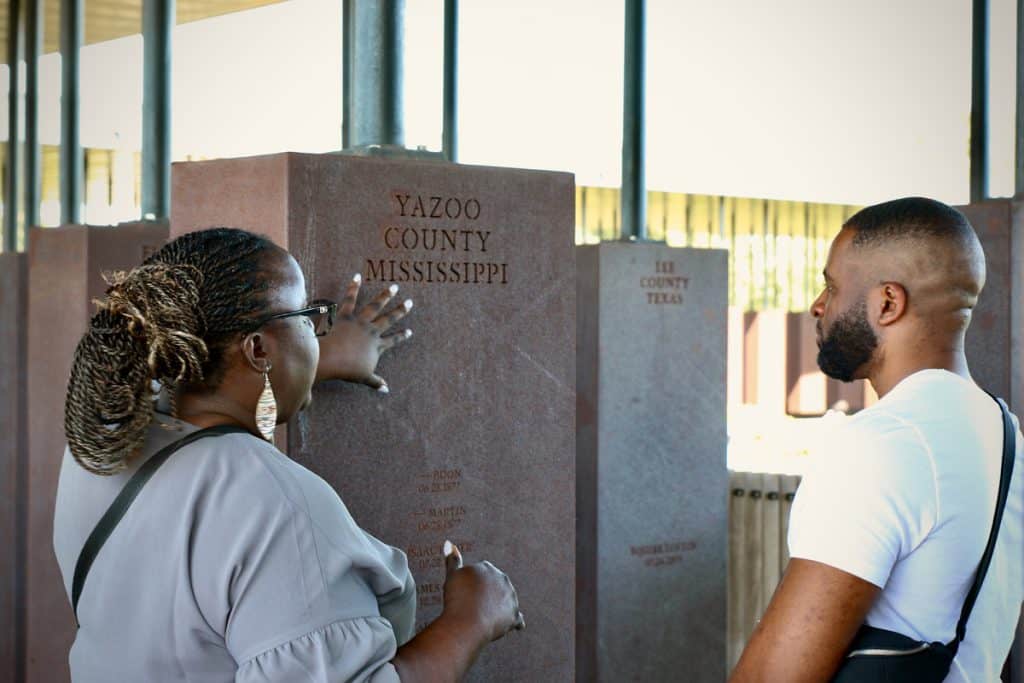 19 Atlanta Nonprofits Receive Grants
The 2023 Philanthropy Lab Course students selected 19 diverse community organizations to receive grants.
"It's an amazing cohort of nonprofits," Goebel says.
I'm really proud of our students and their thoughtful selection. It is a powerful portfolio of innovative strategies that are all working towards building a more equitable Atlanta.

Brian Goebel
Grant Recipients:
3D Girls, Inc.: To educate and empower young women and girls to be advocates for themselves and their families.
Art in the Paint: To use art and athletics to promote a higher quality of life, mobilize communities and inspire equitable play.
BestFit, Inc.: To dismantle health and economic inequities faced by individuals experiencing basic needs insecurity, enabling them to lead healthy and fulfilled lives—regardless of personal responsibilities and/or circumstances.
Close Ties Leadership Program: To unlock Black boys full potential through early exposure to college and career opportunities, in-school mentorship, and individualized social-emotional support.
College AIM: To create a more equitable postsecondary system by exposing students to college and financial aid opportunities, counseling young people from ninth grade through college graduation, and dismantling systemic racial and economic barriers to postsecondary education.
Cool Moms Dance Too: To help underrepresented and underserved mothers and their children access culturally relevant tools and healthy alternatives including dance, movement therapy and communication activities to improve their mental, emotional, and physical health.
Freedom University: To educate and empower undocumented students and fulfill their human right to education.
Goodie Nation: To eliminate the relationship gap that stands in the way of success for too many promising entrepreneurs, especially those who are people of color, women, or aren't located in coastal financial centers.
Jared's Heart of Success Inc.: To educate and empower youth through effective communication focusing on conflict resolution and mental wellness.
Learning In Color Corporation: To build literacy rich and economically empowered communities by creating inspiring K-12 educational facilities that engage students, improve learning outcomes and increase the number of minority students from low-income communities who are graduating college and career ready
Make Music Count: To use creativity to allow students to reach their full educational potential.
Rebuild the City: To provide social services and inner-city discipleship programs designed to meet the physical, spiritual, and long-term mental health needs of the community.
SAVE Institute: To SAVE black male youth from cycles of poverty, crime, incarceration, and lack of purpose through engagement in service, agriculture, vocational training, and entrepreneurship.
Showcase Group: To strengthen justice system-involved youth and their families through psychological and personal development services.
Small Bites Adventure Club: To help children discover and eat more fruits and vegetables by supporting their educators with high quality, equitable, and affordable hands-on cooking resources.
Step Ahead Scholars: To create college access equity by empowering Black and Brown, LatinX, immigrant and refugee students, and others underrepresented in higher education with college access and success exposure, information, guidance, and mentorship, so they can realize their aspirations, achieve their ambitions, and build economic well-being.
Swim Life Fitness/Sensory H2O: To provide access to quality and impactful wellness and aquatic programming that focuses on therapeutic and sensory activities to combat physical, mental, and cognitive diagnoses.
Umi Feeds: To serve healthy and nutritious meals to anyone in need from sustainably sourced donated surplus foods.
Urban Perform: To provide accessible, affordable, and high-quality fitness and wellness opportunities to individuals and families of all ages and abilities in Atlanta's Westside neighborhoods.
One grant recipient, Step Ahead Scholars, began as a self-funded initiative in 2010 after founder and executive director Debra Nealy recognized a critical gap in her community in college access and success and wanted to provide a solution to upend it. More than 10 years later, Step Ahead Scholars, now a three-year grant recipient, became a nonprofit with Emory's Philanthropy Lab as the first entity to provide it with a grant.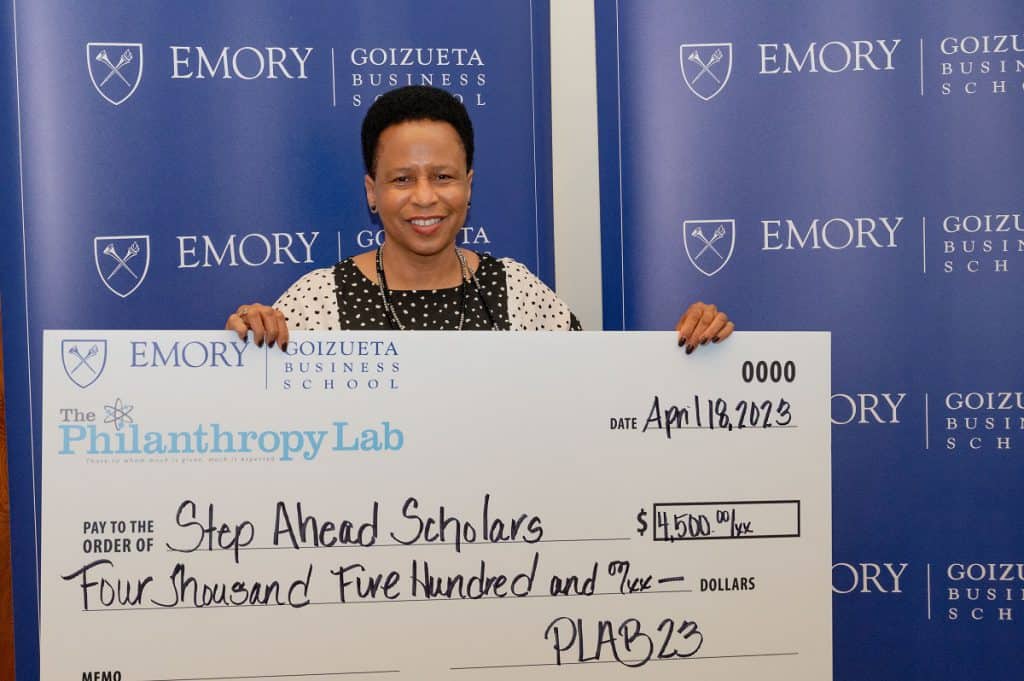 "The course's students learn to dissect intersectional inequities, identify innovative solutions, and approach philanthropy through a lens of equity that supports and sustains socially-just work as a bedrock of just societies," Nealy says.
While the monetary investment advanced our mission and impact tremendously, the time, talent, and thought leadership treasure offered by the students also made an indelible difference in our ability to change a narrative that has impeded equitable life outcomes for far too long. As a result of The Emory Philanthropy Lab Class, Step Ahead Scholars is a stronger organization.

Debra Nealy, founder and executive director, Step Ahead Scholars
Turning Students into Philanthropists
Goebel says the most rewarding part of the program is watching students grow into philanthropists. He says students enter the course excited and passionate about philanthropy; they leave with the skills to become philanthropists committed to justice.
Sophia Martinez 23BBA says philanthropy requires mindfulness, strategic thinking, and exposure from hands-on experience, which creates more thoughtful and impactful leaders.
"This exposure to philanthropy and being able to actually execute grantmaking decisions allowed me to understand it's so much more than the mere quantity of money," she says. "Considering the inequity present in the social issues we were tackling, I learned the value of getting proximate to an issue—victims, perpetrators, and advocates—and taking advantage of opportunities to take action, even if it's not as impactful as you were hoping for."
Martinez says hearing stories of grantees evolving from passionate community members to changemakers was the most rewarding part of the course.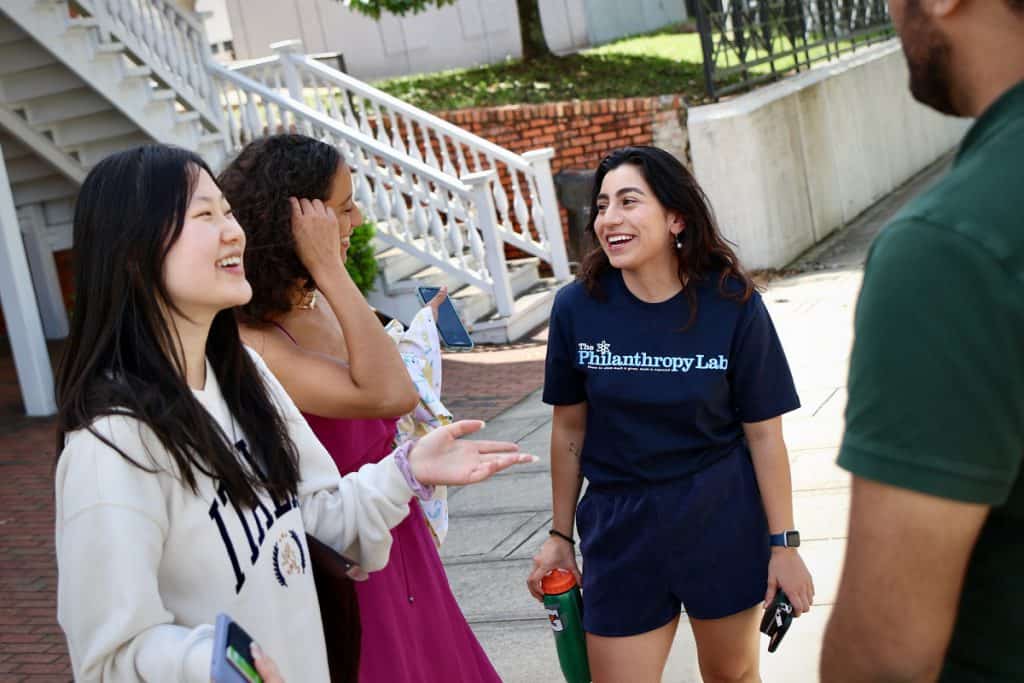 Students will follow up with grant recipients in 12 and 24 months to learn how the grants are being implemented and what the nonprofits have accomplished.
The Philanthropy Lab has provided guidance and seed funding for Emory's Philanthropy Lab to take shape. The course has local support from Emory's network of donors, including The Shapiro Foundation.
Check out more ways Goizueta's Business & Society Institute is shaping business for the better.