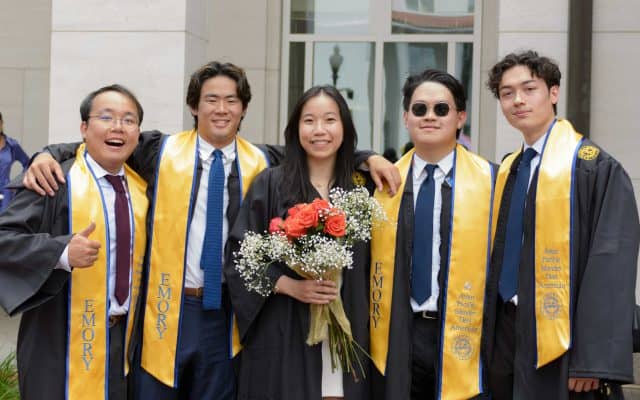 Over the past few days, graduates across Emory University and Goizueta Business School gathered to celebrate commencement, marking the official start of the next chapter of their lives.
Gareth James, John H. Harland Dean of Goizueta Business School, commended the 2023 class for resilience in the face of an ever-changing world filled with new challenges and opportunities. "As I look at our graduating class today, I am filled with pride, gratitude, and optimism."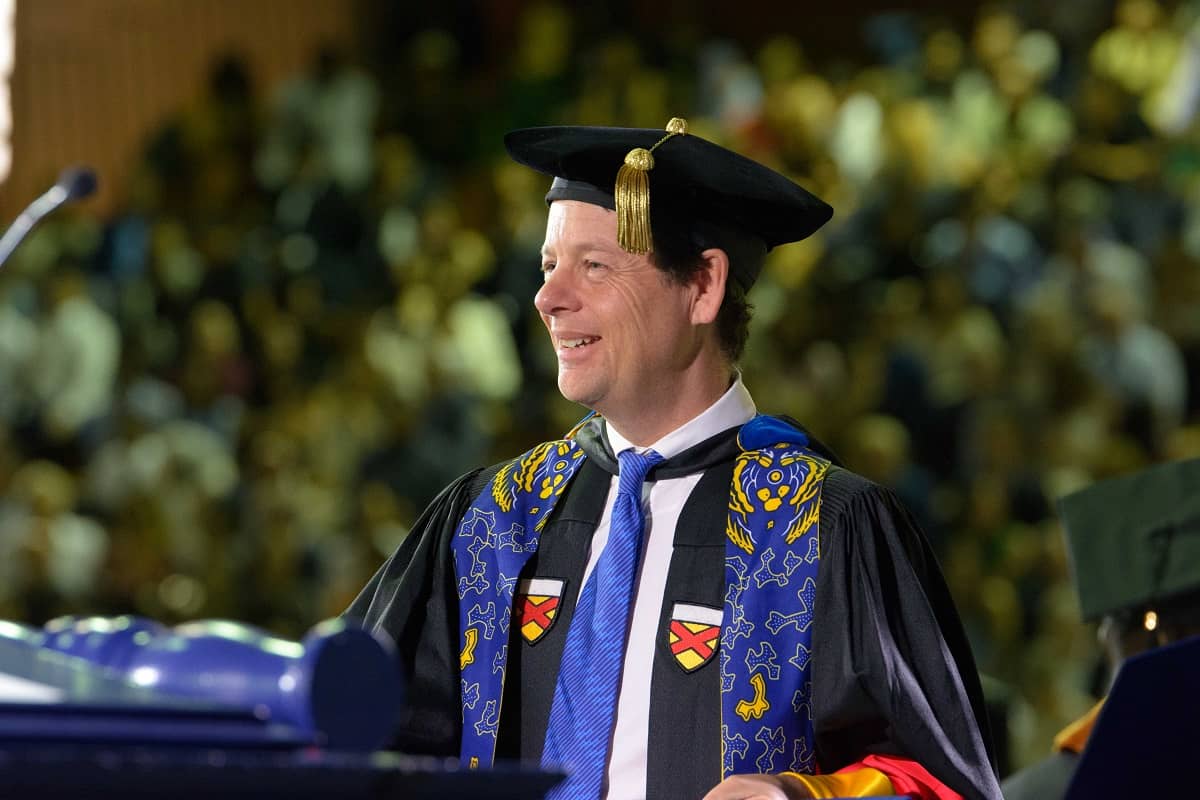 In addition to the university's BBA ceremony on Monday, May 8, Goizueta held diploma ceremonies for students in its Evening MBA, Executive MBA, One-Year MBA, Two-Year MBA, and Master's in Business Analytics program. The Goizueta community also celebrated the inaugural graduating class of the Master of Analytical Finance program.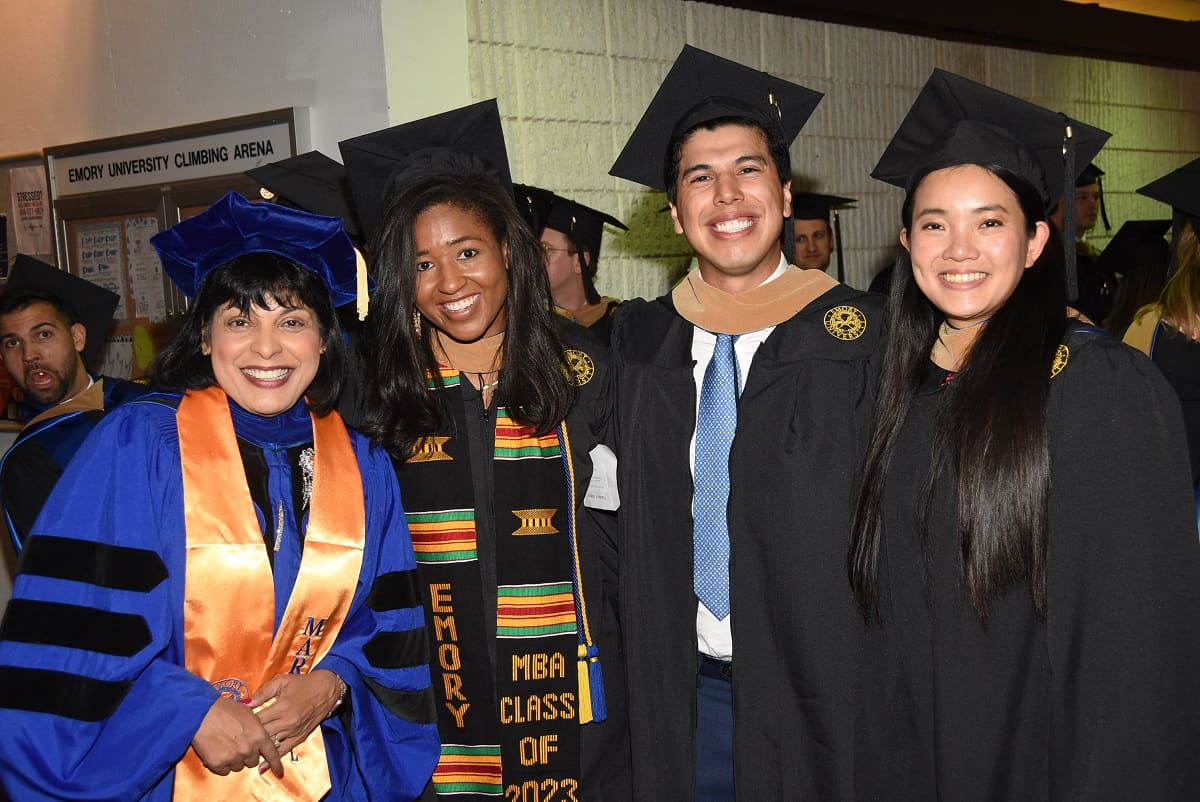 During the ceremony, Dean James shared stories and experiences about the ways he has pushed himself in career and life. "All my biggest successes have come from taking risks, many of which didn't necessarily appear logical at the time." He recounted leaving home in New Zealand for graduate school in the United States, serving as interim dean of University of Southern California's Marshall School of Business during the first year of the pandemic, and taking the opportunity to lead Goizueta as Dean last summer.
In fact, my biggest regrets are not the inevitable failures along the way, but rather the chances that I passed on. I urge you to dive in whenever opportunity comes knocking, especially if it makes you feel a little uncomfortable.

John H. Harland Dean Gareth James
Justice Advocate Anthony Ray Hinton Delivers Keynote Address at University Commencement
Activist, writer and justice advocate Anthony Ray Hinton delivered the keynote address at Emory University's 178th Commencement ceremony on the Emory Quadrangle.
Author of The New York Times 2018 bestselling book "The Sun Does Shine: How I Found Life and Freedom on Death Row," Hinton entered Death Row in Alabama for crimes he did not commit On Dec. 17, 1986. He spent the next 30 years in custody until the Equal Justice Initiative (EJI) secured his freedom. Hinton now serves as an EJI community educator and a tireless and powerful advocate for the abolition of the death penalty. He also works with LifeLines, which supports prisoners on Death Row through letter writing.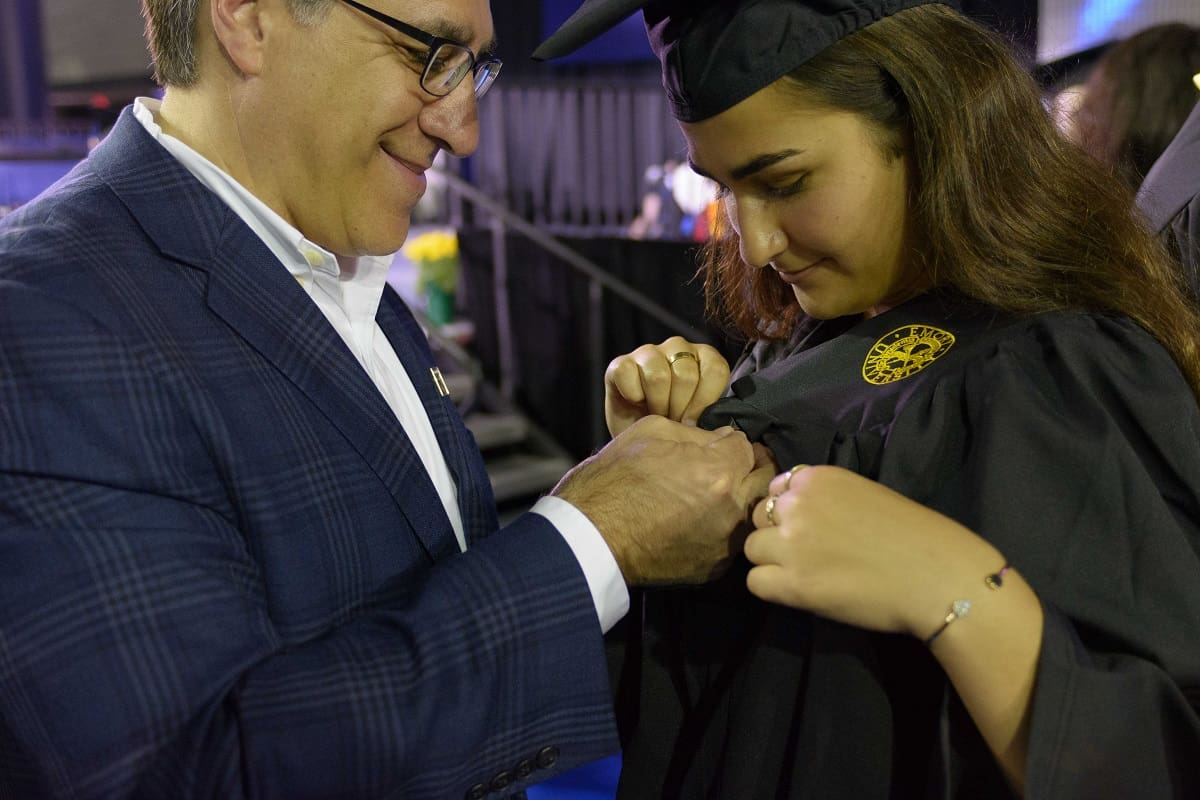 "By transforming unfathomable tragedy into positive advocacy and action, Anthony Ray Hinton has sent a powerful message of hope," shared Emory University President Gregory L. Fenves. "His freedom was unjustly denied for nearly 30 years, yet he found peace and forgiveness and has dedicated himself to spreading truth and light in the world." During the ceremony, Emory presented Hinton with an honorary Doctor of Letters degree.
"I'm so honored to serve as Emory's commencement speaker this year," says Hinton.
I always value the opportunity to share what I've learned with young people getting ready to embark on their own journeys. I want to make sure young people know that even on the nights where there are tears (and there will be those nights), the sun will shine again.

Anthony Ray Hinton
Commending the Class of 2023
As faculty, staff, students, parents, and loved ones cheered on the Class of 2023, they celebrated the graduates' resilience and bright futures ahead.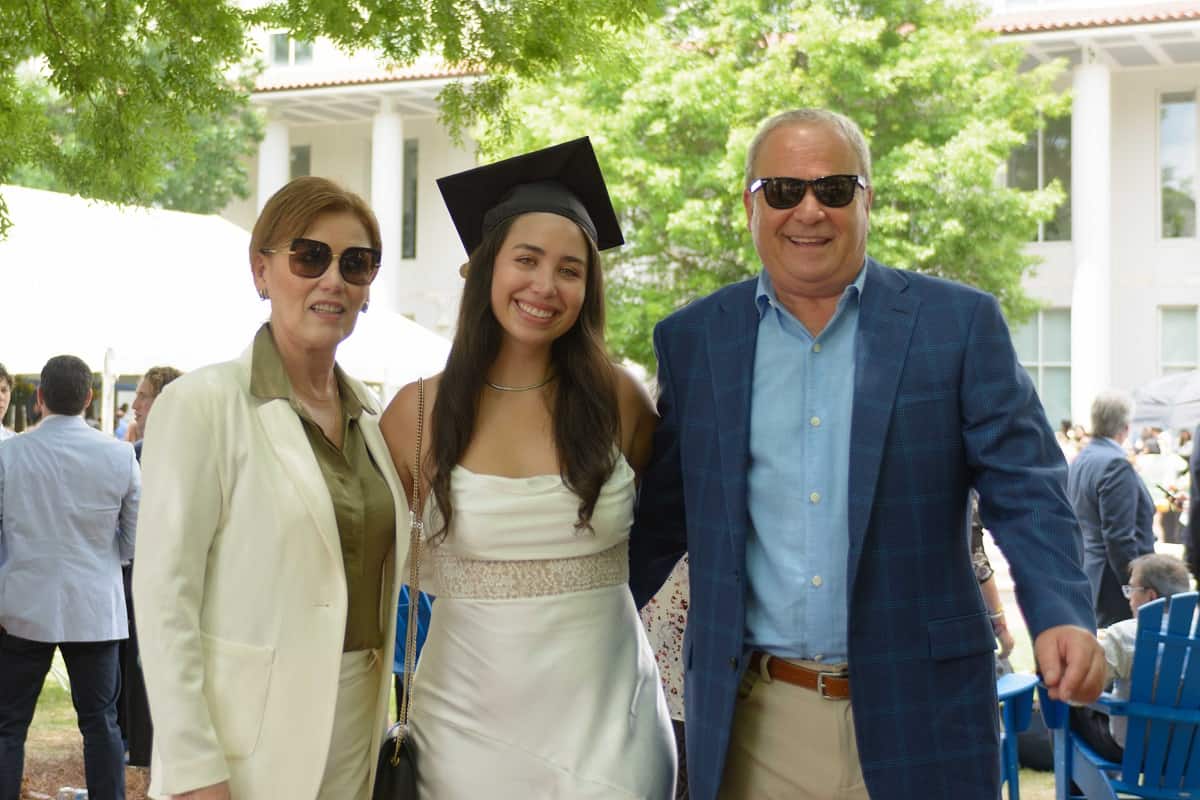 "During your time at our school, we've watched you support each other through triumph and challenge; adapt, pivot, and innovate; push yourself to what you thought were your limits—and then push even further," shared Dean James. "We thank you for letting us take part in your journey and can't wait to see the ways you excel in your career and beyond."
For more Emory Commencement stories, updates, photos and videos, and celebration details, visit commencement.emory.edu.
Read more on the Emory News Center.