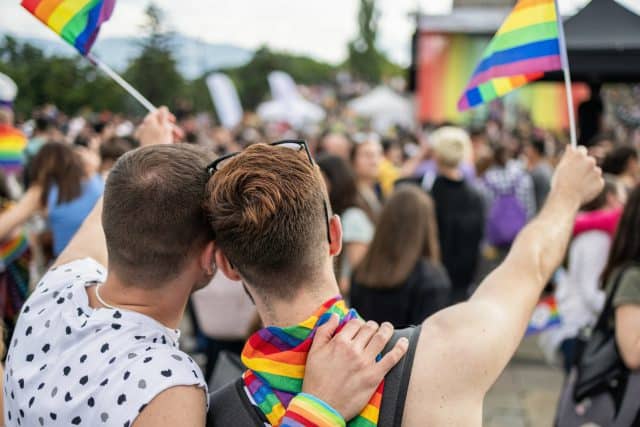 On campus and at the regional level, Goizueta contributes to securing and supporting LGBTQ+ rights as human rights.
In time for Pride Month, new research, led by Goizueta faculty, working with the LGBTQ Institute, highlights the evolving challenges and progress for LGBTQ+ Southerners. One of the many takeaways: even though most respondents have, at some point, felt stigmatized, most also view their LGBTQ+ identity as a positive in their lives. Pride in the Goizueta community brings this point home.
Amid a recent wave of anti-LGBTQ+ legislation, especially concentrated in the South, Pride Month matters for the LGBTQ+ community and its allies. At Emory, taking Pride to heart can be seen in recent research that aims to better understand the needs of LGBTQ+ Southerners, as well as in support for campus activities, groups, and the fostering of a sense of belonging for all.
First, the research.
The Survey
Emory University's Goizueta Business School and the LGBTQ Institute at the National Center for Civil and Human Rights are partners in the second survey of LGBTQ+ Southerners, released in April 2023. Following up on the 2017-18 inaugural survey, which was conducted by the Institute and George State University, this newly released study aims to help fill a critical research gap, looking at an understudied group with a larger data set.
A total of 1,326 LGBTQ+ adults living in the American South answered questions about their education, employment, healthcare, social and political involvement, and some of their experiences of discrimination.
Here are a few of the notable takeaways from this survey:
Positivity: The vast majority—78%—of survey respondents view their LGBTQ identity as something positive in their lives.
Stigma: At the same time, more than 83% reported having been subject to slurs or jokes because of that identity at least a few times in their lives. (On top of those, other instances of harassment and discrimination were tallied.)
Early awareness: Nearly 23% of the survey respondents reported that they first felt that were LGBTQ+ before age 10. Another 36% identified between the ages of 10 and 14. By age 19, about 84% of the survey sample felt aware of their LGBTQ+ identity.
Speaking out as teens: Meanwhile, 55% said they had told someone else that they were or might be LGBTQ+ before age 20. Others came out later in life.
Active and engaged politically: A resounding 70% of respondents have donated to political campaigns at some point, with 71% saying they donated to candidates who supported LGBTQ+ rights. What's more, 96% said they were registered to vote, with 92% reporting that they did vote in the 2020 presidential election.
With allies at work: On the job, 80% of the respondents said they can rely on at least one ally (that is, someone they consider supportive regarding matters concerning their sexual orientation and/or gender identity), with 71% reporting the reassurance of multiple allies.
The survey was conducted between June 2021 and March 2022, amid a wave of anti-LGBTQ+ legislation that continues to this day. It covers responses from the current residents of 14 U.S. states: namely, Alabama, Arkansas, Florida, Georgia, Kentucky, Louisiana, Mississippi, North Carolina, Oklahoma, South Carolina, Tennessee, Texas, Virginia, and West Virginia.
"The 2022 Southern Survey provides valuable data for advocates, policymakers, and community members working to advance LGBTQ+ rights in the South," says Tim'm T. West, the current executive director of the LGBTQ Institute.
More LGBTQ+ people live in the South than any other U.S. region although they have been underrepresented in previous national surveys.

Tim'm T. West, Executive Director, LGBTQ Institute
More on the overall study design and methodology is available in the published report.
The View From Goizueta
From Goizueta Business School faculty, Giacomo Negro, professor of organization and management, was the principal investigator and co-director of the study. He worked closely with Melissa Williams, associate professor in the same department. These two were joined by Gabrielle Lopiano, who earned her PhD at Goizueta in 2021 (and now is assistant professor of management at Vanderbilt), as well as LGBTQ Institute Scholar Ashlei R. Petion and the Institute's former director Ryan M. Roemerman, who was also co-director of the study.
"It's important to remember that this is not a monolithic community we're studying," says Negro. "There's a lot of complexity here."
That complexity includes the respondents' gender identities, racial identities, sexual orientations, education and class, age groups, as well as other demographic factors in the South's rural and urban settings. And with this complexity in mind, the survey broaches a broad range of topics, including experiences of discrimination.
Understanding this complexity is important, because "LGBTQ rights are, fundamentally, human rights," Negro emphasizes. And the study can be a means for community leaders and policymakers to better understand the barriers to thriving that are faced by the more vulnerable members of the LGBTQ+ community. For example, they ask: who may struggle in school or experience harassment seeking medical care? Which groups and sub-groups are most at risk?
Take the high school experiences, which can be a crucial time in identity formation and shape later socioeconomic outcomes. Where is support found, or not? Have certain people skipped class or even dropped out of school to avoid harassment or negative treatment? Knowing this can help target resources to help, Negro explains.
Agreeing with Negro, Williams also adds that their analyses so far—there is still more work to be done—reveals good news in growing awareness, growing support, along with areas of concern, where stigmas persist. For example, "we see people coming out at a younger age, which shows that awareness growing. And yet, there is still a gap between the age when most know and when most tell others about their LGBTQ+ identity," she notes.
Fostering Belonging for All on Campus
"Belonging is such an important concept," says Allison Gilmore, director of admissions and student services for Goizueta's PhD program and a member of Goizueta's Diversity, Equity, and Inclusion (DEI) Council. Gilmore has worked at being an active ally—she herself has family members who identify as LGBTQ+—to make sure students can bring their authentic selves to their studies and pursuits. "It's about upholding Goizueta's core values," she says, serving its mission to prepare principled leaders to have a positive influence on business and society. "That makes me proud of where I work."
Fellow staff and DEI Council member Jamie Anne Harrell wholeheartedly agrees. Harrell, who is Goizueta's business intelligence and data analytics lead, was the school's first openly transgender MBA graduate.
I started transitioning in December 2015 and in the Spring of 2016, ahead of my graduation in May, I was reintroduced to my class with my chosen name 'Jamie,' to a huge round of applause. I was not just accepted or tolerated, but actively welcomed.

Jamie Anne Harrell, Goizueta Business Intelligence & Analytics Lead & DEI Council Member
Upon graduation, she started working at Goizueta and has observed more progress since. For instance, Harrell points to medical coverage that now includes more expenses that are relevant to her wellbeing, such as vocal feminization training. "I don't want to have to worry for my safety if I speak up in a bathroom in Florida. It's about being accepted, and it matters."
Back at work, "it's about bringing your whole self in, which is important for engagement and outcomes," the analytics expert notes. "You know, Pride Month means showing the world who we are."
Out and Networking for What Comes Next
That sentiment is echoed by Tyler Dinucci, who identifies as a gay man and expects to receive his MBA degree from Goizueta in 2024. "Pride Month is a chance for LGBTQ+ people to declare we are here and our identities are valid," he explains.
"For so long, many LGBTQ+ people were treated as deviants or degenerates because of their sexual orientation or gender identity." But now is a time "for people across the LGBTQ+ spectrum to celebrate themselves as complete members of society."

Tyler Dinucci
As a student, Dinucci appreciates resources such as Goizueta's Pride Alliance, serving as a support space and a way to network with alumni. He also appreciates access to the annual ROMBA ("Reaching out MBA") conference, which gathers LGBTQ+ business students and alumni at a national level. (Last October it was in Washington, DC, and this October in Chicago.)
Here, it's clear: "LGBTQ identities are not just something to be tolerated, they are to be celebrated," as Negro puts it. Happy Pride Month to all.
Want to get involved? The Office of Lesbian, Gay, Bisexual, and Transgender Life seeks to engage the university community in the creation of an affirming and just campus environment while supporting the development of students of all gender and sexual identities. Check out resources including legal services, navigating campus, health, and professional development.
Have specific questions or need assistance? Reach out to your Goizueta Business School Safe Space Allies who have been trained to help and support members of the LGBTQ+ community at Emory.