Emory University's Goizueta Business School and Truist Financial Corporation put students from the MS in Business Analytics (MSBA) program to the test in a business analytics challenge.
"We're providing students with a hands-on experience to identify and scope an analytics project based on a real business problem. That means having a strategic focus area, talking about potential actions that the client could take to reach their objective, then talking about the analytic solution that would support that objective and how it would be part of that business process," MSBA managing director Scott Radcliffe says.
Fifteen teams of four to five students developed plans to leverage Truist's digital banking apps to improve the customer experience of its wealth management clients using Truist's strategic focus areas.
At the end of the 13-day challenge, students submitted their solutions. Radcliffe and Truist wealth data and analytics data scientists Kail Amoakon, Jared Blum, and Maiya Brown reviewed each submission.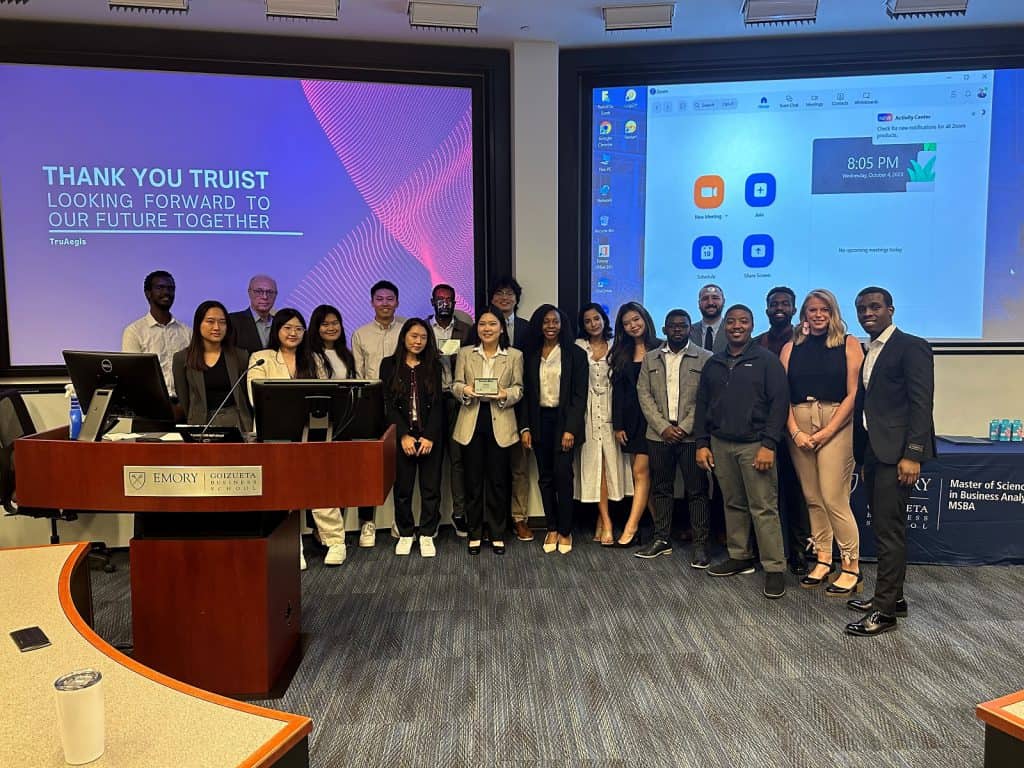 On October 4, the three top student teams competed in the finals. They delivered a presentation showcasing their extensive knowledge and outlining innovative solutions to the complex business challenge.
Phoenix Pei, Truist's senior vice president and data & analytics manager, says judges evaluated student responses for logical and creative thinking, varying interpretations of the business problem, and project structure.
"It's rewarding to watch students develop the competency of being an effective business analytics consultant," Radcliffe says.
The True Prize: Experiential Learning
Team TruAegis took home first place. The team included Lekha Challappa 24MSBA, Brice Muvunyi 24MSBA, Foster Mosden 24MSBA, Pacifique Iradukunda 24MSBA, and Jenevieve Zhang 24MSBA.
"The challenge pushed the boundaries of our creativity while staying anchored in practicality," Zhang says. "While thinking outside of the box is essential, feasibility also ensures that our solution can be realistically implemented. Our team stayed connected and built upon each other's contributions while embarking on this adventure with Truist. It was an opportunity to transform our knowledge from the MSBA program into a deliverable solution for the bank."
"My primary takeaway from this challenge is the reminder that most data solutions serve a human need," Challappa says. "We tend to become accuracy-focused in data science, spending our time designing the most successful model. This challenge taught me to place myself in the perspective of the consumer in every step of the building process. Through a dual mindset of simulating human needs and delivering analytical results, our team was able to achieve success."
Pei says the most rewarding part of challenges like this one is giving back to the community. "Truist is a key partner of Goizueta Business School's MSBA program. As part of our purpose and mission, we are always looking for ways to enhance students' experiences."
About the Partnership
Truist is a key partner of Goizueta Business School's MS in Business Analytics program. The company is the longest running sponsor of the program's spring practicum projects. Truist's analytics talent team runs events like this challenge to gain exposure to Emory students who may be good candidates for its data science accelerator and data science internship programs.
Learn more about Goizueta's full-time MS in Business Analytics for early career professionals or the advanced part-time MS in Business Analytics for Working Professionals.