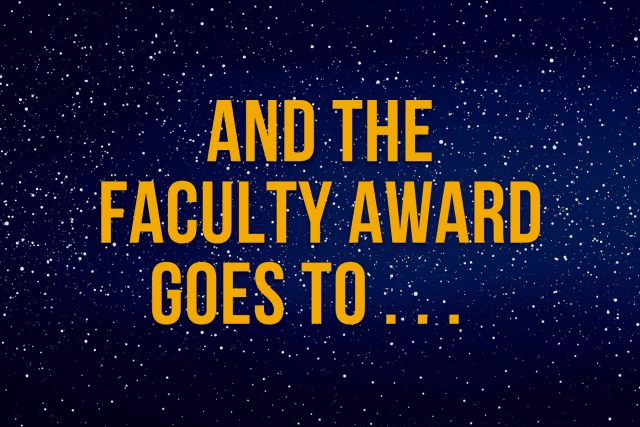 2022 was a busy year for faculty at Goizueta Business School. Below we highlight a handful of our accomplished faculty and their awards, recognitions, and appointments.
Goizueta faculty are world-class scholars and leaders in their respective fields, asking interesting questions and driving impactful research. These publications, research awards, and prestigious appointments are evidence of their extensive impact on theory and practice.

Anandhi Bharadwaj, vice dean for faculty and research; Goizueta Endowed Chair in electronic commerce and professor of Information Systems & Operations Management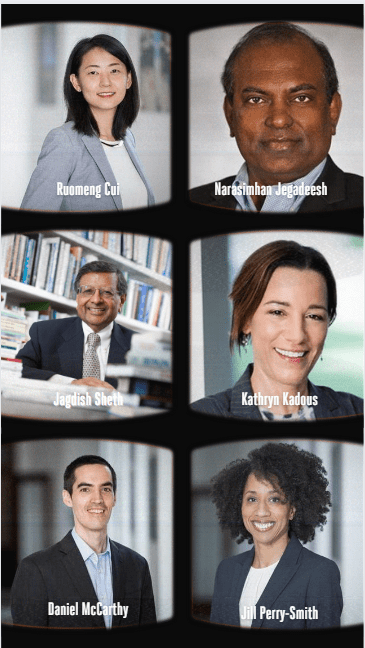 Daniel McCarthy, assistant professor of Marketing, was named a Top Retail Influencer for 2022 by RETHINK Retail.
Giacomo Negro, professor of Organization & Management and professor of sociology (by courtesy), became the senior editor of Organizational Science. He's also an LGBTQ Institute Scholar at the Center for Civil and Human Rights in Atlanta and holds numerous appointments at Emory University, such as being part of the search advisory committee for the vice provost of faculty affairs and being a member of the Employee Resource Group Supervising Committee.
Ilia Dichev, professor of Accounting and Goizueta Foundation Chair in Financial Reporting, was awarded the Seminal Contributions to the Accounting Literature Award for his research paper "Earnings Management to Avoid Earnings Decreases and Losses." The paper was published in the Journal of Accounting and Economics in 1997. This award is only given once every three years; a total of nine awards have ever been given.
Jagdish Sheth, Charles H. Kellstadt Chaired Professor of Marketing, was honored by the TiE Atlanta Foundation and the Consulate General of India this June at an exclusive event, where he was given the Padma Bhushan, the third-highest civilian award from India.
Jeffrey Rosensweig received Emory University's prestigious Thomas Jefferson Award. Rosensweig is an associate professor of Finance and director of The Robson Program for Business, Public Policy, and Government.
Jill Perry-Smith, professor of Organization & Management and senior associate dean of strategic initiatives, co-authored a transformational paper, winning the Academy of Management Review's Managerial Practice Award.
John Kim 05MBA, senior lecturer in Organization & Management, received the Vulcan Materials Company Teaching Excellence Award, which marked the first time a Goizueta faculty member earned this award.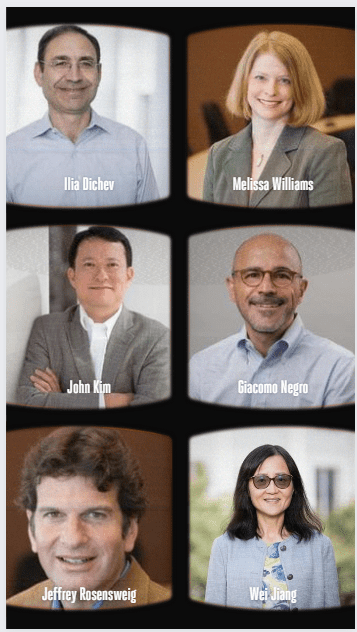 Kathryn Kadous, Schaefer Chaired Professor of Accounting and director and associate dean of Goizueta's PhD program, is the new senior editor of The Accounting Review.
Melissa Williams, associate professor of Organization & Management, is now the associate editor of Organizational Behavior and Human Decision Processes.
Narasimhan Jegadeesh, Dean's Distinguished Chair of Finance, will be recognized by will be recognized with the 2021 Wharton-Jacobs Levy Prize for Quantitative Financial Innovation for a paper he co-authored in 1993 titled, "Returns to Buying Winners and Selling Losers: Implications for Stock Market Efficiency." The prize is endowed with a gift from Bruce I. Jacobs and Kenneth N. Levy of Jacobs Levy Equity Management.
Ruomeng Cui, associate professor of Information Systems & Operations Management, received the Chelliah Sriskandarajah Early Career Research Accomplishments Award, which recognizes and rewards academics who have achieved exceptionally high accomplishments early in their careers. Cui is also a scientist for Amazon, working towards greater supply chain optimization.
Suhas Sridharan, associate professor of Accounting, was recently selected as an affiliate fellow at the Stigler Center at Chicago Booth. This three-year fellowship will promote interdisciplinary research on political economy.
Wei Jiang, Asa Griggs Candler Professor of Finance, is now the president of the Society of Financial Studies, as well as a member of the board of directors of the International Institute of Law and Finance. Her paper—titled "From Man vs Machine to Man + Machine: The Art and AI of Stock Analyses"—won multiple prizes in 2022: Best Paper Prize in Investments and Asset Pricing from the American Association of Individual Investors, Best Paper Award at the 2022 China Finance Research Conference, and Best Paper Award at the 2022 China Annual Conference in Digital Economics.
We've gone all around the globe in search of minds not bound by mindsets, old ways of thinking, or the status quo. Our faculty come to Goizueta to push industries forward, solve today's toughest business problems, and apply business knowledge to challenges facing us all—as is evident by their numerous accomplishments.