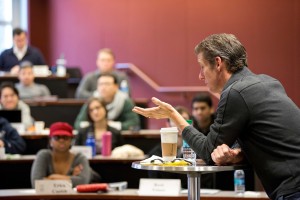 Financial literacy, social entrepreneurship, and embracing one's life journey were among the themes shared by visiting speakers this spring.
On April 8 Carrie Schwab-Pomerantz urged a packed audience of students, faculty, and staff to be truthful in assessing one's financial health and, regardless of age, take steps to invest and save for the future. "Retirement has to be a nonnegotiable," said Schwab-Pomerantz, who is president of the Charles Schwab Foundation and senior vice president of Schwab Community Services. She also writes a syndicated column on personal finance called "Ask Carrie," and her latest book is entitled The Charles Schwab Guide to Finances after Fifty: Answers to Your Most Important Money Questions.
Investing in others was the message at an April 1 luncheon with members of the business and nonprofit community that was hosted by Social Enterprise@Goizueta. Speaker Randall Kempner, executive director of the Aspen Network of Development Entrepreneurs, said small businesses can make a big impact in developing countries, noting that such business accounts for half of GDP in larger, developed nations.
"The best things that ever happened in my life were because what I planned didn't work out," confessed Marketplace host Kai Ryssdal 85C during a visit to JB Kurish's Applied Valuation class in February.
A history major at Emory, Ryssdal shared his nonlinear career path through the military, the Foreign Service, and other jobs before following his wife's advice to try journalism. As host and senior editor of the popular public radio show since 2005, Ryssdal naturally batted a few questions about the market and economy, but reminded students the show is aimed to inform people like his mother. He later gave the keynote address during Emory's Founders Week, which celebrates the university's intellectual life with artistic, social, and cultural events.