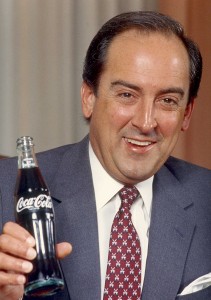 Glowing resumes, high GPAs and jaw-dropping recommendations aren't the only clues for identifying the next, great generation of business leaders.
It starts with personal, family values that build a foundation of strong character, solid ethics and inner strength.
Jag Sheth, a senior marketing professor at Goizueta Business School says schools must identify candidates who have strong ethics that can't be swayed by a short-term temptation or influenced too much by compensation.
"Having anybody in a leadership role who engages in unethical behavior is so damaging to an institution that it often leads to its collapse," Sheth said. "That is why we need to add another filter to the recruiting process and the admission process to screen further for ethical behavior."
In a recent article in The Economic Times: "B-schools can't teach ethics, firms need to hire candidates with strong values," Sheth maintains that while Ivy League graduates may have contributed to the Wall Street's "greed is good" culture, ethics cannot be taught in one to two years of business education.
In the interview stage itself, Sheth said, the interviewer has to find out whether the candidate grew up ethically or not, something that's not often asked about or researched like grades are.
Sheth said standards should be established to find out out if the candidate is ethical or not.
That sentiment was shared in a 1995 speech given by former Coca-Cola CEO Roberto Goizueta – the school's namesake — when he said a "lack of integrity renders worthless all other values. Without integrity, no other personal quality has much value… because integrity overrides everything else."
Goizueta Business School Dean Erika James agrees. She has been in the job for just one month, but feels connecting to values-based leadership, particularly that shown by Goizueta himself, is vital.
"It's what makes successful businesses sustainable," she said. "Customers need to be able to trust you, and trust your product."
James believes business schools must teach ethics and integrity as a central part of their curriculum in each class. As business becomes increasingly global, James said business schools must help students develop a core set of values to make decisions in diverse countries and societies.
"Business schools have a responsibility to prepare students to understand how leaders get into challenging situations," James said.
Unethical behavior can be very costly to a corporation, but it can also be costly to society, Sheth said.
Take the Enron accounting fraud scandal in 2001, which erased the accounts for 20,000 Enron retirement plan participants. Or WorldCom, which experienced fraud and conspiracy by its founder and CEO Bernard Ebbers.
Goizueta himself also noted that kind of behavior.
"Just think," he said in that 1995 speech at the Global Quality Leadership Forum, "all the scams in the U.S. securities industry that you have read about were engineered by some brilliant Wall Street types who have little or no integrity."
A recent Businessweek article noted at least 100 publicly traded companies, from Walmart, to GlaxoSmithKline, to Hewlett-Packard have reported investigations related to violations of the Foreign Corrupt Practices Act. Walmart reportedly paid more than $400 million in legal fees related to possible violations in Mexico.
That result is often reached after a company places pressure on managers for an outcome, and when they can't do it the right way, they do it any way possible, Sheth said.
One way a corporation can gain trust and integrity in a community is to engage in connected capital, Sheth said, also called shared value.
For example, Microsoft and its founder Bill Gates gave computers to disadvantaged people to increase literacy. It ultimately helped society, and helped the corporation. A product must have some purpose above and beyond customer satisfaction, Sheth said.
"It is not sufficient to be driven just by shareholder value," Sheth said. "It needs to serve the community and its other stakeholders and at the same time deliver shareholder value. Indeed, doing well by doing good is never more relevant than today."
As social media flattens the world, leaders are in a digital fish bowl. People who have nothing to do with the company become stakeholders, Sheth said.
"Today, you cannot hide anymore in a gated community," he said. "You cannot hide your personal life from your professional life… The only option is to behave ethical from the beginning. Ethical behavior is not only good for the person, it's good for the corporation."